Chinese tilapia prices flatten in US market after short drop: Undercurrentnews
'There's anticipation that everyone's going to place orders for quarter one and quarter two of next year, but I don't think anybody's feeling the urgency' -Don Kelley, Western Edge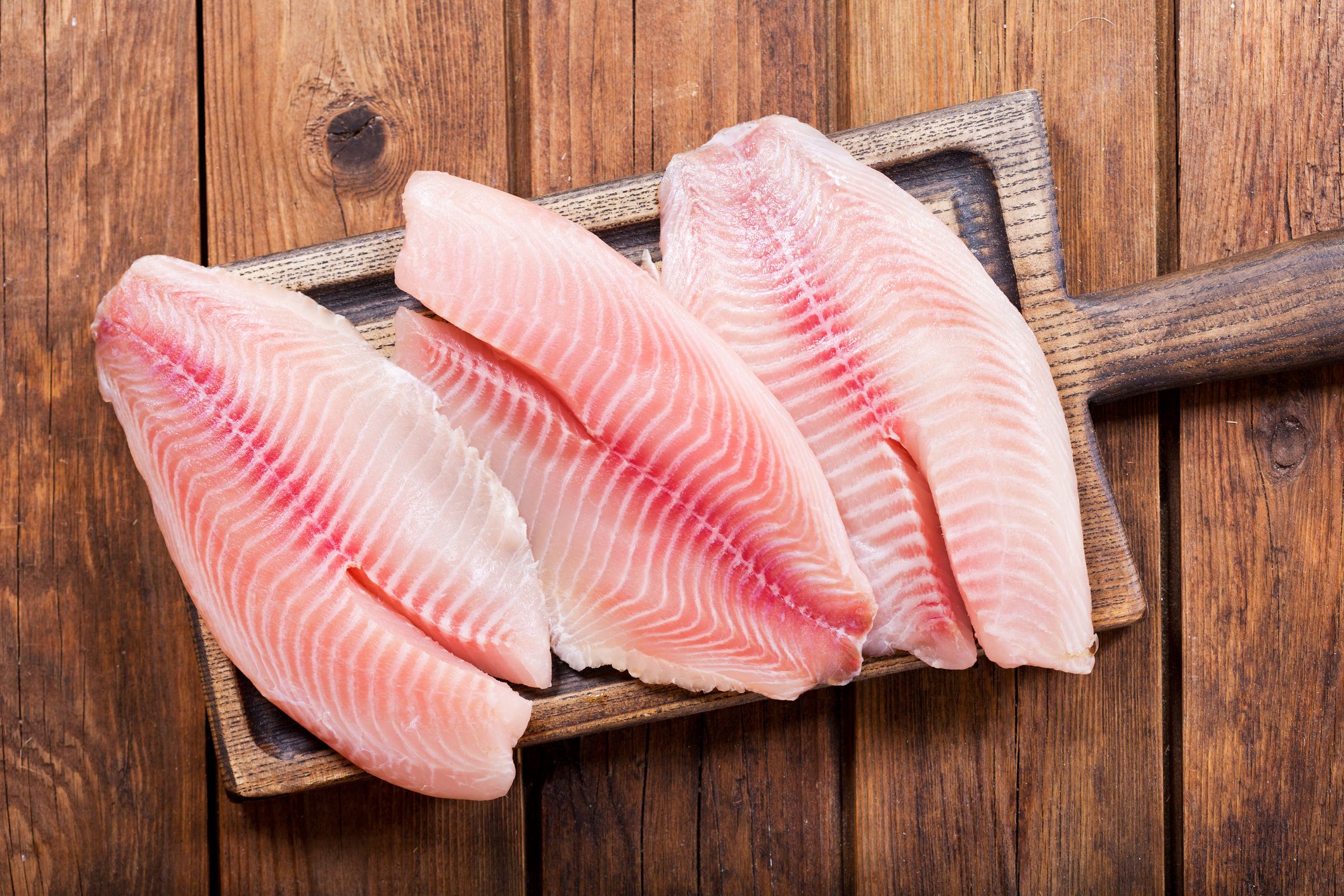 Jason Hu man: UnderCurrentNews
Prices for one of the US' most consumed seafood species — Chinese tilapia — have entered a seemingly flat part of the rollercoaster track after a recent up and down ride.
Urner Barry on Tuesday (Aug. 23) reported the average price range for a pound of frozen Chinese tilapia fillets, cut at 3-5 ounce sizes with no moisture added, at $3.20 to $3.30 per pound, the same price range that's been reported multiple times since at least July 21. This after dropping 7%-12% from the high average range of $3.55-$3.65/lb seen as late as June 14.
Tilapia prices had bounced up and down a lot until recently plateauing, Don Kelley, procurement manager at Western Edge, a seafood importer in Washington, Pennsylvania, confirmed to
Undercurrent News on Wednesday. He believes a big earlier price increase was driven in part by Chinese tilapia being a low-to-moderately priced staple items during a period where prices for other seafood was spiking.
Consider that the average price range for a frozen 35 ounce Chinese fillet was as low as $2.25-$2.35/lb in November 2020 before its 51% to 62% ascension over the next roughly 18 months.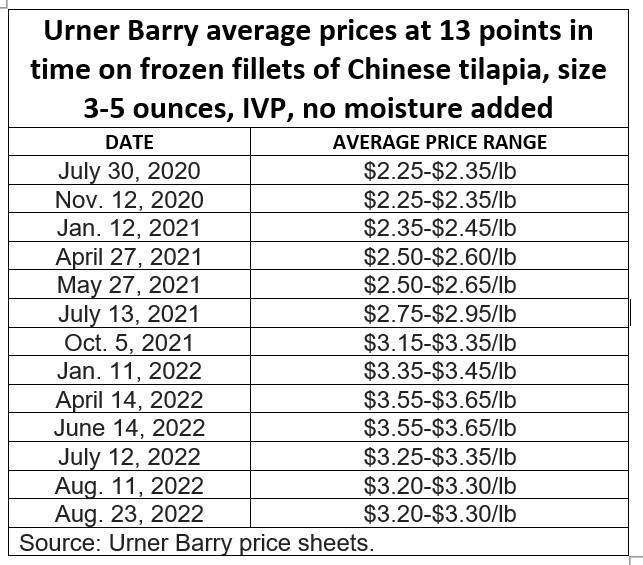 Kelley believes the more recent price drop was simply a matter of the market catching up, as seafood companies found themselves flush with tilapia inventory and not in a hurry to buy more product. Kelley said he had information some months ago that orders were slowing down from the US, but that has stopped and the market remains relatively stable at the moment.
His company and others, he believes, still have adequate inventory.
"There's anticipation that everyone's going to place orders for quarter one and quarter two of next year, but I don't think anybody's feeling the urgency," he said, adding: "August is the usual time for that kind of activity."
A drop in demand in international markets
Undercurrent reported earlier this month how tilapia prices, in China, had fallen by 30% in three months amid a drop in demand from international markets.
Landy Chow, a marketing manager based in China for frozen food distributor Siam Canadian Group, said several large processors were expecting tariffs to be dropped in August. To avoid being caught out importing the last goods hit with 25% duties, US buyers held off from purchases, he said.
Between July 2018 and March 2022, over $1 billion was paid in tariffs for Chinese seafood, including $262.7 million for frozen tilapia, according to an Undercurrent estimate using trade data from the National Oceanic and Atmospheric Administration.
Back in May, president Joe Biden said removing tariffs on Chinese goods was "under consideration", amid concerns about rising consumer prices and inflation. Then in June, the White House said all options were "on the table", followed by comments in July that the government was "studying the tariffs".
"Everybody is looking and waiting for when this new tariff might start. We thought it would be in the middle of August," said Ma Xiaohan, marketing and communications manager at Ocean Treasure, a Chinese seafood trading company. "[But] after [Nancy] Pelosi's trip to Taiwan, we don't know what's going to happen."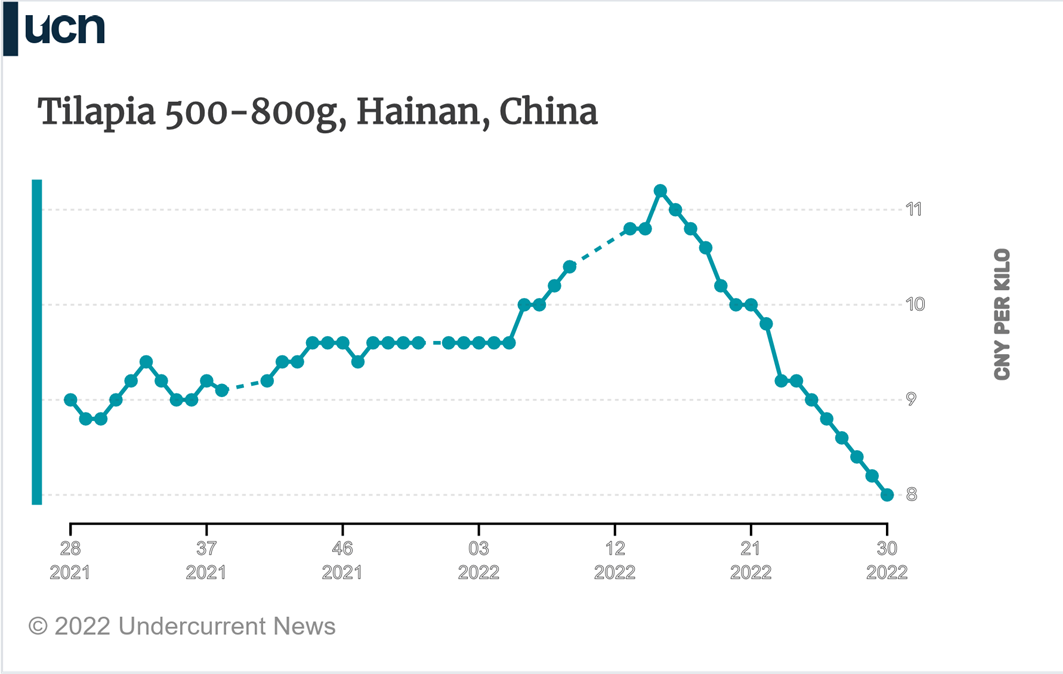 On track to top 2021 totals
Meanwhile, US imports of tilapia have continued to increase every year since 2017 following a steep drop from 2016 (see table below). In 2021, the US imported 192,414t of tilapia worth
$665.2m, a 1% increase in volume and an 8% increase in value over 2020.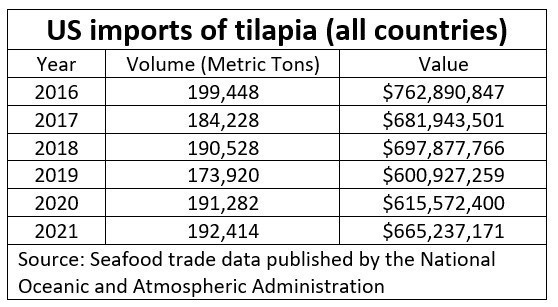 US imports are so far on track in 2022 to top last year's totals. The US imported 93,031t worth $387.8m during the first half of the year, increases of 15% in volume and 38% in value, respectively, compared to the first six months of 2021.
As usual, China was the dominant source of tilapia for the US in the first six months of 2022, accounting for 58,621t worth $210.4m, an increase of 16% in volume and 59% in value over the first six months of 2021. It maintained a volume-related market share of 63%, compared to the
62% market share maintained by China in the first six months of 2021.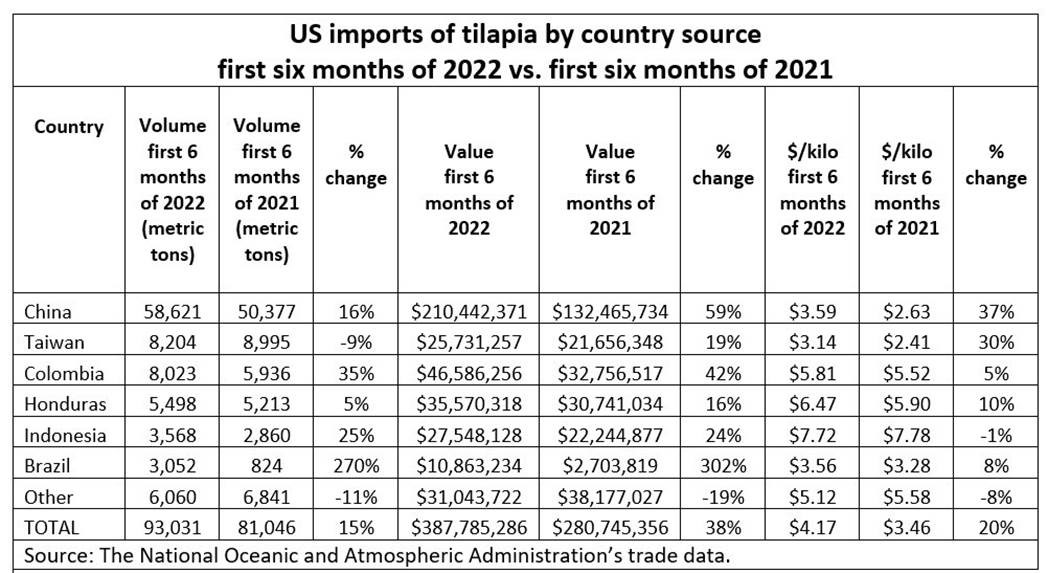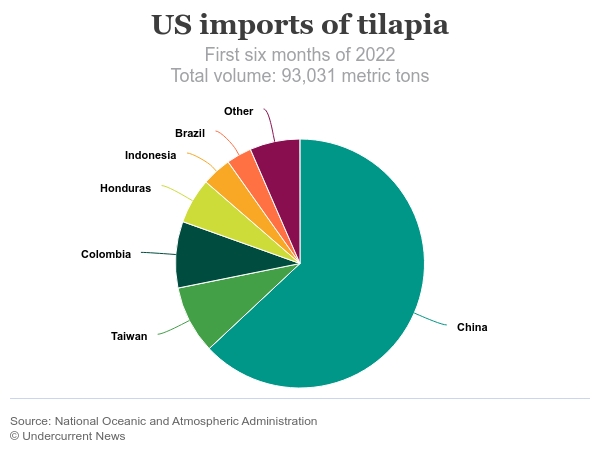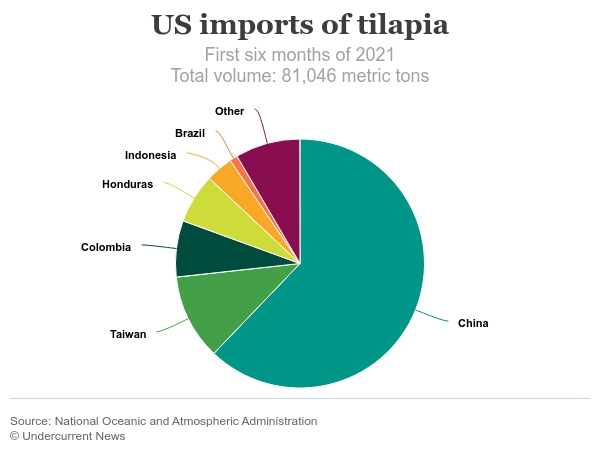 A month-to-month chart compiled by Undercurrent using NOAA data shows a big spike of US imports of Chinese tilapia in December — 18,575t worth $59.0m ($3.18/lb) — followed by somewhat of a drop to April when the US imported 6,307t worth $23.9m ($3.79/lb). Also,
NOAA's data, which is always about two months behind, shows pricings climbing quickly.
In June, the last month of data available from NOAA, the US imported 10,302t of Chinese tilapia worth $43.1m ($4.19/lb).