Vietnam could be waiting until 2024 for pangasius demand to fully pick up: Undercurrent News
Producers are waiting on the rest of the value chain to shift stocks still left over from the pandemic — at a loss, in some cases — but there are some slight signs of recovery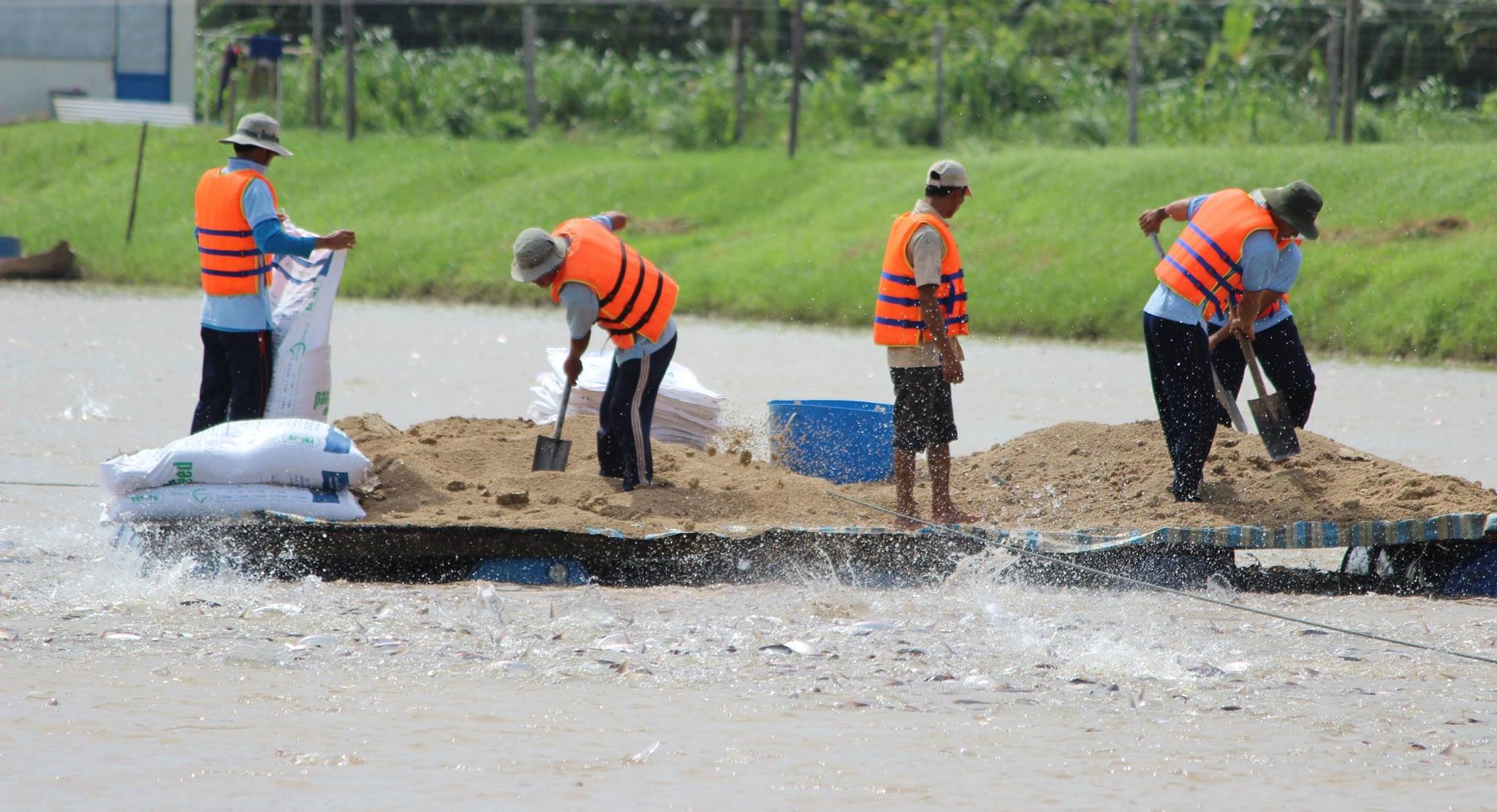 Neil Ramsden: UnderCurrent News
HO CHI MINH CITY, Vietnam — Vietnam's pangasius producers continue to wait for the rest of the value chain to shift stocks still left over from the coronavirus pandemic — at a loss, in some cases — but there are some slight signs of recovery, sources told Undercurrent News.
At the Vietfish exhibition in Ho Chi Minh City late in August, numerous sources painted a fairly bleak picture of a pangasius sector badly hit — like so much of the seafood sector — by inflation and reduced spending in its key markets.
Jean-Charles Diener, director of inspection and consulting services company OFCO Group, explained why raw material prices had yet to improve.
"During COVID-19, many companies placed orders in Vietnam, but Vietnam was not able to export. They were working at only 20% or 25% of food production capacity, so the price increased, but there were no containers going out. Then, when COVID ended, all those containers left quickly. Many markets — the US, Europe — were stuck with this big quantity of expensive pangasius."
The problem since has been that with the economy struggling, demand for the product has collapsed, leaving traders with their inventories.
"The big companies are suffering because they have expensive stocks, and small companies are arriving on the market, destabilizing things. I f we can clear out this big stock, sold — I would say –too expensive, we will be in a better situation, because now the market is quite destabilized, and the price is crazy low."
Contrary to reports he had heard from the industry, Diener did not expect to see raw material prices improve in August — " never in 20 years have I seen a price increase in August."
"In September, not much… October, maybe, I think it will start to move, but I don't think we will clear the stocks and recover before 2024."
Trading company Siam Canadian Group's Vietnam office told Undercurrent during Vietfish that it had just begun to see the return of buyers' interest.
"In July, there was no interest at all," said sales manager Thuy Trang Le. "Now we are finally seeing some interest in end-of-year sales.
They're asking about prices and availability, and these are good signs."
The volatile Chinese market should see at least some pick-up in purchasing for the Lunar New Year celebration in February; there were a lot of Chinese buyers present at Vietfish, she said.
In the relative absence of the most established markets, some companies have been able to sell to new markets, she added.
"A few are starting to ship pangasius fillets to Japan — four or five years ago, there were none[doing that], but now there's interest from buyers. Certifications are beginning to open that door."
And Thailand, too, is growing in importance, she said. "It's nice and close, easy for buyers to visit. Plus, selling to the UK, it takes more than a month to get paid; in Thailand, it's a week."
July stats show dip in export volumes
The latest Vietnamese customs data — compiled for Undercurrent by a Ho Chi Minh City-based consultancy — shows pangasius export volumes crept up slightly month-on-month at 60,116 metric tons. That was up 9% on July 2022.
The top five markets were China and Hong Kong (with a 34% share of exports), ASEAN (15%),the US (11%), the EU (8%), and Brazil (4%).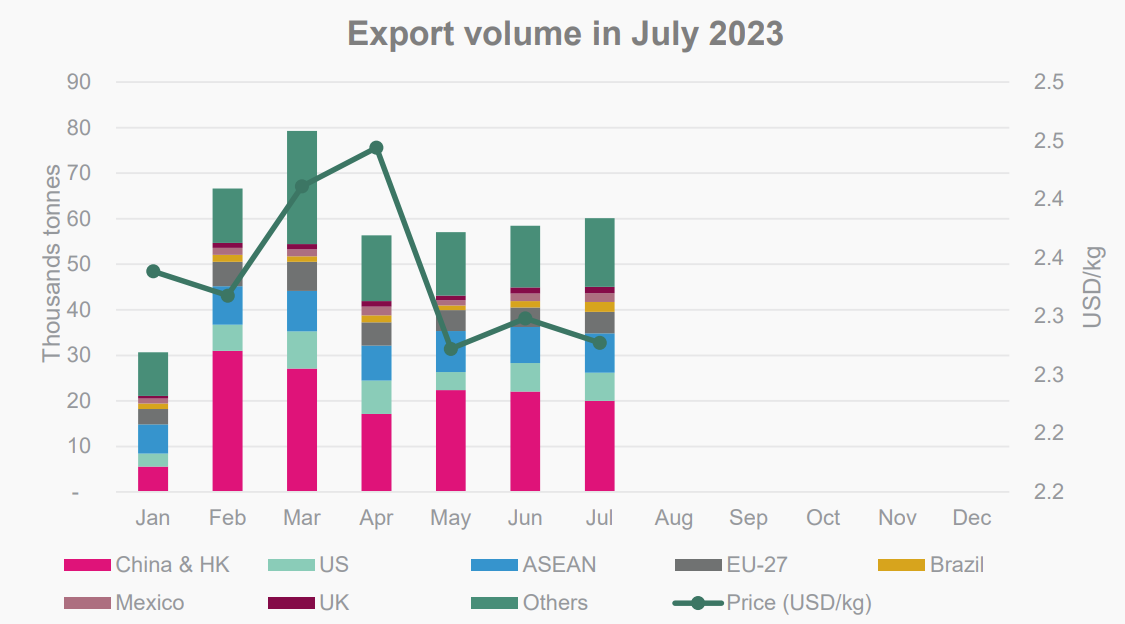 "Exports to most big markets increased or remained stable, while those to China & HK fell by10%," the consultancy noted. "Large inventories, falling import prices, along with a slow recovery in demand are the main factors causing a decline in exports [to China]."
The average export price across all specifications of pangasius products fell by 1% to $2.28 per kilogram in July.
"Trading of raw pangasius continued to be low in July since large enterprises mostly used fish from their internal farms," it wrote in its report. "This month recorded a slight decline of 1%-3% in the farm-gate prices of all pangasius sizes."
"The farm-gate price of large fish (over 1.2kg) had the biggest drop (-3%) since they were only sold at a slow pace and in small volumes to a few plants to export to China."
Farmers have been reducing fish feeding to wait for the market to rebound since June, it said.
Some farmers, however, have sold their fish at a loss in order to recover some cash.
Speaking at Vietfish, Le Hang — head of communications with the Vietnam Association of Seafood Exporters and Producers, or VASEP — said the organization had had high hopes for the Chinese market, before post-COVID issues had dashed them.
Still, VASEP claims to have seen signs of recovery: an economic upturn, with indications that consumers are adapting. Still, prices remain low, with VASEP hoping to see them climb by the end of the year.
The US too showed little signs of improvement in July: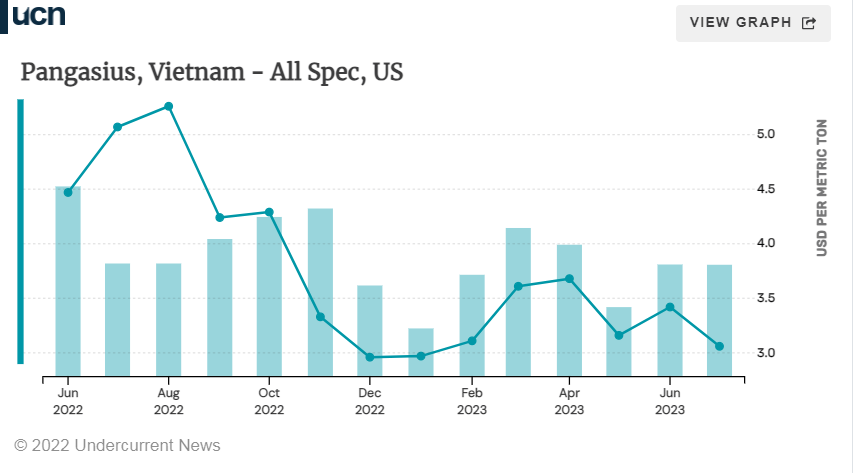 But the EU and ASEAN markets looked more positive, with the latter hitting prices not seen since a peak in May 2022: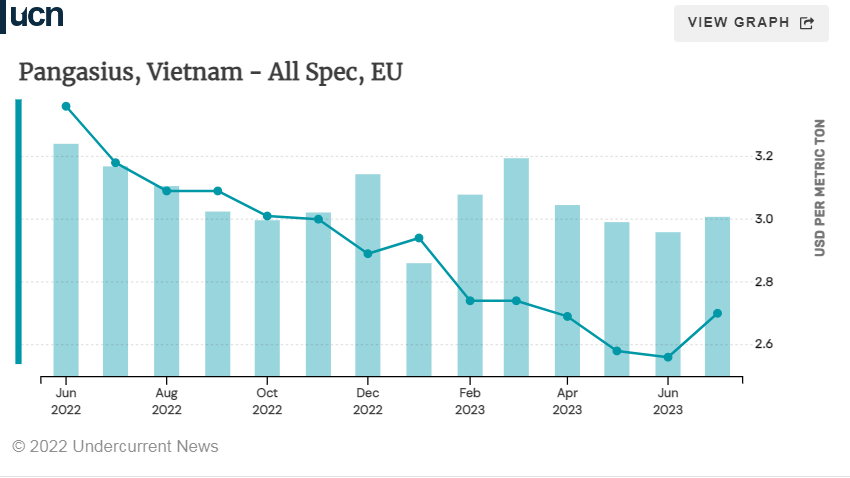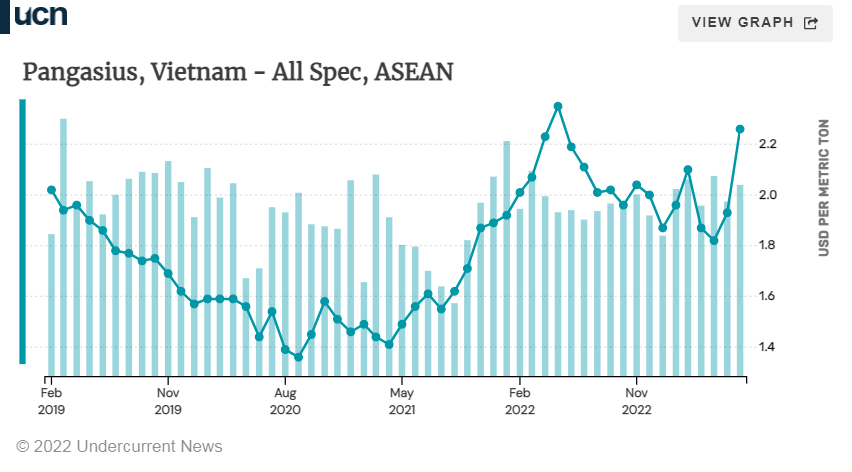 Ong Hang Van, deputy general director of TG Fishery — the country's eighth-largest pangasius exporter in 2022 — stressed that the industry had to find a balance between production and inventories soon.
"We need to stabilize production for Q1 2024, and the solution is to reduce inventories and renew production by Q2, as lower export demand means farmers have been keeping fish to as big as 1.5kg," he said. "They've not been harvested, so inventories are high. Production has bottlenecked."
Fish that large eat voraciously yet don't gain much more weight.
"Production cost is soaring; the industry needs to find a balance," said Ong. "Maybe we should lower stocking densities to cut diseases. The feed conversion ratio should be lower; production costs are between $1/kg and $1.2/kg now, and farmers lose money at that level."
Nguyen Ngo Vi Tam, CEO of Vietnam's largest pangasius export Vinh Hoan Corporation, told Undercurrent she was optimistic about some market recovery, driven by returning confidence for the supply chain.
"Everybody is talking about the same thing, inflation, consumers not willing to spend on seafood. I think even the traders, the importers, the distributors — the middlemen — they are less motivated to carry inventory these days because of the uncertain market."
"That has a consequential effect on the value chain. So we hope that, when things are improved in the end markets, it has the opposite, positive effect for the whole chain. We're hoping for demand to recover so the distributors are more confident to bring in the inventory."
While inventories may be high now, Tam agreed that once they emptied, raw materials could be in shorter supply.
"Farmers couldn't stock as much fish as they wanted in the past months because of very high costs in feed and fingerlings. That's a normal reaction when you have inventories of low cost, you'll be more confident if you know that in the next couple of months, you will end up with a lot of very high-cost fish coming out of the pond."
"So I think everybody was trying not to overstock to avoid the high costs. So they were waiting until feed costs had softened and fingerlings were affordable; but for the factories, not many operated at full capacity in the last few months. So I don't think many people could have that much inventory."
Another pangasius executive — Tran Van Lat, chair and general director of Loc Kim Chi Seafood –echoed these sentiments to Undercurrent.
"Prices this low impact the whole chain; production costs at the moment are lossmaking — we've halted our farming operations, and that's happening elsewhere too. Low raw material prices mean production stops, meaning probably a shortage of fish at the end of the year."
He, too, was hopeful of seeing sales price improvements from September onward and then a sharper increase in 2024, which should allow farmers to make profits again.