August was a downer month in US shrimp imports: Undercurrentnews
I think we're looking at a fairly sluggish fourth quarter coming up' — Jim Gulkin, CEO, Siam Canadian Group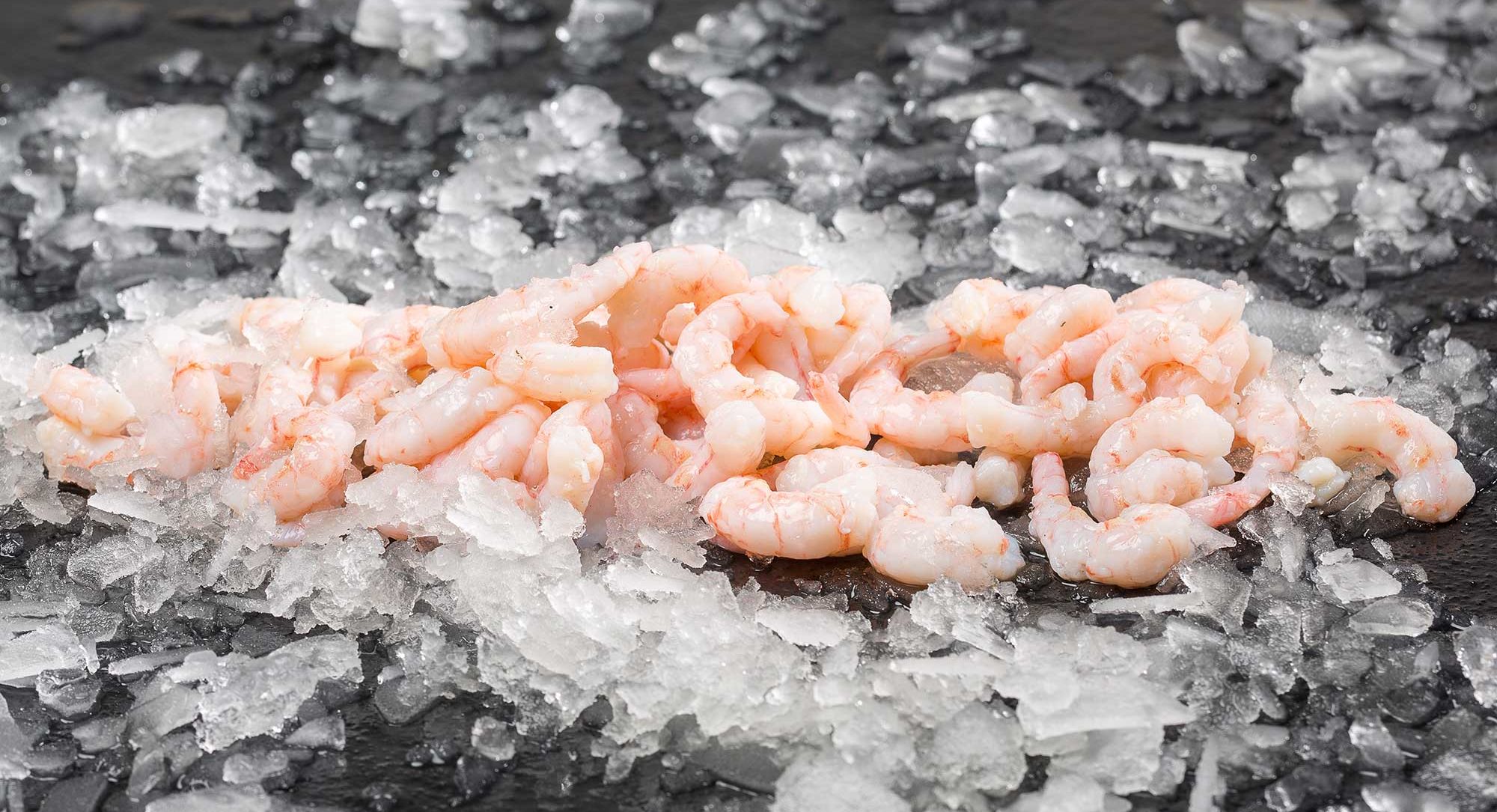 Nick Sambides Jr.: UnderCurrentNews
The volume and value of shrimp imported to the US fell like rocks from the sky in August, according to data provided by the country's National Oceanic and Atmospheric Administration.
The US imported 71,666 metric tons of shrimp worth $664.8 million in August 2022 – a whopping 20% decline in volume and a 19% drop in value compared to August 2021, when 89,423t worth $823.1m came into the country.

The shrimp market seems to be continuing its fall to earth in 2022 after a 2021 that was so outstanding that one observer, Urner Barry senior analyst Angel Rubio, described it as a pandemic-induced "random event" outside all previous norms — 2021 being the biggest year the market has ever had in all of its recorded history.
Rubio says that the latest numbers have compelled him to stick to his original thesis, and he remains bullish on the shrimp import markets' ability to bounce back.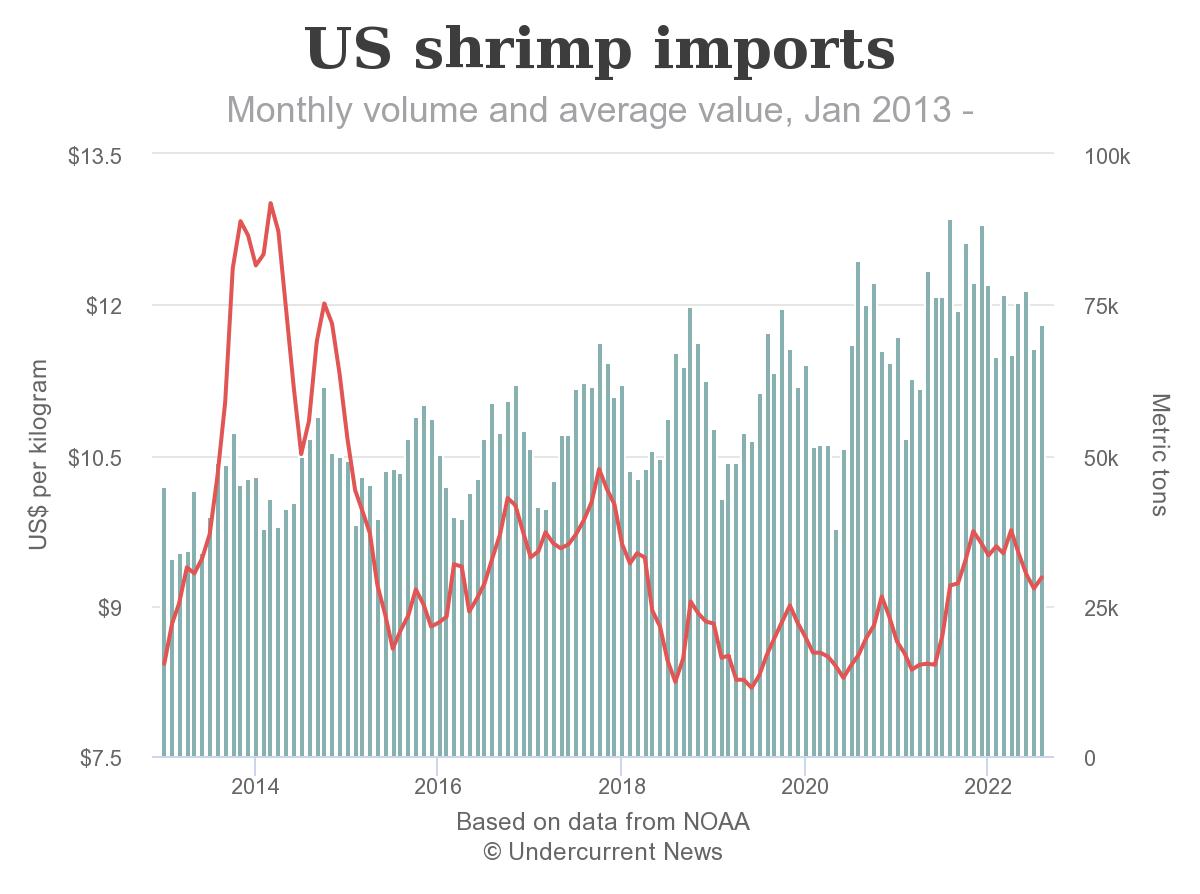 "The market needed some balance regardless because we could not keep up with this rate of growth again," Rubio told Undercurrent News. "It is not necessarily a problem. But it's counterseasonal. So when you see counter seasonal behavior, then those imports, like the balancing of the imports could, you know, probably going to come quickly because we're going to be heading into the strong demand period [Thanksgiving and Christmas-New Years holidays]."
Still, countries that sell shrimp to US consumers saw major declines. Eight of the top 10 and four of the top 5 US importers saw percentage declines in output and value. Number four, Vietnam, had the steepest, -54%, with number one, India falling -22%.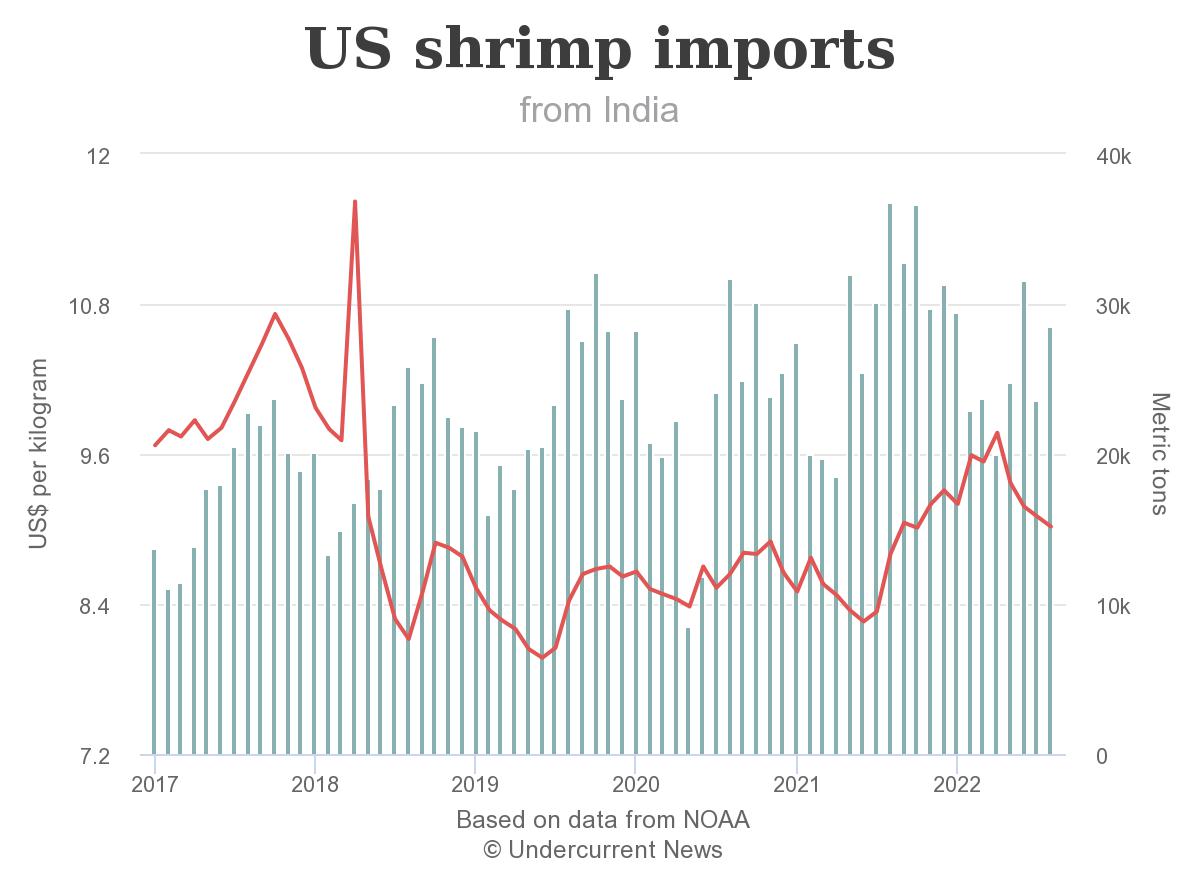 Only number two Ecuador (2%, with 16,752t worth $129.2m) and sixth-ranked Mexico (67%, with 1,280t worth $12.41m) had percentage increases in volume.
Jim Gulkin, the CEO and founder of Bangkok, Thailand-based Siam Canadian Group, sees in the data signs that the transshipment problems created by the pandemic and, more recently, worldwide inflation — a glut of product, backlogs of orders, a lack of freezer space in the US, vast output increases by individual countries — remain.
"Inventories are still high," Gulkin told Undercurrent. "Nothing has really improved much on the logistics end of things."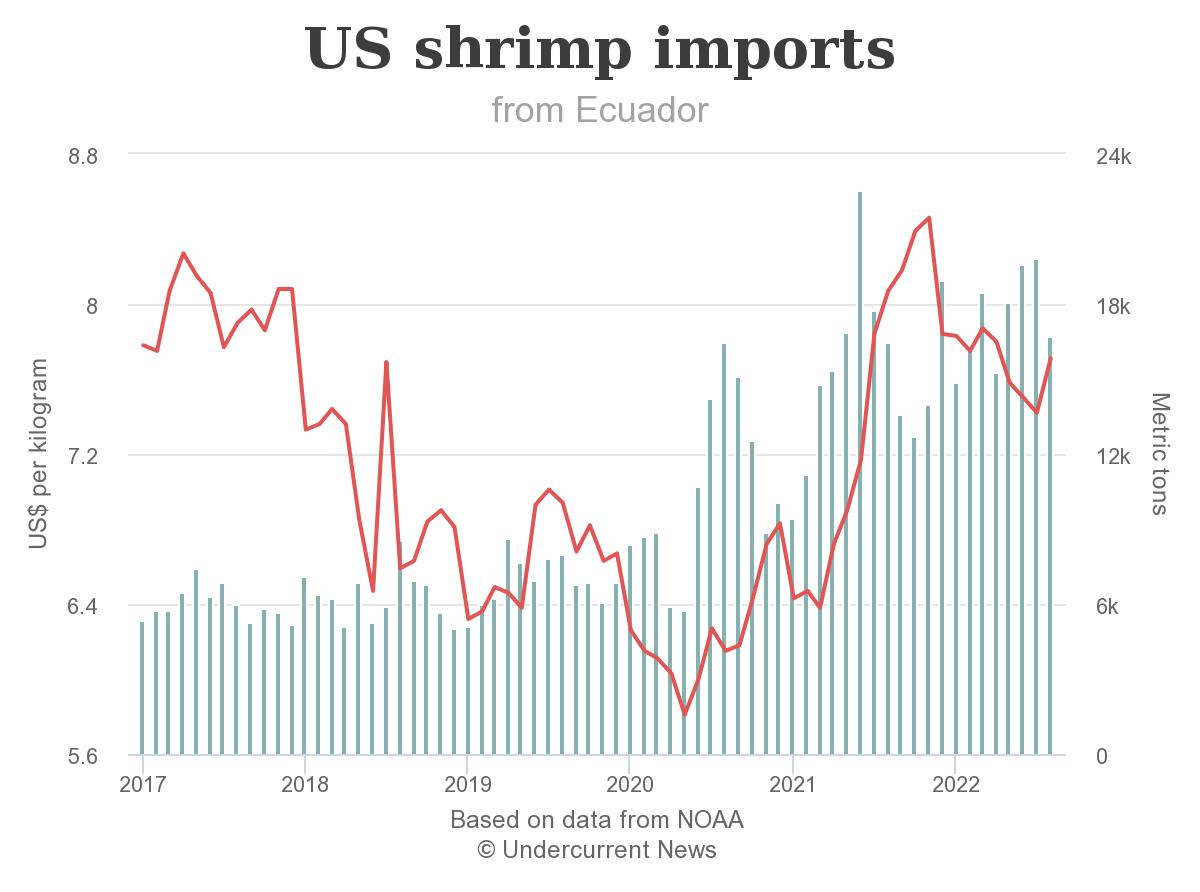 Shrimp values also took a tumble for individual importers. Only seventh-ranked Argentina (3%, with 1,037t worth $12.98m) and Mexico (67%) had a percentage increase in value.
Every other country saw declines in value by percentage, ranging from number seven Argentina (-2%, with $12.9m) and third-ranked Ecuador (-3%, with 16,752t worth $129.2m) to 10th-ranked
Canada (-56%, with 17t worth $1.8m).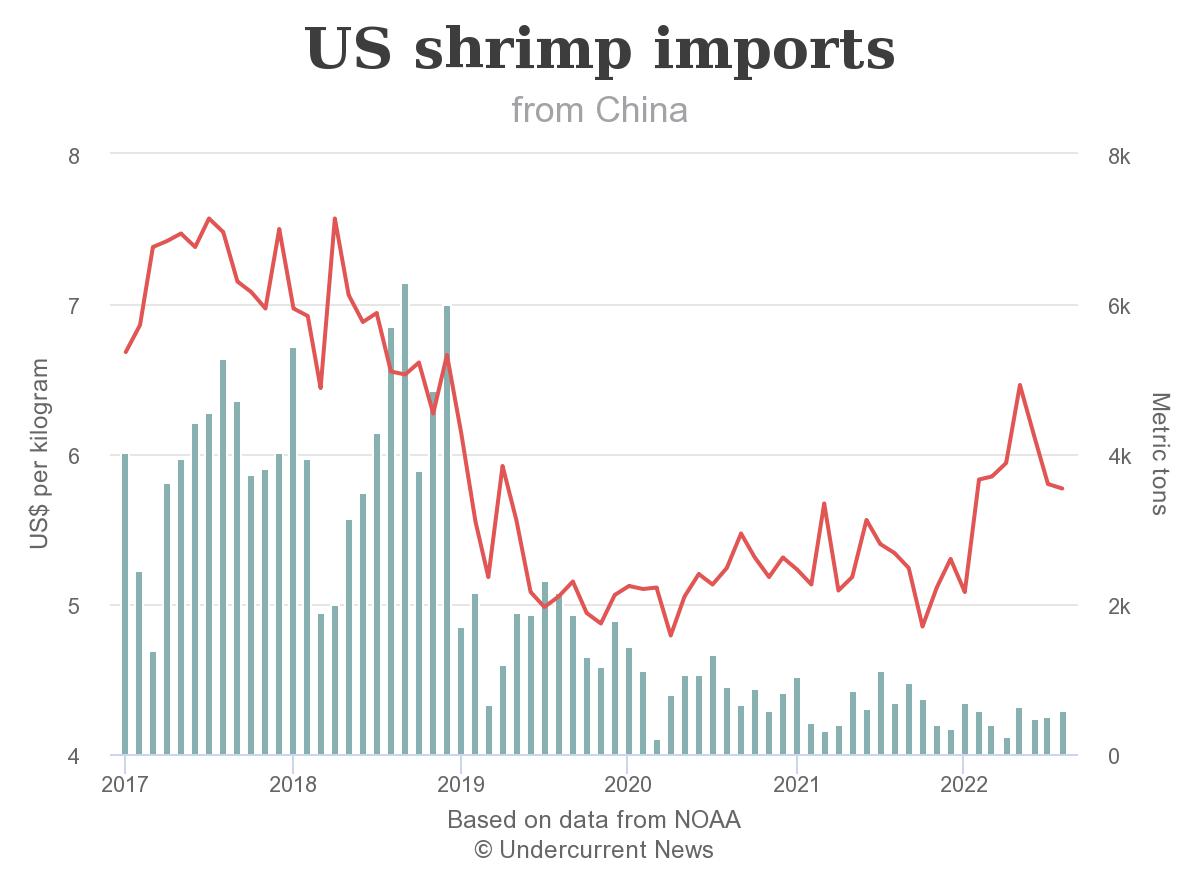 To Gulkin, the market is doing something it has always done — chasing its tail. Cycling through highs and lows as farmers and wholesalers respond to waxing and waning consumer appetites for their product.
"That's this cycle we've been in for some years now where the market picks up and farmers get active and they seed ponds and get ready for more production. More production comes, the market starts to drop, and then in the next cycle, the farmers back off and they seed less or take a break entirely," Gulkin said. "Then we end up with much lower availability of raw material and then prices, you know, move up again."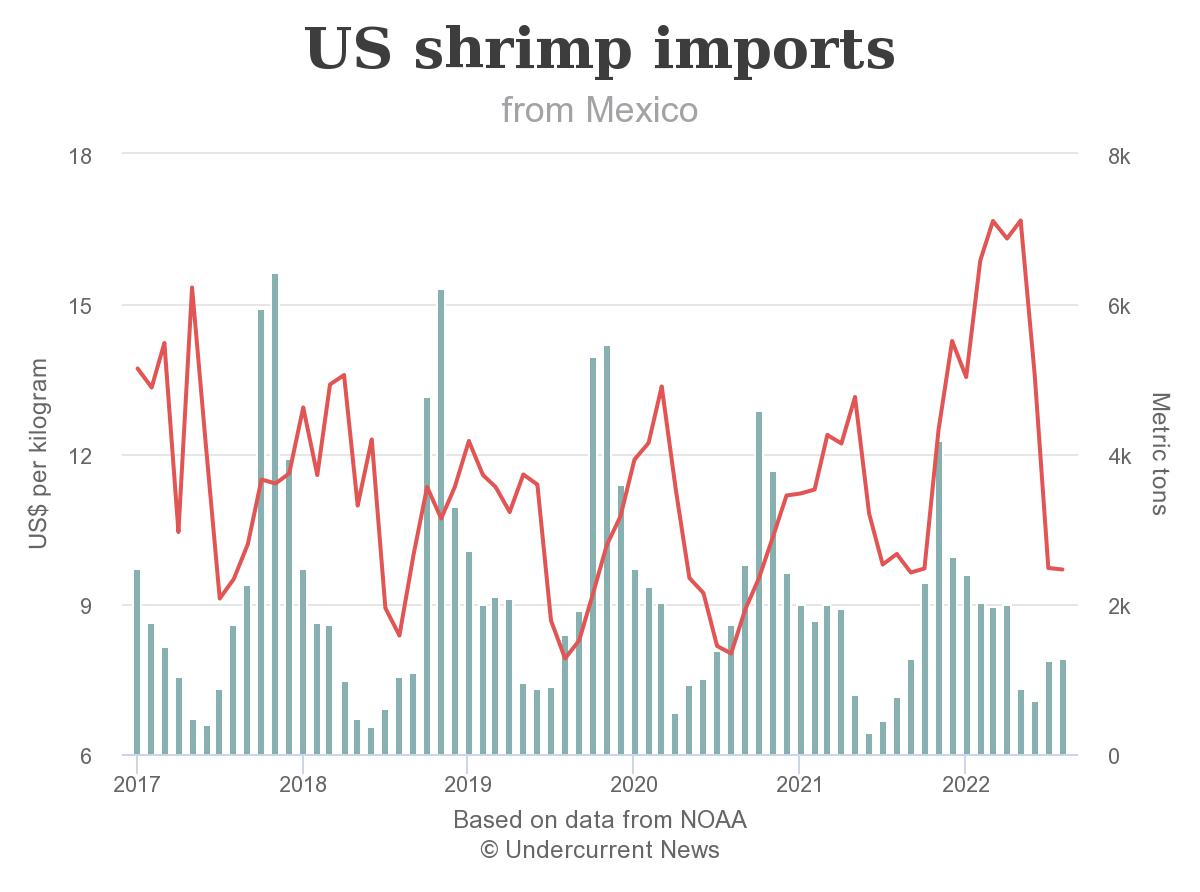 There might be some good news in the fact that compared to July 2022, the month of August represents an increase. Importers brought 67,782t of shrimp into the US in July. That's 12% under the 77,255t recorded in June 2022. The value of July 2022's shrimp, $621.51m, falls 13% under June's $719.14m value.
By that measure, August might represent something of a rebound, though month-to-month comparisons are usually considered dodgy in the volatile world of shrimp imports.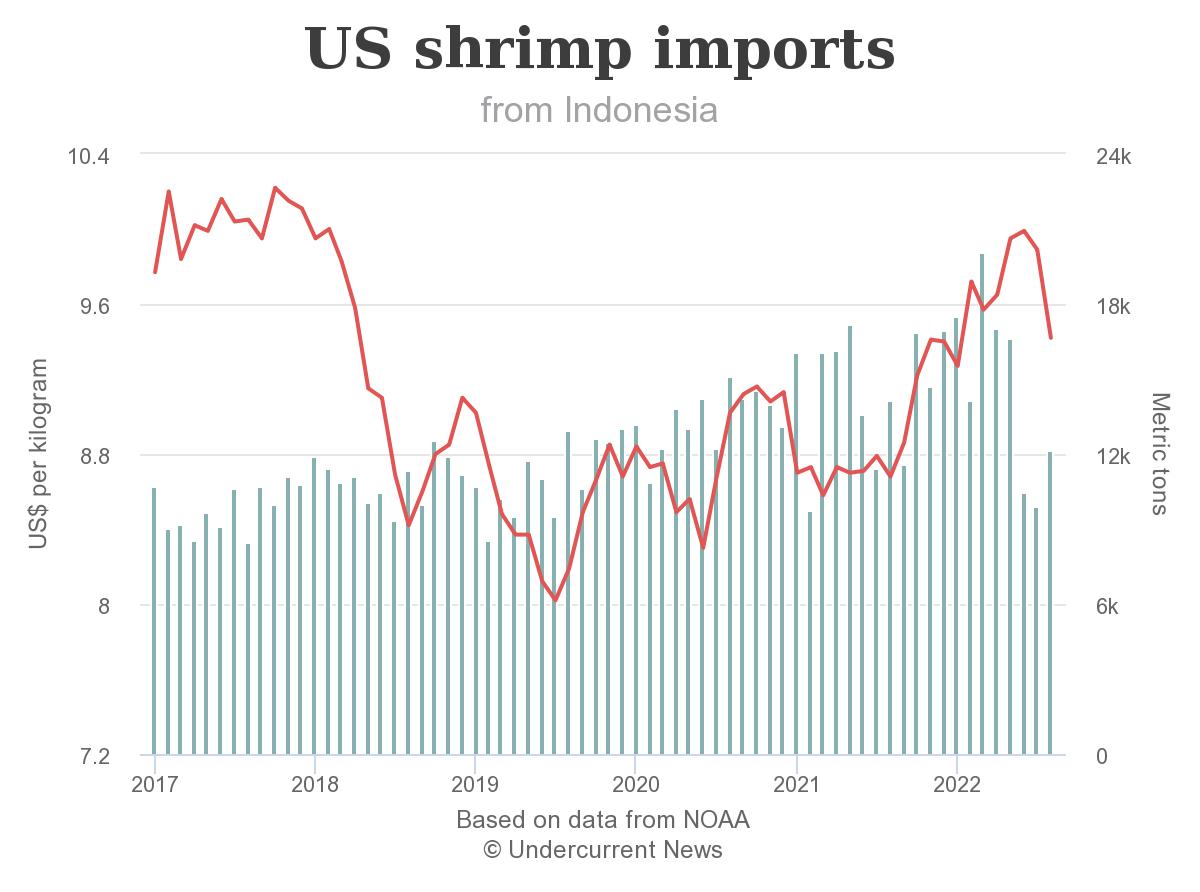 Gulkin believes that much will depend on consumer confidence, and he doesn't see that improving a great deal.
"With the pessimism on the economy, I think consumption is going to be reduced to some degree over previous years. I don't see any impetus to push the market up significantly," he said. "I think we're looking at a fairly sluggish fourth quarter coming up, but then we'll see how holiday sales go and maybe we'll be able to get through maybe some of that inventory and sales will start to pick up."