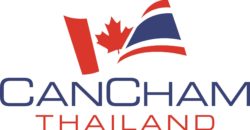 From roughneck to Seafood King: CanCham Thailand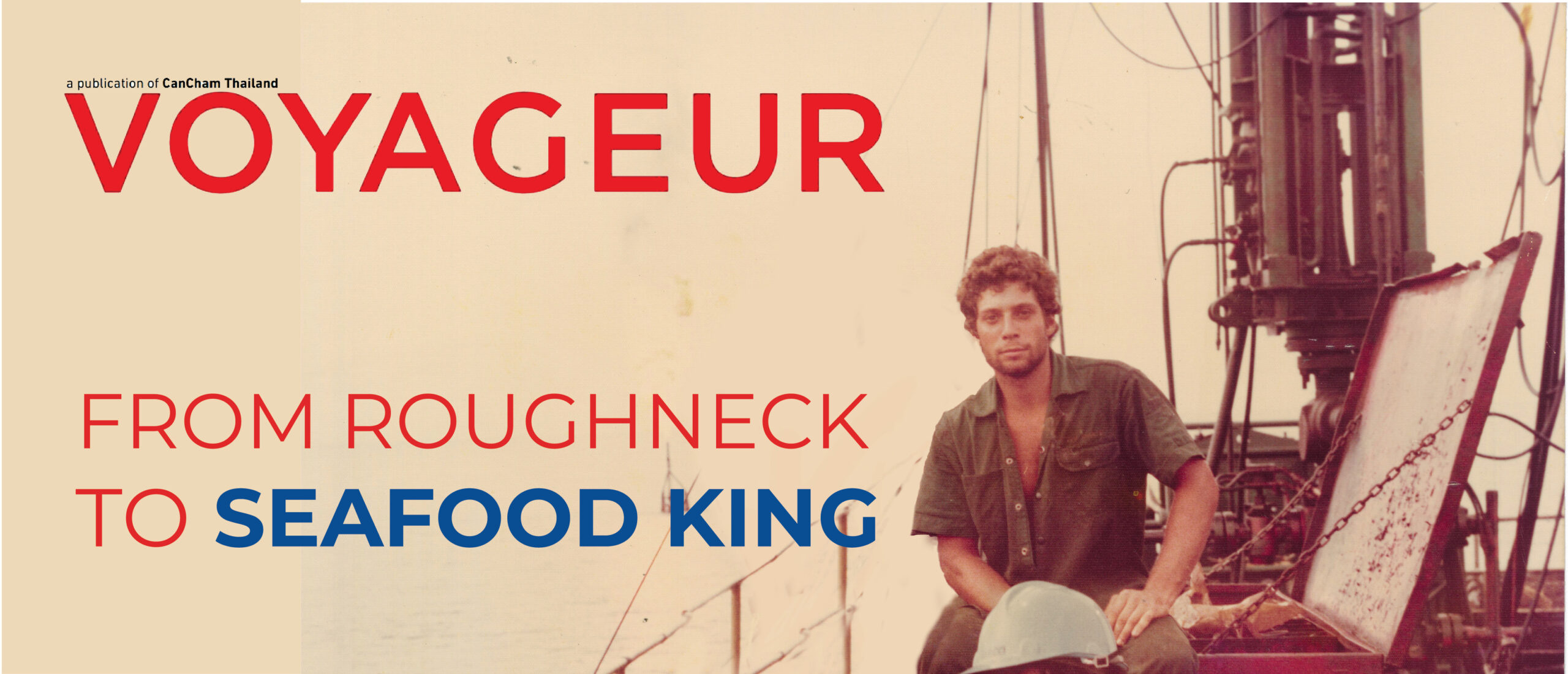 Scott Murray: CanCham Thailand
Jim Gulkin is the quintessential Canadian success story in Thailand. He arrived here with a few dollars in his pockets, he wasn't sent here on a cushy expat package, and he wasn't even a local hire. He didn't even have a rich uncle or friend to open doors for him. What he did have was a lot of determination and a bundle of ingenuity. He opened a trading company in 1987 and within a short time he had turned it into a multi-million dollar seafood company called Siam Canadian Foods covering numerous counties.
In this issue of Voyageur we are focusing on our new members, many of whom are relatively new to Thailand. They could learn a lot from the path Jim has travelled to where he is today.
Jim graduated from high school in 1975, and worked in chemical factory for a while, before becoming a bellboy at the Airport Hilton in Montreal of September of 1975. He managed to accumulate CAN$5,000 while working there, which he used to travel for 13 months through Europe, the Middle East and Africa.
He started his trip in June of 1976 when he landed in London, England, where his sister was studying at the London Film School (she's now a film editor, based in Toronto – his dad was a film producer). From there he went to Holland, and Germany, where while in Munich he heard of a group of Iranians who were importing cars to Iran. So he joined a convoy and drove from Munich to Tehran in a Fiat. His route took him through Austria, Yugoslavia, Bulgaria, Turkey and then on to Tehran. He then hopped a bus back to Greece where while staying at a campground he had a fortuitous meeting with a young Brit who was teaching in Saudi Arabia. He told Jim about the oil workers in the Mid-East, who would work one month on, one month off, earn lots of money and then travel extensively: this lifestyle appealed to him.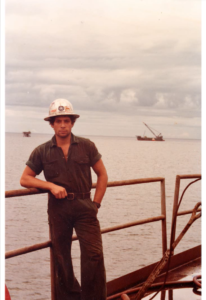 But first, he wanted to finish what he began – his backpacking journey. He travelled from Cairo to Cape Town stopping in the Sudan, Uganda, Kenya, Ethiopia, Tanzania, Zaire, Rwanda, Burundi, Zambia, Rhodesia, Botswana, Malawi and Namibia along the way, spending almost eleven months in Africa. Jim's adventures in Africa are a whole other story, but let's just say he saw and did things that few others have experienced. In August of 1977 he returned to Canada. He wanted to try working in the oil fields, so in September he set out for Medicine Hat, Alberta, to work as a roughneck.
But it was tougher than he thought it would be. He had never done really hard work before, and never really worked with tough people. He was getting beat up physically (he hurt his elbow and back), so he returned to Montreal for his sister's wedding, and to look for another form of work.
He took a job at a mid-level men's haberdashery at Cavendish Mall selling shirts and ties, but he soon realized he wasn't going to be able to save enough money to enable him to travel again. So after a couple of months, he decided to have another go at the oil business. In February of 1978, he went back to Alberta, this time to Lesser Slave Lake, north of Edmonton – he was
tougher and better prepared. He stayed until December of that year, working on the rigs.
This enabled him to take his next big trip: to Asia. He landed in Manila in January of 1979, stayed in the Philippines for six months, and then travelled to Hong Kong, Malaysia and Thailand. He ended up in Singapore at the end of the year with US$300 to his name. But he knew he didn't want to return home.
He pounded the pavement, and with skyrocketing oil prices he eventually found work with Flopetrol, a subsidiary of Schlumberger, in early 1980 as a production work-over technician. Based out of Singapore, he spent the next four years working in Indonesia, Peninsular Malaysia, Sarawak, Sabah and Brunei.
In 1984, he was posted to the Persian Gulf where, for two-and-a-half years, he worked in the UAE, Kuwait, Oman, Yemen, and India. His specialty was "snubbing" or hydraulic workover, which was repairing wells to increase their production while they were under pressure. He also did well testing, after a well was drilled to assess the condition of the wells. He was making good money, and saving it. During his time off he travelled to Thailand often.
One day the heat rose to 51C0 in the Persian Gulf, and an Egyptian on-site died of heat exhaustion. It was a wake-up call for Jim who realized he didn't want to spend the rest of his working life in the oil business.
So in September of 1986, he took a one year leave of absence and came to Thailand. He had vague plans to start a business, but he was conflicted. He had a great job, was making lots of money and only was working half the year.
He thought of starting a fast food franchise, so he enlisted a group of Chulalongkorn University students to conduct a survey for him in 1986. He soon realized he didn't have enough money to make a go of it but what else could he do? Someone suggested selling Canadian products in Thailand? So he spent the first four months of 1987 in Canada, gleaning what he could about the import/export business. Then a company called Morris National, based out of Montreal took a chance on him and he started supplying them with canned pineapple and canned shrimp.
Jim returned from Canada with 16 million different product ideas – everything ranging from steel girders to wire rope. He founded the Siam Canadian Trading Co. in June of 1987, and focused on food because that business was quickly expanding in Thailand. He quickly then went one further and zeroed in on seafood, mostly shrimp, but also fish and squid. It was a new industry, there was plenty of room to grow and the opportunities it presented were much greater. And as the value of the product was much higher, and the revenues wrought from a single transaction were also much higher. So Jim and his company focused on seafood and started exporting to Canada, the US and Europe, while opening offices in Vietnam in 1992 and Myanmar in 1996.
In 2002, he expanded to China, opening up an office in Zhanjiang in Guangdong province. Then the next year, he opened up an office in Vishakhapatnam in Andhra Pradesh state in India. In 2005, he opened another office in Jakarta, Indonesia. The company's supply base quickly doubled.
Jim says he will do anything he can to promote the company's name, and he says Siam Canadian stands for a company that is able to source product from across Asia, produces good quality in a high volumes, while staying competitive and maintaining a proper packaging procedure. "We have reliable people on the ground, who allow me to sleep at night," he says. There are a number of shady operators in the seafood industry, and Jim makes sure that his company and others stay clear of them.
Jim says that each country has a government body designated to look after the fisheries industry but enforcement varies from country to country, and some countries don't even perform a proper export quality check, but Siam Canadian does. "The product we sell is inspected by us before shipment and during production." Jim says his inspectors look at freshness, rating, and they look for signs of chemical abuse, dehydration or incorrect processing as well (e.g. shrimp that has been soaked in chemicals has a glassy appearance and a crunchy texture).
"We test all the physical properties: we smell it, we cook it, we taste it," Jim says, "and then we test all the commercial properties (the weight, the count, the packaging and the labelling, which can be very complicated and is very important.)"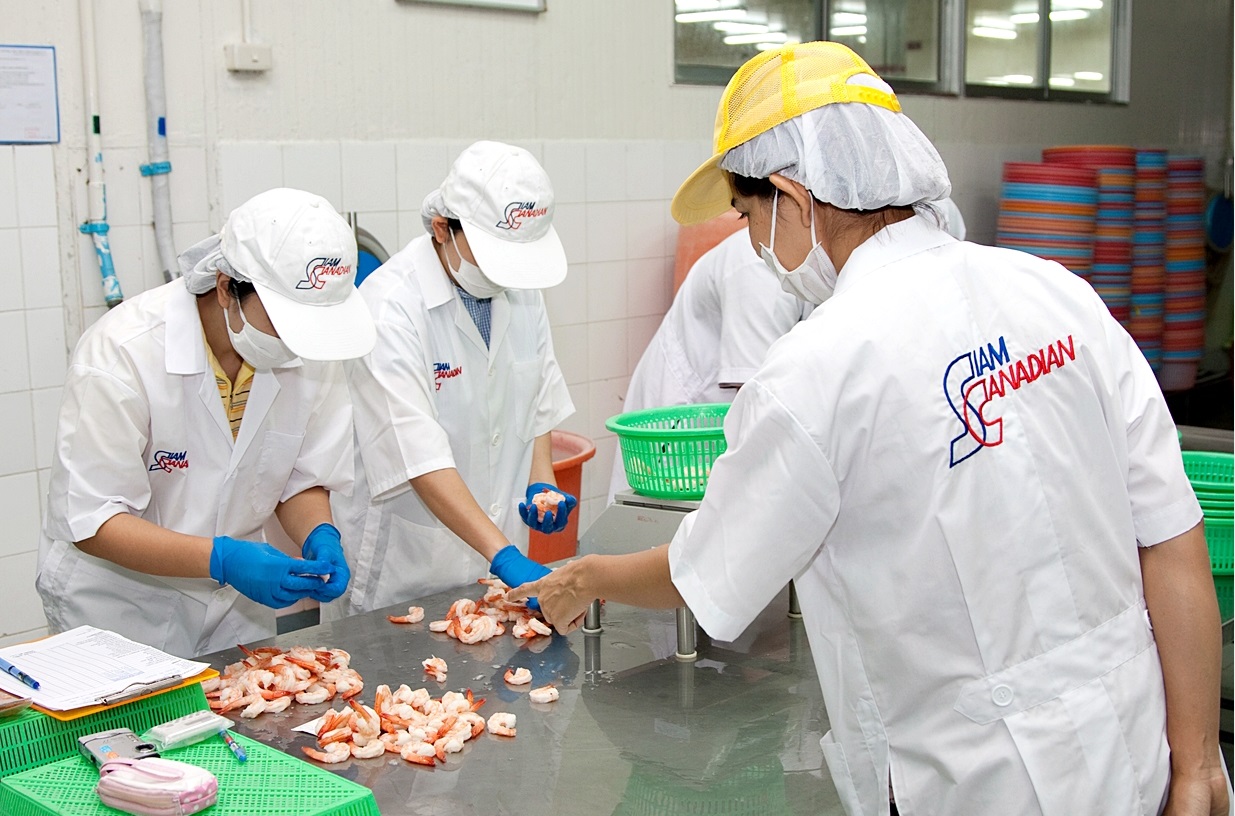 COVID-19 made checking quality control harder as some inspectors were not allowed on site so the company had to resort to watching inspection done in-house by video.
Siam Canadian primarily sells to importers who may or may not be wholesalers, distributors and processors. It doesn't do a lot of direct business with retailers.
There are 140 people in the company today, 60 in Bangkok, and each location has its own manager who runs the business. Before COVID-19 hit Jim tried to get to each office at least twice a year.
Aside from the company's business in India, and lately Vietnam, most of Jim's seafood operations have not been hit hard during COVID-19 except for the cost of shipping where the price of a 40-foot container has risen from US$3,500 to US$20,000. Jim did need to reassure his employees that they were not going to lose their jobs or even take a pay cut.
Jim is no longer involved in the day-to-day sales or procurement; he used to handle the biggest volume of sales for the company. Nowadays, he oversees all the company's offices; he mainly troubleshoots, sifting through hundreds of e-mails a day looking for problems and opportunities, focusing on strategy for marketing and expansion. He's basically the glue that binds the offices together.
He still gets a kick out of expanding and growing the business and though COVID has presented challenges, it's also presented opportunities. He started Siam Canadian Gourmet, which increasingly imports large quantities of products, primarily from other Siam Canadian offices, for selling to food processors, hotel restaurants, and retail chains. He is also working on plant-based meat and seafood products, but this is still in the developmental stage.
About 18 months ago, he set up FoodDeeHub, www. fooddeehub.com, an e-commerce site, selling frozen products such as seafood, meat and desserts using Lazada and Shopee. Then there's Cloud Kitchens (FoodDeeHub Kitchens) featuring order-in food, pizza and pasta, Japanese, Thai, plant-based and vegan products. Jim is targeting the high-end crowd, as the products are not cheap.
On the personal front, Jim only developed a stable home life after he left the oil field. When he first arrived in Thailand, he had a home/office on Sukhumvit 27 and recounts "it was just a thrill for me to read the newspaper in my own home and sleep in own bed every day." He's been married to Khun Jan for 24 years now; and the couple have a thirteen-year-old son named Rylan.
Siam Canadian's total sales turnover was close to US$ 300 million last year and has customers in over 70 countries. And Jim's done it all without a business degree, without a true business background and even without a business mentor of any sort.
Jim's travels and his work on the oilrigs forged him. The former gave him self-confidence to try new things and complete projects and the latter gave him a military-type training and discipline. Ironically, he says that not having a business background or mentor has probably helped him: "I had no preconceived notions about what was possible and what wasn't and I soon realized that most things are possible. I made my own mistakes and learned from them."
The Intrafish Industry Report has ranked Siam Canadian as one of the world's top 30 farmed shrimp suppliers as well as rating it as one of Asia's top 40 seafood companies. Not too shabby for a guy who wasn't sure what he was doing or where he was going when he started out in the business world.
And where did his seafood interest come from? Jim grew up liking lobster, swordfish and clams; he grew a taste for these when his family made road trips to New England and the Maritime provinces. He probably never guessed that he would play such a huge role in having so many others enjoy the pleasures of seafood too.
It's a truly amazing story, and it just goes to show what one person can do when they set their mind to it. Jim's tips for success: "You must have self-discipline; no one is successful who doesn't have self-discipline. You must also be aware of what you have to do and then do it. You need self-confidence; you have to have confidence in your own judgement. And you don't have to have a mentor, you can learn yourself."
He also says. "Doing something you really don't want to do to enjoy to achieve a goal makes you learn about sacrifice and sets you up for responsibilities later in life."
Jim Gulkin is a study in determination and perseverance. His can-do attitude and willingness to adapt to and try new things is a great example for young Canadian entrepreneurs to follow. He's a model entrepreneur and one the Canadian community can be very proud of.
Contact Info
Office: +66-2-185-3311
Email: jim@siamcanadian.com
Web: www.siamcanadian.com 
CanCham Thailand (Thai-Canadian Chamber of Commerce)
139 Pan Road, Sethiwan Tower, 9th floor, Bangkok 10500, Thailand
Phone: +66 (0) 2 266 6085-6 | Fax: +66 (0) 2 266 6087| info@canchamthailand.org