Inflation, rising costs making Vietnam's pangasius farmers hesitant to stock ponds: SeafoodSource News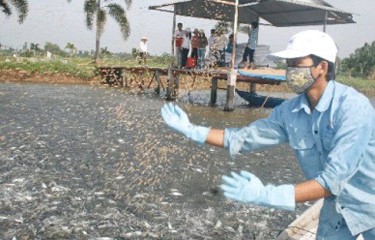 Toan Dao: SeafoodSource News
Vietnamese pangasius companies reported strong growth in the first half of 2022 thanks to high demand in global markets. But rising costs, mainly due to inflation, are making providing local farmers with a tough decision as to when and whether to restock their ponds.
Data from the Vietnam Association of Seafood Exporters and Producers (VASEP) covering the first six months of this year indicates Vietnam exported pangasius worth USD 1.4 billion (EUR 1.37 billion), up 82.4 percent year-on-year.
China (including Hong Kong) purchased USD 427.6 million (EUR 417.9 million) worth of Vietnamese pangasius, up 107 percent year-on-year; the U.S. took in USD 356.4 million (EUR 348.3 million), up 111 percent; and the countries under the Comprehensive and Progressive Agreement for Trans-Pacific Partnership (CPTPP) – which includes Australia, Canada, Japan, New Zealand, Singapore, Mexico, Vietnam, Peru, Chile, Brunei, and Malaysia – bought USD 180 million (EUR 175.9 million), up 66.3 percent year-on-year.
Consequently, Vietnam-based pangasius companies also realized higher prices in the first six months of 2022 due to growing global demand.
Vinh Hoan, the country's top pangasius exporter, achieved an export value of USD 226 million (EUR 220.9 million) in the first half of 2022, up 82 percent year-on-year. Other pangasius companies also celebrated much higher export values, including Bien Dong Seafood seeing their sales rise 41 percent year-on-year; IDI achieving 86 percent growth in export sales; Navico recording 41 percent growth in exports by value; Van Duc Tien Giang seeing a 61 percent gain; Dai Thanh Tien Giang's export sales rising 118 percent; and NTFS hitting an 87 percent increase.
Overall, Vietnam had a total farming area of 3,105 hectares devoted to pangasius in the first six months of the year, up 1 percent from the first half of 2021; with a total production volume of 771,430 metric tons (MT), up 6 percent year-on-year, according to Vietnam's General Department of Fisheries.
However, VASEP has precited the pangasius exports in the third quarter of 2022 are unlikely to maintain the same pace of growth, mainly due to the impacts of high inflation in global market. High inflation isn't just impacting prices at the consumer and foodservice level, VASEP said – it is also affecting pangasius farming activities in Vietnam due to higher feed and other input material prices.
Data from VASEP showed pond prices in Dong Thap province in the week ending 15 July were VND 28,000 and VND 29,000 (USD 1.20 to USD 1.25, EUR 1.18 to EUR 1.22) per kilogram for smaller sizes of 0.7- to 0.8-kilogram fish, up by around VND 8,000 (USD 0.34, EUR 0.33) per kilogram from the same week last year.
Vietnam Pangasius Association Chairman Duong Quoc Nghia told local media in July that despite a rise in prices, pangasius farmers are incurring losses due to the increase of feed prices and other costs. The production cost was nearly VND 30,000 (USD 1.29, EUR 1.26) per kilogram, which is higher than the farm-gate prices. Nghia said the losses have discouraged many farmers from restocking.
Truong Van Dien, the former head of an aquaculture cooperative in Dong Thap province, warned that if local processors fail to increase purchase prices, it is likely that the sector will face a shortage of material pangasius for processing, as farming acreage won't be expanded, VnExpress reported.
Siam Canadian Vietnam Sales Director Vo Thi Tuong Oanh confirmed the situation to SeafoodSource.
"The information is true. Pangasius farmers get loss from their farming operation so they hesitate to stock again. Current pangasius material price is lower than farming cost," Oanh told SeafoodSource.
Oanh said prices for pangasius feed have increased by between 15 percent and 20 percent so far this year.
An Giang Province Fisheries Department Director Tran Anh Dung said the cost of feed accounts for between 75 percent and 80 percent of production costs. But with prices of pangasius fingerlings and other input materials for farming also rising significantly, overall production costs have increased 35 percent compared to last year, he told newspaper Tuoi tre.
Dung said pangasius prices have cooled in July, down from VND 32,500 (USD 1.40, EUR 1.37) per kilogram in May 2022. This was due to the lower demand from Chinese buyers. If that trend continues, it may lead to a further decline of prices and will continue to discourage farmers from stocking, he said.
Local producers have raised the price of feeds for various seafood species in June and July, a local feed producer told SeafoodSource. However, the prices of feed for pangasius have not been adjusted recently, a sign that potentially shows demand for pangasius feed has slowed.
Meanwhile, the prices of pangasius fingerlings reduced in July, signifying demand from farmers is not as high as before. The rates were between VND 27,000 and VND 28,000 (USD 1.16 and USD 1.20, EUR 1.13 and EUR 1.18) per kilogram of fingerlings in July, down from between VND 30,000 and VND 32,000 (USD 1.29 and USD 1.38, EUR 1.26 and EUR 1.34) per kilogram in May, and down almost half from the VND 54,000 (USD 2.32, EUR 2.27) per kilogram fingerlings were selling for in March 2022.
Despite these signs, Oanh said China's recent decision to end COVID-related import restrictions on seafood from Vietnam will help the market recover, with prices possibly increasing, as China is currently the largest market for Vietnam's pangasius sector.
Nghia also remained optimistic about the opportunity for the sector to reach a record export value of USD 2.6 billion (EUR 2.5 billion) this year, which would represent a 61.5 percent boost from 2021. He said his association is encouraging local farmers to join aquaculture cooperatives and work with pangasius companies in their supply chains to avoid adverse impacts of rapidly changing market conditions.