Pangasius prices ease as supply improves: Undercurrentnews
Though sources are waiting to see the impact of China's easing of COVID import regulations and its likely return to the market in greater quantities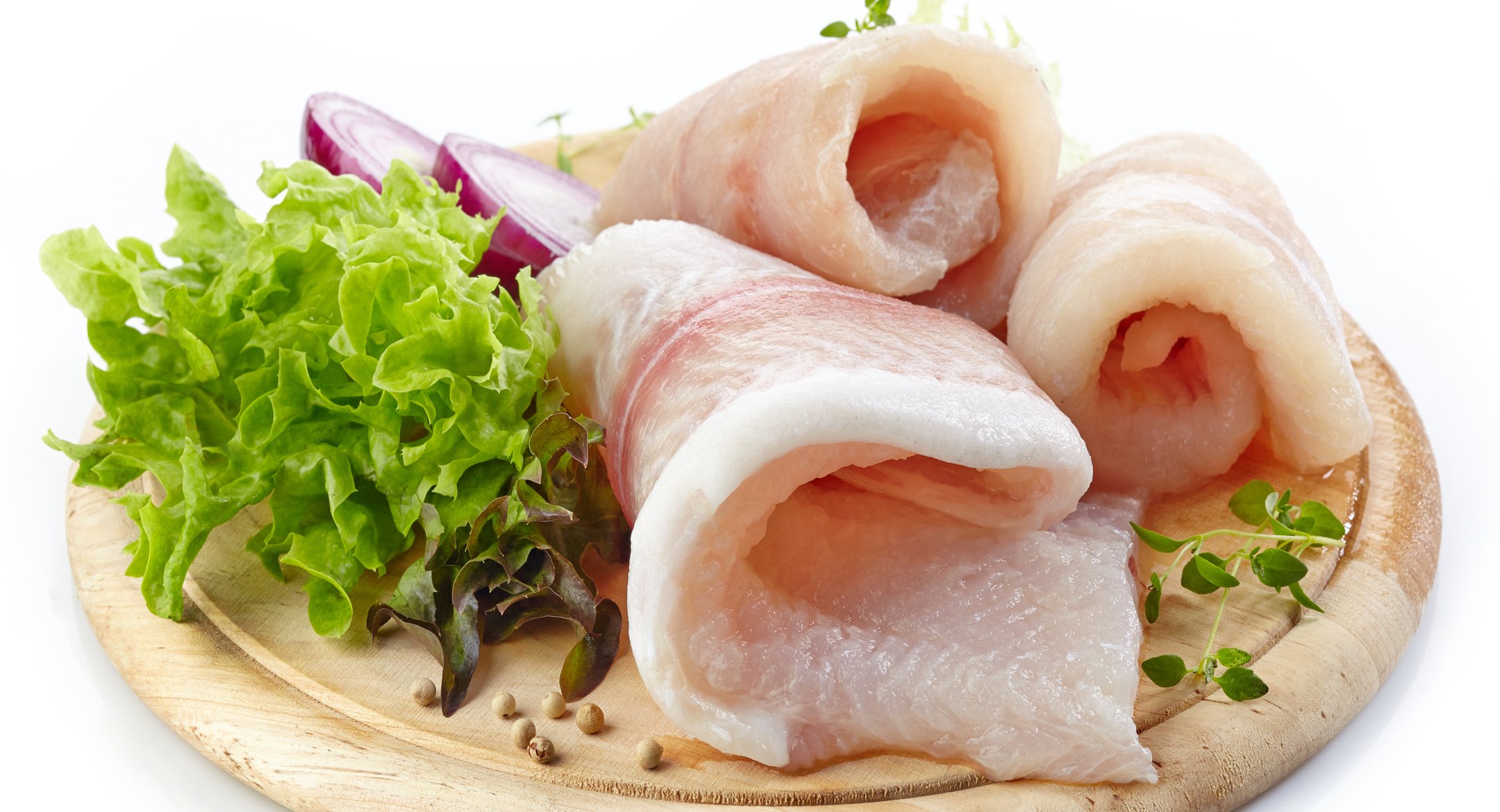 Neil Ramsden: UnderCurrentNews
Vietnamese pangasius export prices have been easing in June and July, but sources are waiting to see if levels will firm back up with China having dropped its strict COVID import regulations, they told Undercurrent News.
Export prices to key markets like Europe, China and the US were all on the rise by the end of 2021, despite the differences in product preferences across buyers. The data below (which shows the latest available on these datasets, from March 2022) shows the extent to which prices had lifted.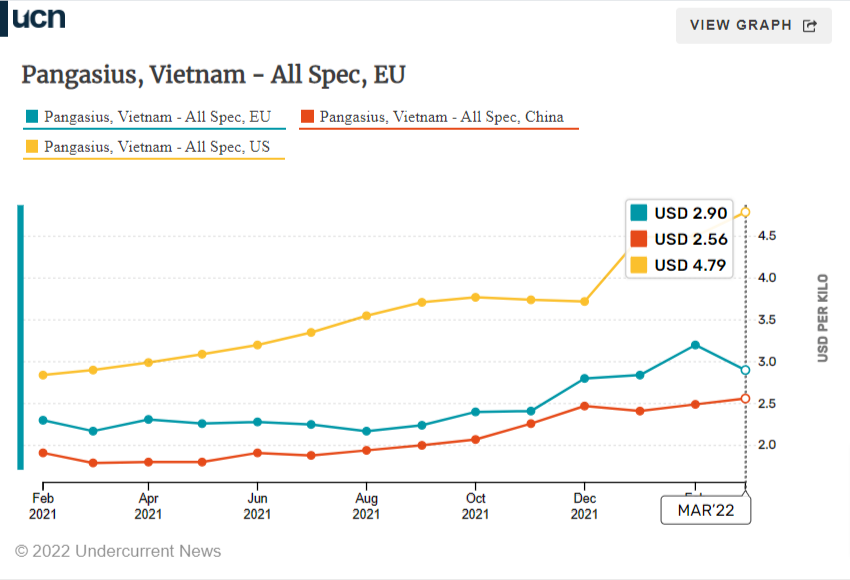 Prices for pangasius fillets destined for the EU plateaued at $3.40 per kilogram (EU treated, 100% NW, FOB Ho Chi Minh) late in the winter and spring of 2022, before declining this summer, sources said.
"Prices are much softer than before," said Le Thi Thuy Trang, with the Vietnamese office of trading company Siam Canadian Group. "100% of Vietnamese [people] are vaccinated, so things are back to normal — no daily COVID tests, no isolation, no social distancing. Packers don't add these extra fees into the selling price [anymore]," she said.
Then, freight rates are down, and under its zero-COVID policies, China was buying very little pangasius, she added. Minh Phu Seafood chair Le Van Quang recently said that as of mid-July, sea freight rates out of Vietnam have been declining thanks to high inflation impacting consumption in all markets.
In May, Undercurrent reported that the supply of pangasius weighing in at ideal sizes for the EU and US fillet markets was expected to be in short supply until August or September; that seems to be proving true, with the situation already improving in July, said Trang.
"Farming is getting better, the raw material supply can cover the demand." She put the EU price at around $3.00/kg for 80% NW, CNF EU in mid-July, but with "room to negotiate" too.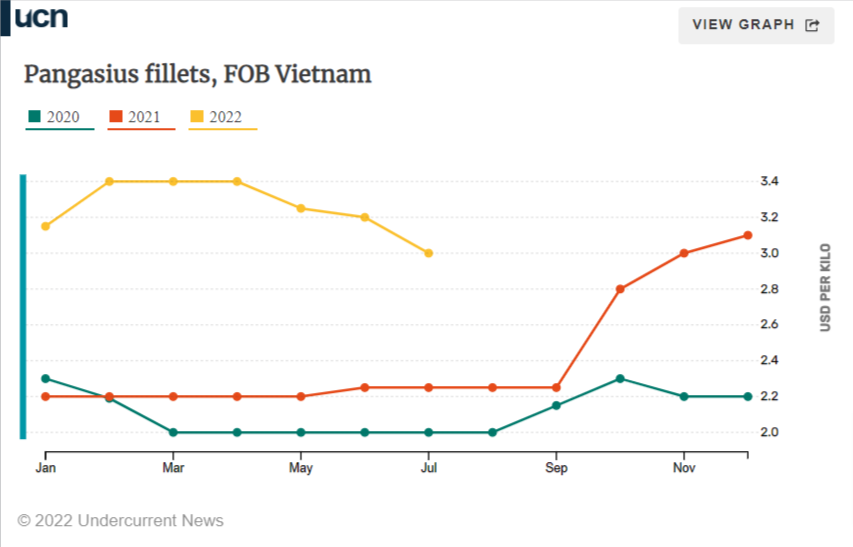 An executive with a major European importer confirmed this level, calling it $2.95-$3.05/kg for EU-treated product.
"The prices have been decreasing slowly but steadily because of a lack of orders overall," he told Undercurrent. "The biggest effect is from China not buying because they have a lot of goods locked up at the ports and public cold stores. In June, prices were still high, and in July, they've started to drop."
Don Kelley, procurement manager for US importer Western Edge Seafood, also briefly confirmed to Undercurrent that prices for imports to the US market were also head down, but added that China's dropping of COVID testing would "likely add substantial demand to current raw material [supply]".
No immediate impact from China?
Undercurrent reported that the Chinese government had dropped its policy of suspending imports from frozen food companies whose products tested positive for coronavirus on July 13.
Several sources said they expected this move to see a renewed push on Chinese purchasing, with Trang noting: "China is the top one or two biggest markets for Vietnam pangasius. Their reopening for sure will help the price".
"It's good that Chinese importation is easier, but it may take a longer time for prices to go back to $3.40/kg."
For now, she said on Aug. 4, the market is "a bit quiet", with the "expectations on prices from the supply side not matching the demand side".
As an example, raw material prices lifted by around VND 1,000/kg (around $0.12/kg fillet) at the start of August, she said. "But a few packers are eager to take orders, so they accept the old price during negotiations."
In the next one or two months, "seasonal and festival purchasing" will start, adding to demand pressure, she concluded.
Another source — with a second large European importer of pangasius — said he didn't have the impression that China's dropping of import checks had had an immediate impact on demand and prices.
"We have contracts in place, so it wouldn't be a problem for us, but I don't hear the suppliers coming to me saying, 'could you please cancel an order' or 'can we postpone a delivery?' That's not the case," he told Undercurrent.
"Maybe for the next two months, it might be difficult to get new production, but also, looking ahead, there's more material available, and there's production capacity available for new orders, is my impression."
He confirmed his company expected export availability to increase as summer moves into fall in Europe, noting that COVID in Vietnam had created the current shortage of raw material by severely limiting fingerling production, pond stocking, and processing capacity.
Now, most major processors are back to at least 70% of their processing capacity, and have adapted to the "new normals" in place, he said.
In recent months, the shortages had prompted the high prices seen on the charts above, and "you had to book six months ahead" to secure supplies, he told Undercurrent. At the same time, the US was paying even higher prices than Europe, he added.
That said, the first EU importer cited above told Undercurrent on Aug. 4 that he "had noticed that raw material prices have increased suddenly". He expects to see the effect of China's return to the market in the coming weeks, he added.
In recent weeks, some Vietnamese media have suggested that some pangasius farmers might be unwilling to restock their ponds again, with VnReport citing Duong Quoc Nghia, chairman of the Vietnam Pangasius Association, as claiming farmers are suffering losses due to the increase in feed prices and other costs.
Production costs are nearly VND 30,000/kg — higher than the selling price at the pond, he said.
However, importing executive quoted just above said he had heard no such worries from his suppliers.
"I'd say the normal pattern with pangasius is that farmers stock a lot when prices go up, every time. Of course, now you have inflation, especially in the cost of feed and fingerlings, which could be a reason for not wanting to restock. But I've not heard that situation being the case."
Inflation reaching the consumer on panga
When it comes to the consumer side of pangasius in Europe, the inflation that has impacted the supply chain (as with all species, to some degree) is finally being passed down, said the second European importer.
"I would say it's coming now," he agreed, of inflation reaching the consumer. "It has taken some time, but slowly, the retail sector is starting to accept these new prices. Processors, value-adders, we need to transfer the higher prices to our clients. I couldn't tell you the rhythms of that across
Europe, but we are increasing our prices to retail now."
It is needed, he continued, because pangasius fillet prices paid by value-added processors have been up by almost 100% since spring 2021.
"That's due in part to freight rates, but also the raw material costs. Either way, the processor pays it."
The hope for such processors is that the inflation and following recessionary behavior by consumers in Europe and the US can provide a boost for retail sales of pangasius and other such species that are cheaper than salmon and cod.