'"Sales are extremely slow, inventory cannot move': US pangasius imports plunge as high inventories drag down orders, prices: Intrafish
Pangasius imports into US market fell 50 percent in the first quarter compared with the same period in 2022.
John Evans: Intrafish
It has been a rough 2023 so far for US importers of Vietnamese pangasius, and it remains uncertain whether things will improve in the second half of the year.
Consumer demand in the US market has evaporated as shoppers struggle to control their food spending in light of ongoing inflation.
The slack demand has led to a slump in wholesale prices, but importers are burdened with large inventories that aren't moving.
National Oceanic and Atmospheric Administration (NOAA) data show pangasius imports were cut in half in the first quarter of this year compared with the same period in 2022. In April, imports fell again, from 13,253 metric tons to just 7,259 metric tons, according to the most recent NOAA statistics.
Oversupply and weak demand with the US economy weighed down by inflation have impacted import volumes, which soared during the years of the global pandemic, said Tammy Lam, who handles national sales for H&N Group, a leading California-based pangasius importer.
With inventories remaining stubbornly high, orders from both the retail and foodservice sectors have fallen sharply.
"There are not too many holes to fill, so it's just a little bit here and there for specific sizes," Lam said.
"We were hoping the second quarter would improve, but we are still in the same state where there is oversupply and the demand hasn't recovered."
During the pandemic, wholesale pangasius prices reached around $3.30 (€3.06) – $3.50 (€3.24) per pound, but today the fish are selling for much less, anywhere from $1.48 (€1.37) – $2.10 (€1.95) per pound, she said.
Interestingly, Lam said, the lower wholesale cost and accessibility of pangasius is attracting new operators, direct sellers and packers into the market, meaning longtime suppliers are facing shrinking market share.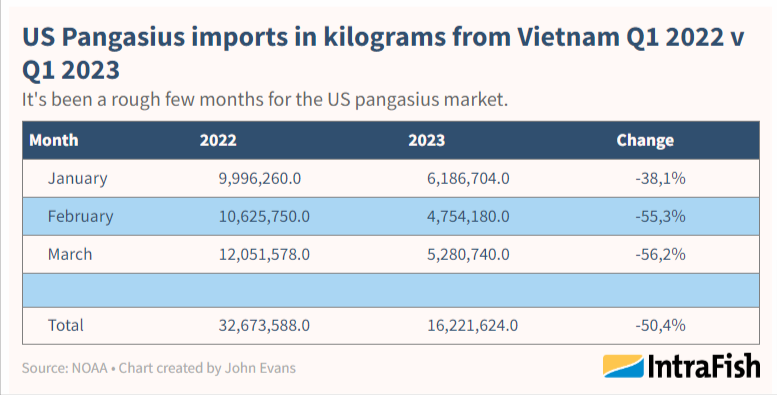 The [import] numbers accurately reflect market events, Sam Galletti, president of Southwind Foods/Great American Seafood Imports, said.
"Business in general is just not what it was a couple of years ago. Demand has slowed and customers are buying more just in time."
Dave Loos, CEO at pangasius supplier Western Edge Seafood in Pennsylvania, noted that business is down from a couple of years ago and consumers have returned to buying as and when they need to, rather than stocking up during the pandemic.
Most importers overbooked product in 2021 and 2022, expecting sales to continue to increase even after the pandemic. They were unprepared for a negative downturn following Russia's invasion of Ukraine in February 2022 coupled with surging inflation, said Oanh Tuong, who works for seafood supplier Siam Canadian in its Vietnam office.
Consequently, importers are now sitting on huge inventory bought at high prices, forcing them to try to clear their stock instead of importing more pangasius, she said.
"Sales are extremely slow, inventory cannot move."
The US market is not the only sore spot for Vietnam's pangasius exporters.
Exports to the country's three largest markets, China, the United States and EU, all fell significantly during the first four months of this year, the Vietnam Association of Seafood Exporters and Producers (VASEP) said in a LinkedIn post.
Exports to Germany, Singapore and the UK, however, posted positive growth.