Siam Canadian's Gulkin sees 'firm' prices amid flat US shrimp market: Undercurrentnews
'I personally think that the slowdown's assumptions are exaggerated. I think it's mostly just too much inventory in the US right now' — Jim Gulkin, CEO and founder, Siam Canadian Group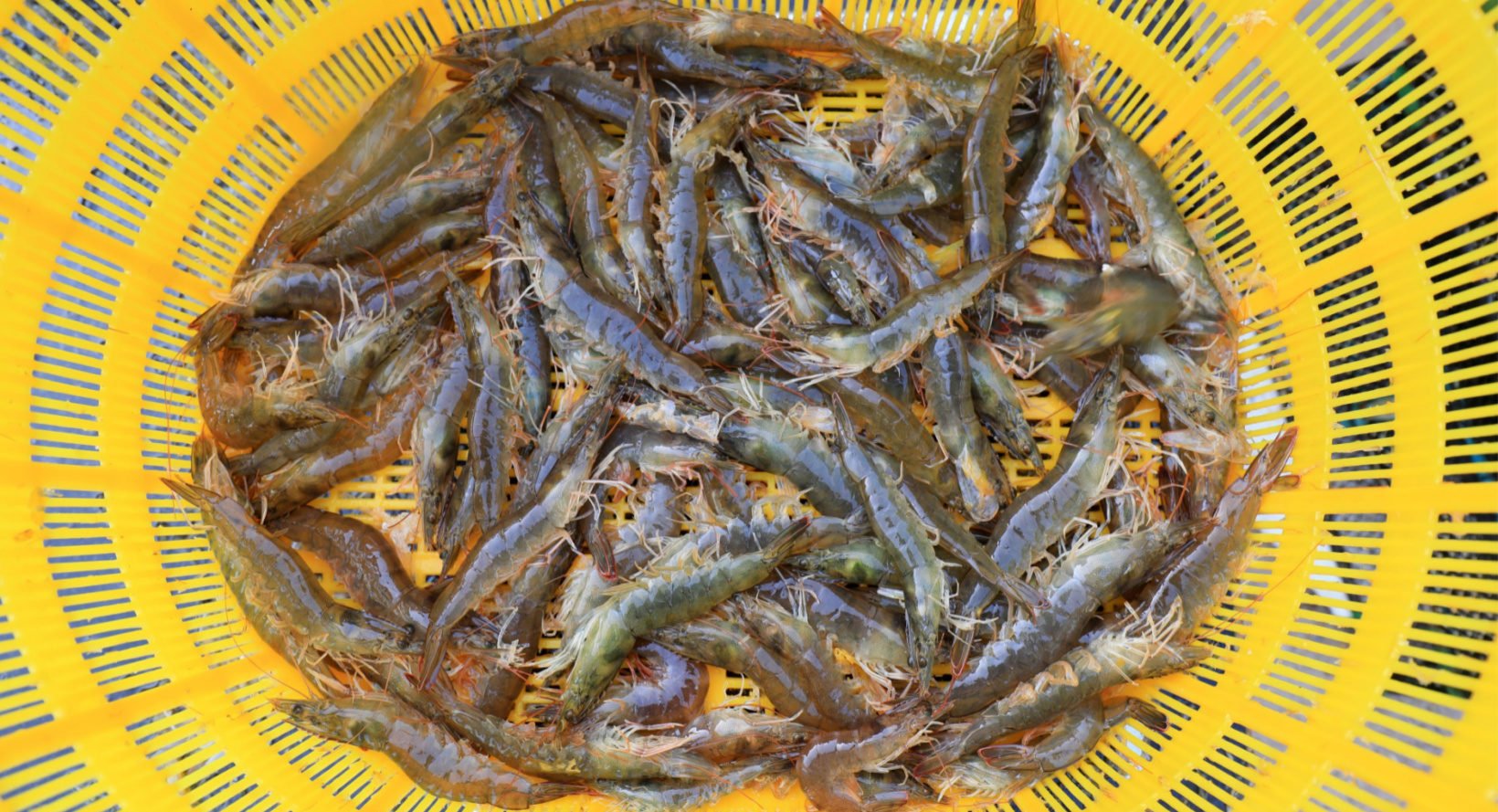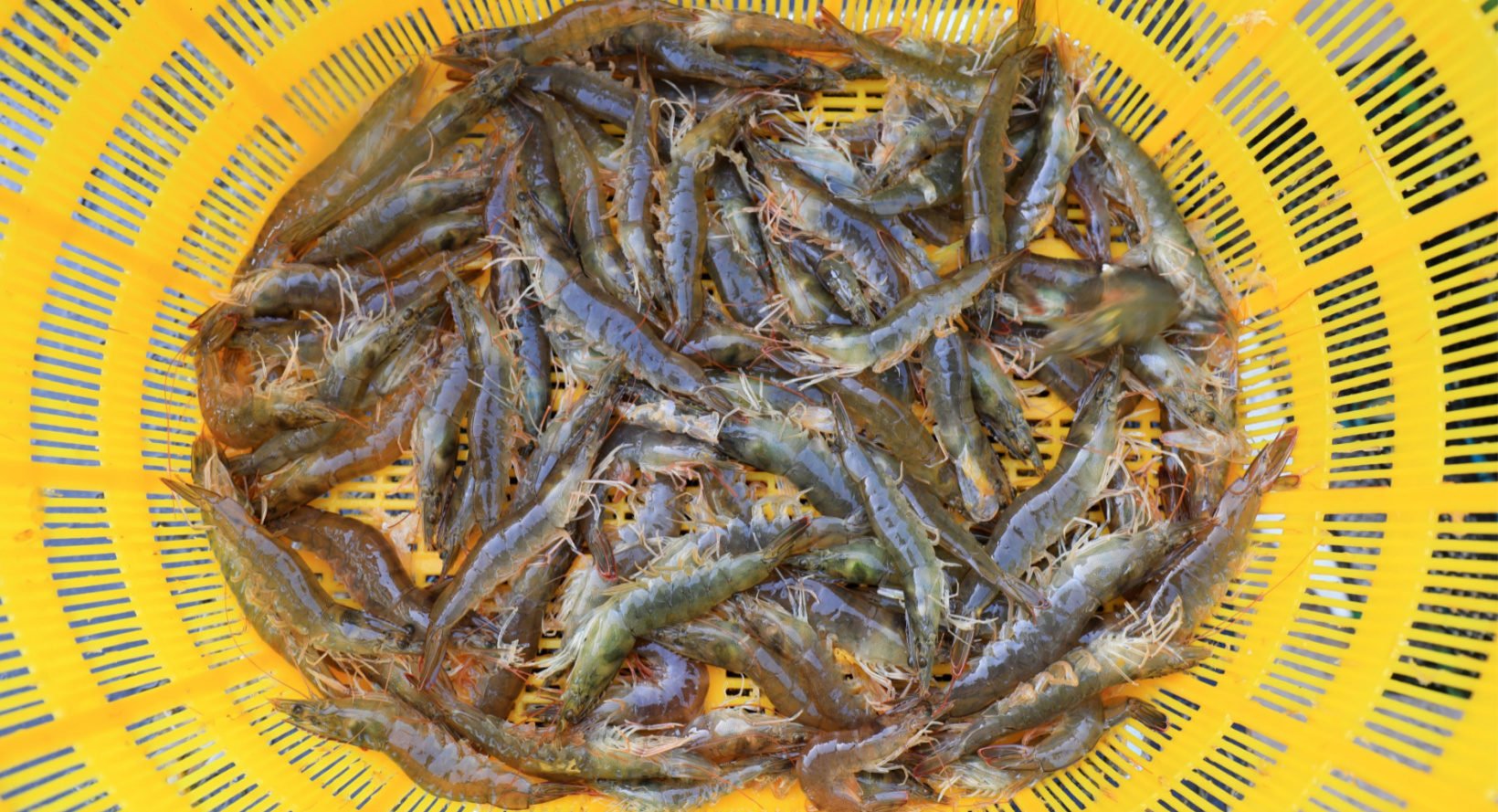 Nick Sambides Jr.: UnderCurrentNews
The latest data from the US National Oceanic and Atmospheric Administration (NOAA) bear out what US shrimp dealers have been seeing in recent weeks: That demand is largely flat amid an inventory glut.
And, while, to suppliers, flat is better than falling, global ex-farm prices appear to be stabilizing as farmers cut production, Jim Gulkin, the CEO and founder of Bangkok, Thailand-based Siam Canadian Group, told Undercurrent News.
"In terms of origin, in terms of supply source, prices are firm right now," he said.
According to trade statistics released last week by NOAA, the US imported 77,254 metric tons of shrimp worth $719.14 million, or $9.31 per kilogram, in June. By volume, that's only 224t, or 0.3%, more than June 2021's 77,030t and a 2% rise over May 2022's 75,484t.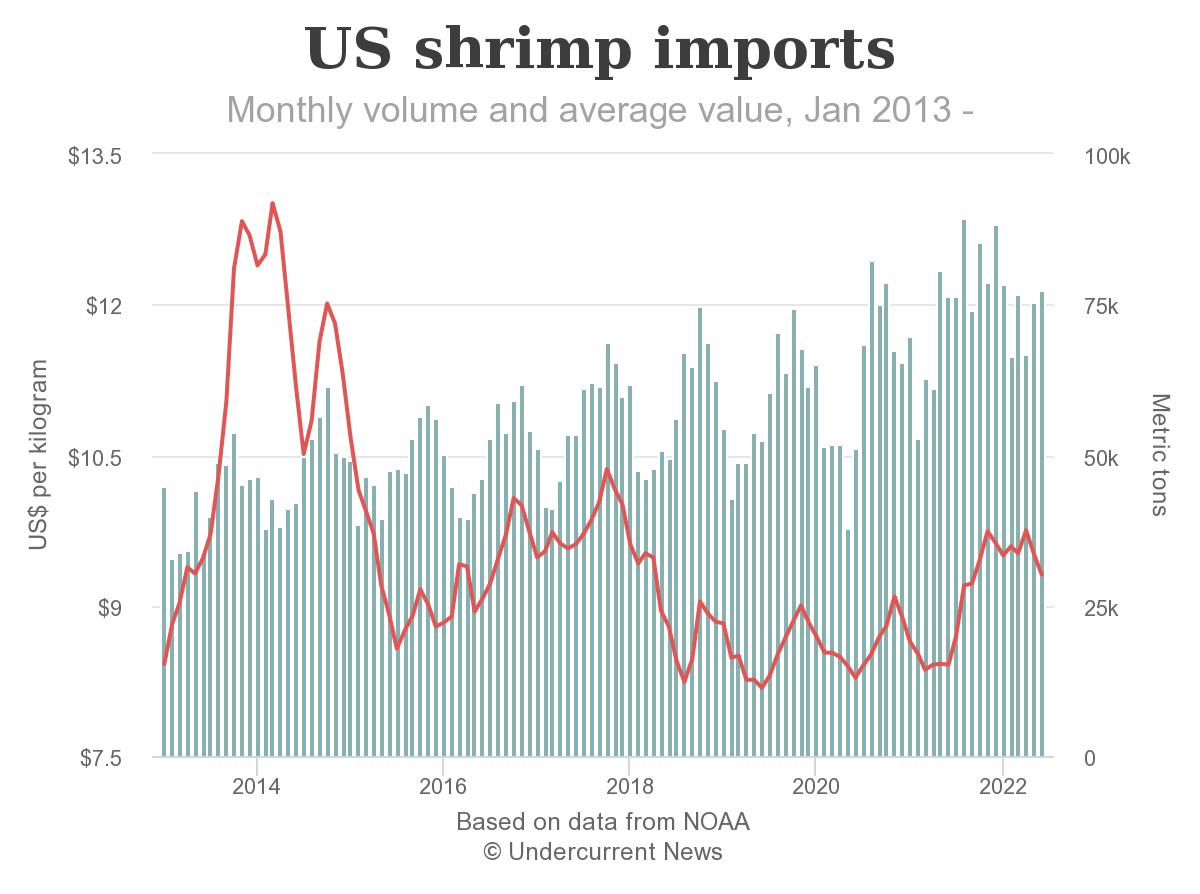 Jim Gulkin, CEO and founder of Siam Canadian Group, said that he suspects that the market is returning to normal after a burst of growth so prodigious that one observer, Urner Barry senior analyst Angel Rubio, described it as a pandemic-induced "random event" outside all previous norms — 2021 being the biggest year the market has ever had in all of its recorded history.
Gulkin said that the growth pattern eventually led to an inventory buildup that depressed prices, which are now stabilizing.
"There's no more [price] weakness out of Ecuador, out of India, out of Thailand, or in Asia. Now the Vietnam prices are more or less firm," Gulkin said. "There is also an issue of prices having moved down too fast, too quickly, and farmers in many countries are going to slow down production for the coming crop because they're not making money."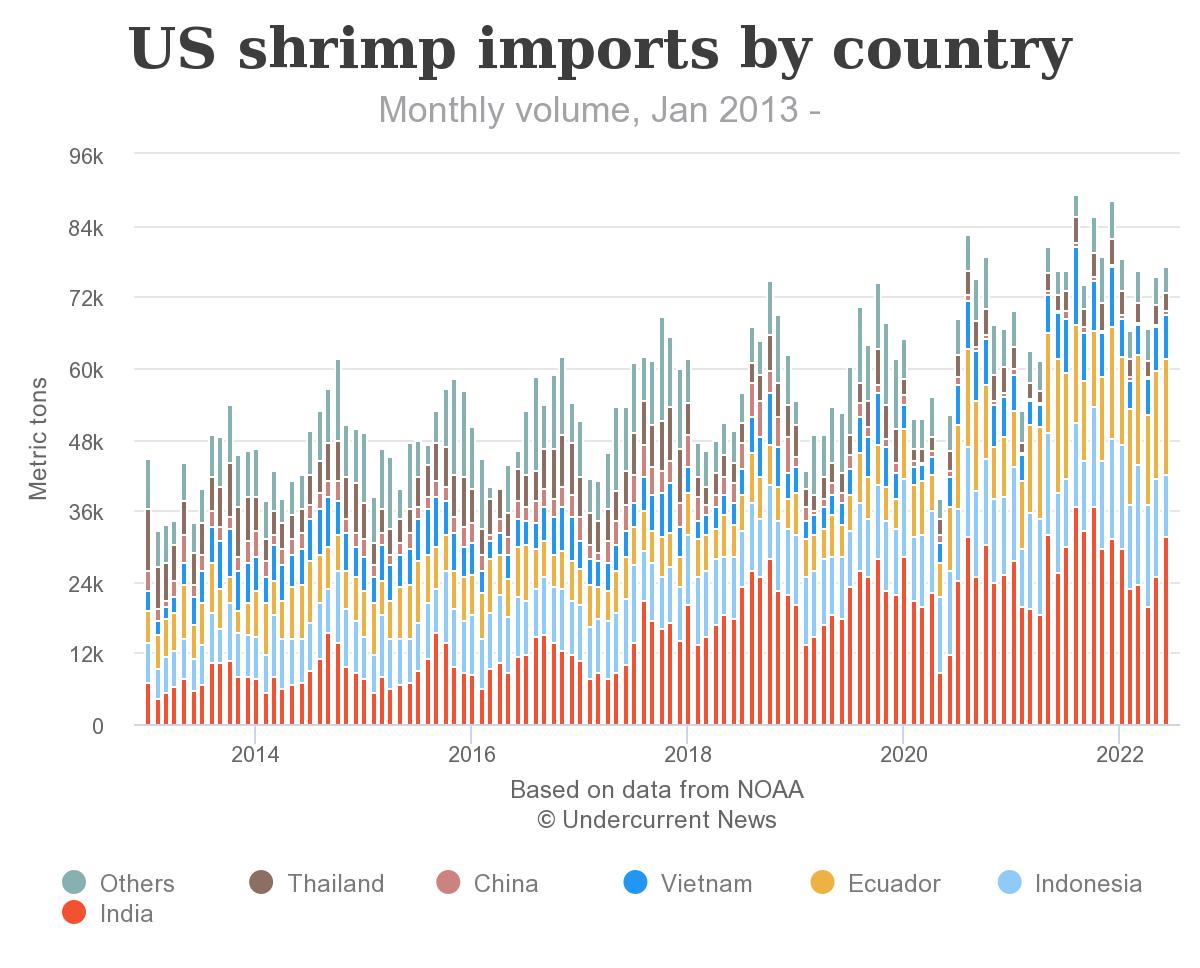 Gulkin's assessment echoes Rubio's last month in that the latter thought the market was returning to form after unprecedentedly explosive growth — y-o-y increases in volume, that, now including June, occurred in 36 of the last 41 months.
"I personally think that the slowdown's assumptions are exaggerated. I think it's mostly just too much inventory in the US right now, coming off the back of the pandemic and all the massive logistic shifting — port congestion, trucking problems, cold storage [shortages]," Gulkin said. "I think the US market, I guess it's slowed down from the pandemic high and people are buying less seafood at the retail level now, but it is summertime too. They have other things to do."
'Under increasing pressure'
"Now that doesn't translate to higher prices in the US market," Gulkin added. "That could take six months — that could take some time. But I think in terms of origin, in terms of raw material and supplies, prices have bottomed down. That doesn't mean the prices can't move down again. If there's just no sales and processors in India or Indonesia or Ecuador or wherever have inventory, then you have to move it out" and the need to put it to market could drive prices down farther.
According to a recent projection made to Undercurrent by Rabobank's chief seafood analyst, Gorjan Nikolik, shrimp
prices will fall in the second half of 2022 amid a projected increase in supply and weaker global demand.
Prices for shrimp will "come under increasing pressure", mostly in response to the global economy's gloomy turn, he said. In July, the International Monetary Fund trimmed its projected global growth to 3.4% for 2022, down 0.4% from its outlook in April.
Nikolik said that prices for shrimp would likely "find a bottom" in the second half of the year, but then recover as farmers "adjust, adapt, and then prices turn again".
The US shrimp market — the most important market for farmed shrimp exporters — is "definitely cooling off faster", he said.
Gulkin is more bullish than Nikolik because fundamentally, the US job market is strong.
Employers continue to have trouble finding workers to fill open jobs, which portends job security for most employed people, and that will fuel consumer spending on shrimp, he said.
"Consumers become a little bit reticent to spend money on non-essentials, but that's not a long term problem," Gulkin said.
"They talk about recession but the jobs market in the US continues to be strong. It continues to be very difficult for many companies to find people to work," he said.
"But once people get used to the idea that, yeah, I still got a job, I think the spending habits start to stabilize again, and people
go back to spending what they normally spend."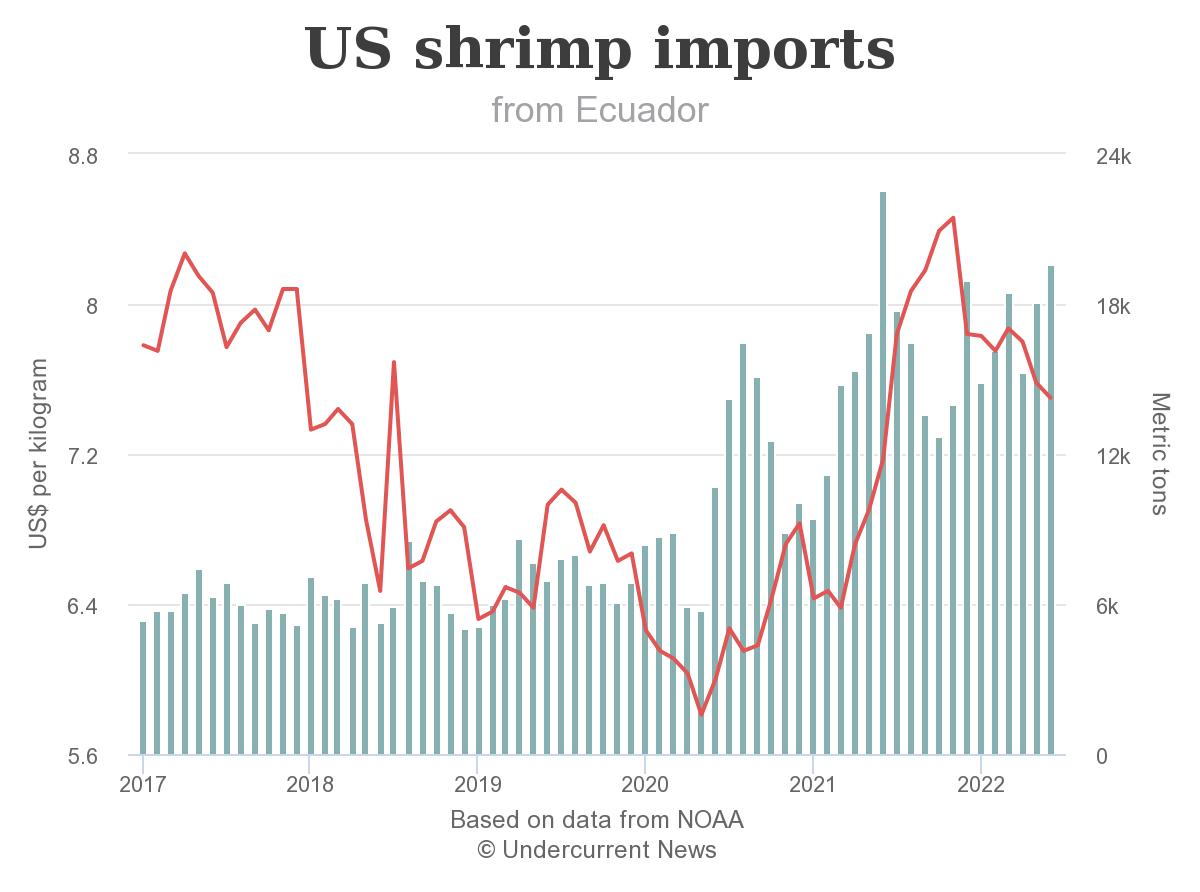 Top importers still doing well, y-o-y
NOAA data show that this June's prices are still much higher by a substantial margin over last June's. Shrimpers got paid $719.14m, or $9.31 per kilogram, compared to June 2021's $647.64m, or $8.41/kg, overall for the month.
In June 2021, the market was well into the climb that saw it end 2021 with a phenomenal 896,109t tons of shrimp worth $8.0 billion for that 12-month period, up 20% in volume and 24% in value from 2020. The overall average price paid during the year was $8.94 per kilogram, 4% more than
in 2020.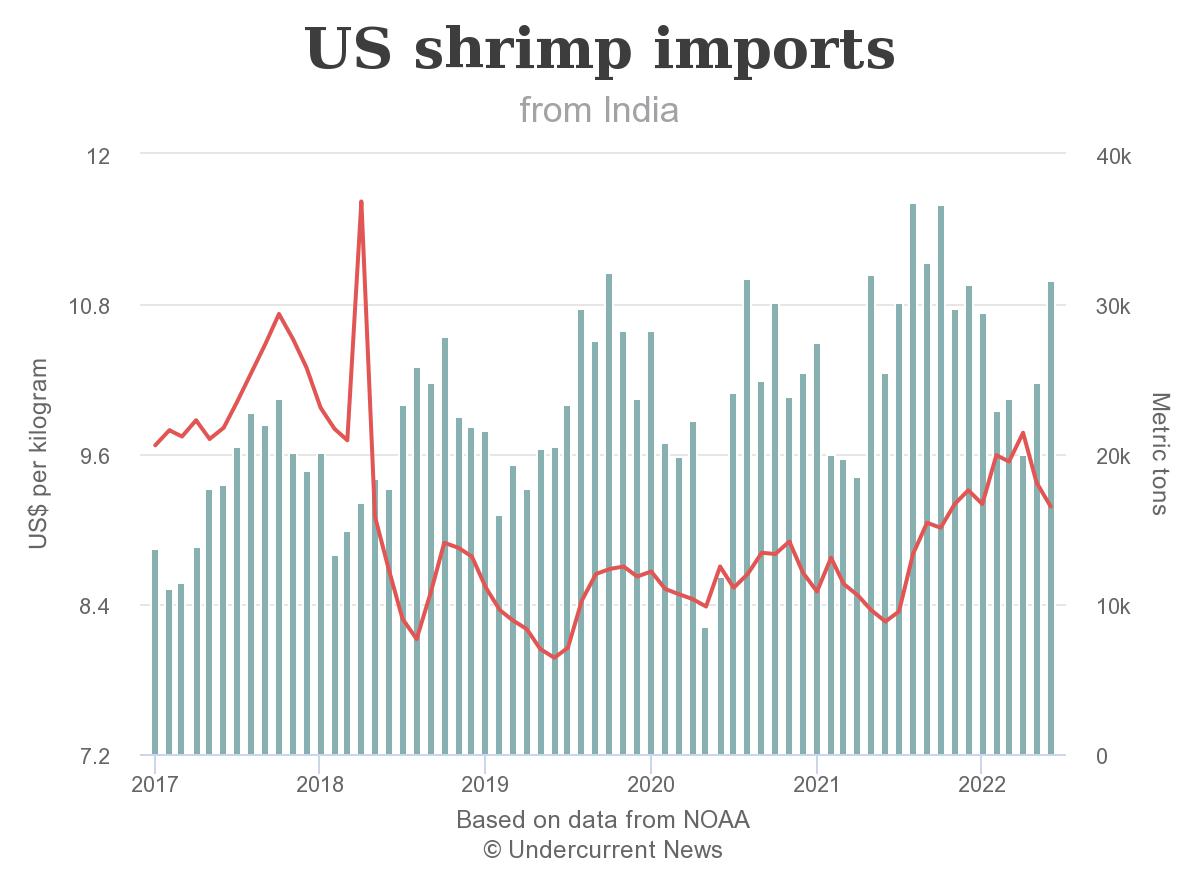 The y-over-y increases for June appear healthy enough among the US' top importers. India, at No. 1, had 31,547t worth $289.75m in June, or 21% greater than June 2021's 26,070t worth $214.97m, or $8.25/kg.
That's a 35% increase in total value and an 11% improvement in per-kilogram pricing.
As Undercurrent has reported, India's vannamei shrimp sector won't likely be contributing to the maintenance of the product glut in the shrimp sector. India's harvesters expect a particularly weak harvest in the next couple of months, as farmers have been put off stocking from a combination of high input costs, limited demand and bad weather.
The second major crop of the year, usually harvested across August and September, is typically smaller than the first, but this year's volumes are expected to be roughly 50% of the first season this year. That could help eliminate the glut.
Some tonnage is down

Tonnage from the next three of the US' biggest importers for the month" Ecuador, Indonesia and Vietnam, actually declined in y-o-y comparisons.
Ecuador produced 19,614t worth $147.05m, or $7.50/kg, a 13% decrease in volume compared to 2021's 22,551t. Indonesia's tonnage dropped 23%, from 13,576t to 19,614t, and Vietnam's dropped 2%, from 7,566t to 7,429t.
Ecuador's imports might continue to drop, as prices have fallen in the last month and are expected to fall again in the coming weeks due to Europe and the US fighting inflation and China facing a deep crisis as their property market slumps.
"The drop in prices seen between April and July alerted us all about how sensitive the situation is and how weak our sector could be in the face of a crisis like the one we are facing today," one Ecuadorian farmer told Undercurrent.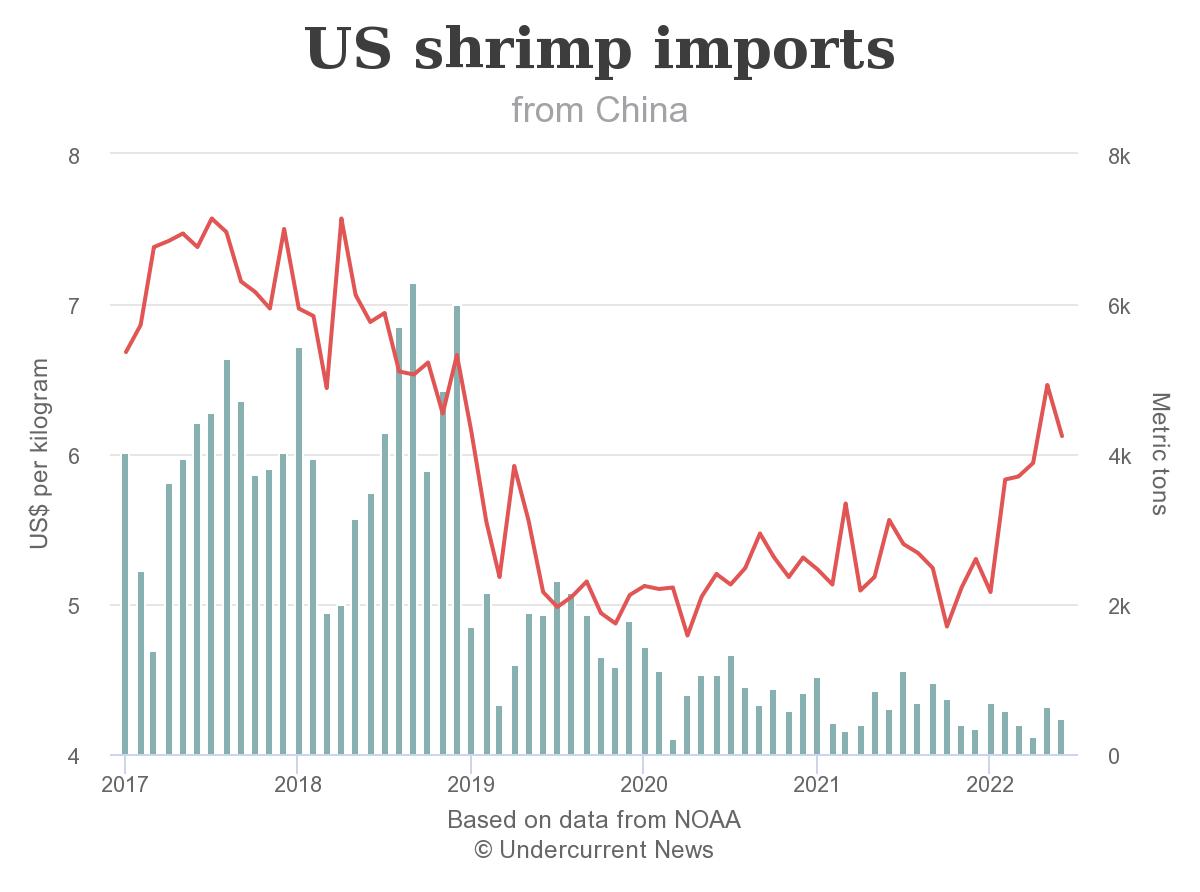 Ecuador pumped out the shrimp in record amounts through the first half of the year –  510,867t in exports as of the end of June, becoming the first country to export half a million metric tons in a six-month period.
Its exports to China over the six months, 269,000t, were up 69% compared with the year-ago period. Prices were also higher, with the average unit value of exports to China reached $6.07/kg last month, up by 4% y-o-y.
Chile exported 48,000t of exports to China in June, up 45% year-on-year. Supplementing strong
China exports, exports to the US and Europe both came in at 17,000t, both up 5% year-on-year.
Vietnam, meanwhile, does not expect its shrimp output to keep diminishing. Its fisheries directorate expects shrimp sales to exceed 980,000 metric tons — of which 675,000t will be vannamei and 275,000t black tiger shrimp — worth $4 billion, or up 2.56% year-on-year, by the end of the year.
In the first half of 2022, Vietnam produced 400,000t — reaching 42.1% of its target and up 10.2% year-on-year already — with black tiger shrimp accounting for 113,000t and vannamei shrimp accounting for 287,000t. And sales amounted to $2.38bn in H1, representing 39.1% of the total seafood turnover expected for the year.
Gulkin said he expects that looking forward, Ecuador will sell more shrimp to China and thereby keep its overall imports up, if not its prices, and that sales, in general, will rise starting in September as the holiday seasons come into focus.
That change can't come fast enough for Andrew Blanchard. The Texas-based harvester and processor said the glut of shrimp on the US market is crushing domestic shrimpers such as himsel
who are drawing $3.50 per pound of shrimp dockside when they used to get almost twice that much.
High diesel-fuel costs are also hurting them, he said.
"Right now it's a lost situation and we can't get authorities up in Washington [DC] to open up their eyes and, and see that the industry as we know it, it's going to be gone," Blanchard told Undercurrent. "And then when they see it's gone, then it's gonna be too late because the bulk of the fisherman in this country are 60 plus years old and they won't be coming back."