Thailand's shrimp prices rise on lower supply: SeafoodSource News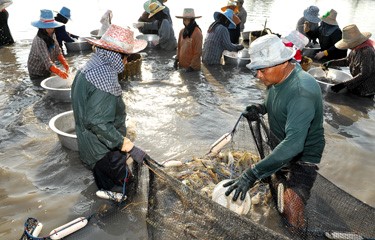 Toan Dao: Seafood Source 
Shrimp prices in Thailand surged in November as a result of lower supply, according to Bangkok, Thailand-based seafood trader Siam Canadian Group.
The company estimated prices were up around 10 percent higher year-over-year One of Siam Canadian's major partners, a shrimp producer, said its material volume in the month was down between 30 and 40 percent in the month, with very limited supply of larger-sized shrimp. Its supply of head-on, shell-on (HOSO) shrimp of 40 pieces per kilogram and bigger was extremely tight, and its smaller-sized HOSO shrimp of 50 pieces per kilogram and smaller were only available in smaller quantities, Siam Canadian reported.
While Thailand's shrimp output this year is likely to be similar to 2020's production total, the modest supply of larger-sized shrimp was the result of limited farming activities in recent months due to the impacts of a COVID-19 spike over the summer, adverse weather conditions, and flooding.
According to Siam Canadian, packers in the country are rushing to close pending orders and handling delayed ones, but delays are being exacerbated by limited available space on container ships heading to the country's major markets. In September, Siam Canadian said shrimp exporters in Thailand are coping with an increase in shipping costs, even as they experience high demand for their products during the upcoming holiday season. The situation has not been addressed as of November, as high freight rates remained a problem for exporters from Thailand, the company said in its monthly trading update.
"We were informed from many sources that freight situation is getting better in terms of availability and pricing. Unfortunately, we do not experience that in Thailand. The space is still very limited and price is still so high. Thailand['s] seafood industry and exporters are still suffering from high freight cost[s]," Siam Canadian said.
The price of shipping a container of shrimp from Bangkok to Los Angeles is now between USD 17,000 and USD 20,000 (EUR 15,000 and EUR 17,600) and between USD 20,000 and USD 25,000 (EUR 17,600 and EUR 22,000) to ship from Bangkok to New York City. In September, the rate for Bangkok-Los Angeles route was between USD 13,000 and USD 21,000 (EUR 11,500 and EUR 18,500) and the cost for delivering a container from Bangkok to New York City was between USD 13,000 and USD 18,000 (EUR 11,500 and EUR 15,900).
Despite having to pay higher shipping costs, exporters are still dealing with frequent cancelations of their shipments and unloading issues at some U.S. ports, Siam Canadian said.
Meanwhile, domestic demand for seafood in Thailand has surged following an easing of pandemic-related restrictions. However, seafood suppliers are still required to maintain preventive measures against COVID-19 that are limiting their production capacities, according to Siam Canadian. The company said the Thai shrimp sector's outlook won't brighten until the second quarter of next year, by which time it expects around 80 percent of Thai people to be vaccinated against COVID-19.