US shrimp import pricing almost ready for turn around: Undercurrent News
"This is currently the worst shrimp market I can remember in at least two decades. But there has been no systemic change in the shrimp market nor any change in consumer habits. So it's going to revert to normal" — Jim Gulkin, Siam Canadian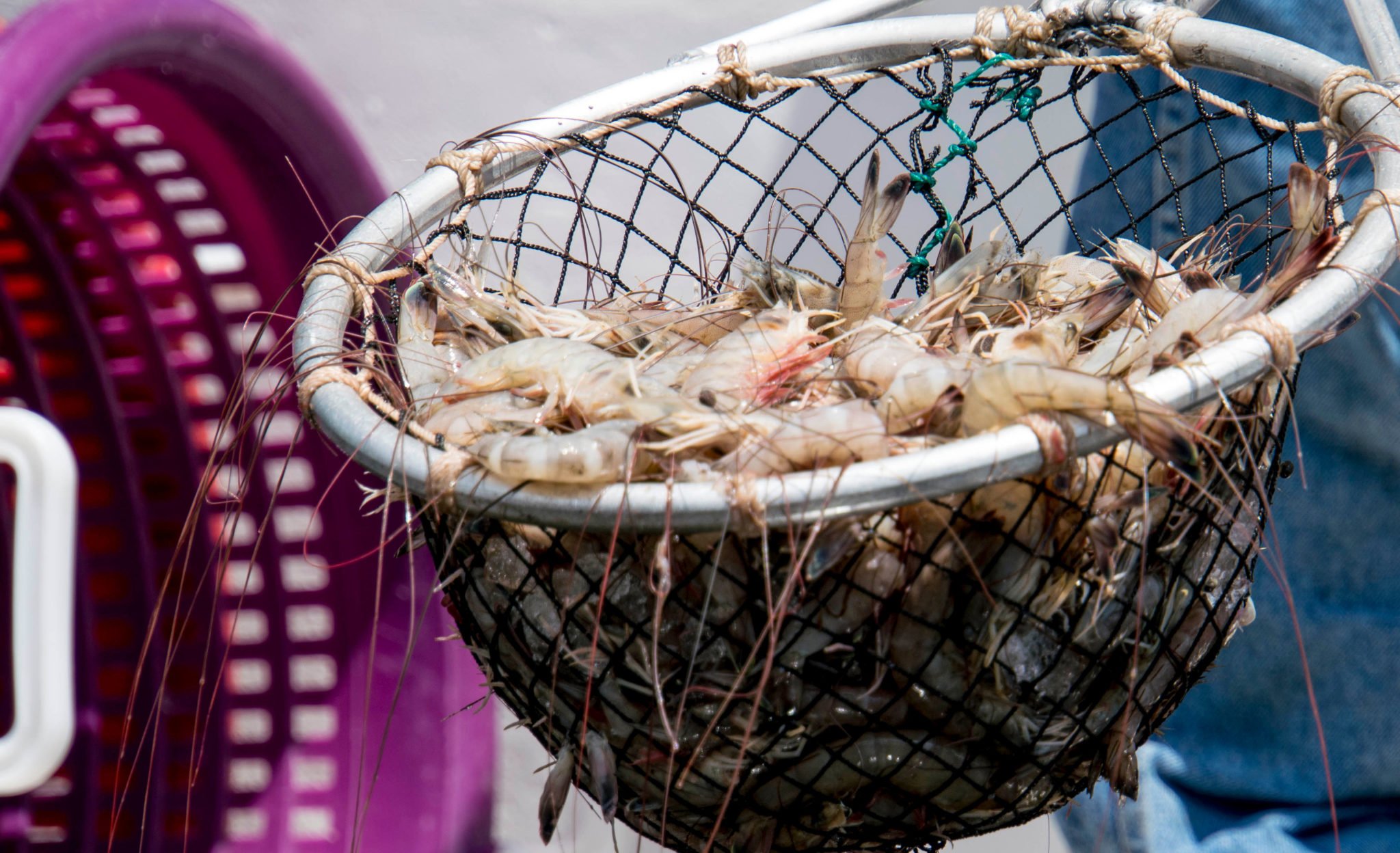 Daniel Hilliard: Undercurrent News
US shrimp pricing could finally shake off its long post-COVID hangover in the next few months as supply and demand come back into balance, market sources told Undercurrent News.
As a result of 10 straight months of double-digit US shrimp import declines year-on-year, major producing countries are scaling back their production and setting the stage for an August-September pricing pop as inventories thin out.
"There's no question prices will have to move up … It's only a question of when, but it's not far off," said Jim Gulkin, CEO of Thai-based seafood trading firm Siam Canadian. "Inventories are very, very low and it will get to the point when retailers, importers, wholesalers, etcetera will have to replenish whether they like it or not. Consumers haven't stopped eating shrimp."
US shrimp import volumes fell about 16% year-on-year to 56,267 metric tons in April 2023, while values fell 29% to about $461.4 million, according to the latest data from the National Oceanic and Atmospheric Administration (NOAA), as reported earlier by Undercurrent News.
It was the 10thconsecutive month of y-o-y shrimp import volume declines.
Average pricing concurrently fell in April to $8.20 per kilogram, also down 16% from a year ago.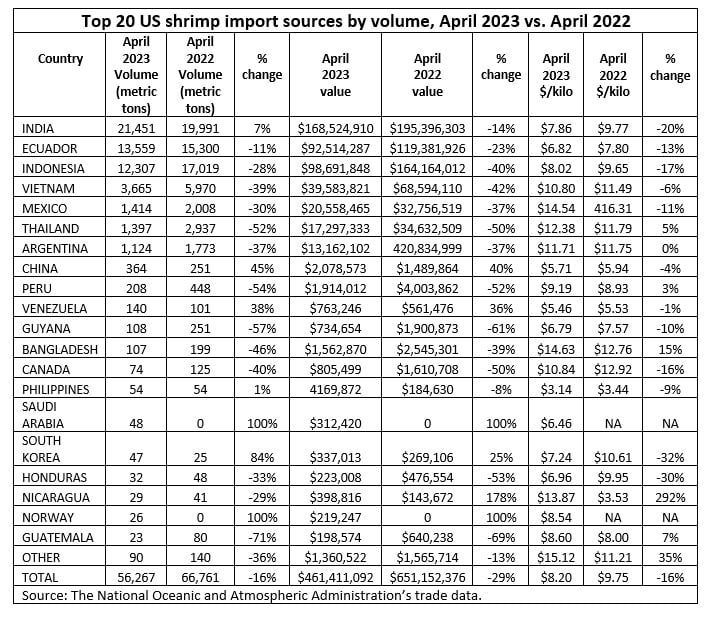 India's reduced stocking didn't cause the big y-o-y drops, but they could be the catalyst that sparks a return to normality, Gulkin said.
"I don't think India's holding back stocking has contributed to the reduced imports into the USA to date. India harvests are currently abundant. Later in the year is when we will feel the crunch from reduced stocking in India and possibly other origins as well," he said, adding that the market is on a "perpetual hamster wheel."
"This is currently the worst shrimp market I can remember in at least two decades. But there has been no systemic change in the shrimp market nor any change in consumer habits. So it's going to revert to normal," he said. "No question. In fact, consumption of shrimp has shown a steady increase and will unquestionably continue to grow."
Retailers risk getting stuck with higher-priced inventories unless they shed their remaining stock now and buy up cheap shrimp while it lasts, he added — reiterating a point he made in late May.
"Otherwise they will miss the boat and they will be forced to replenish at prices that are much higher than they are currently," he said.
The timing of the expected pricing push is difficult to nail down, but it could happen within 60 days, said BMR Seafood Group USA international shrimp sales director Alfred Nasti.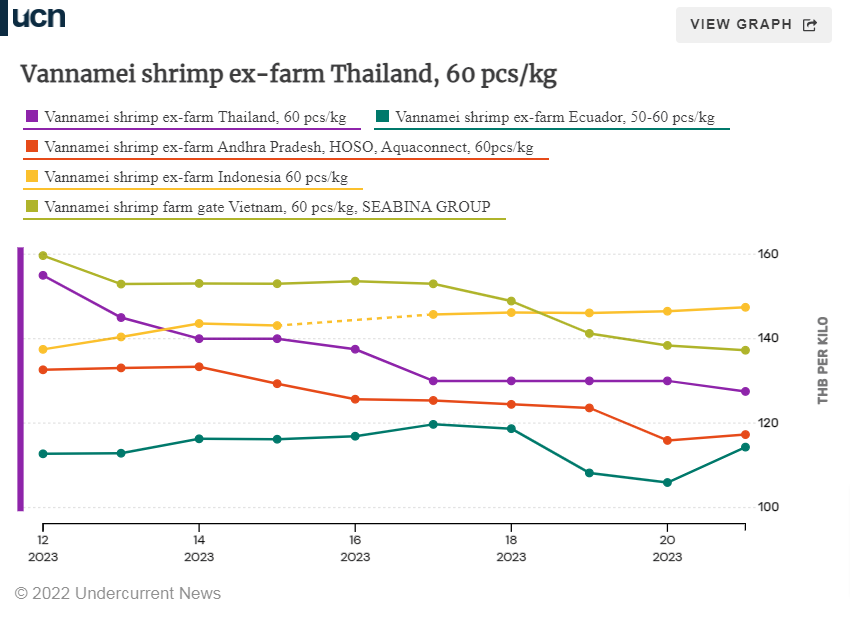 "The worst will come in the next 60 days, then it will pop up for the next cycle," he told Undercurrent. "Stock positions are getting reduced."
Pricing service Urner Barry, on June 8, put ex-warehouse farmed white shell-on, headless frozen blocks at an average range of $2.90-$3.00 per pound wholesale for 51-60 count Latin American product. No equivalent wholesale price with the same specs was given for Asian 51-60 product, but an average price range of $3.45-$3.55/lb was given to 41-50 size product.
"Price assessments that were changed were by and large discounted again today although the weakness persists throughout. Sales are reported to be on the lower side of normal quantities, and there is still enough supply to exert some downward pressure," UB wrote.
Sun Shrimp founder and president Robin Pearl said he expects the big post-COVID drop in home shrimp consumption to finally shake out by the end of the year. Sun Shrimp is the fresh shrimp division of major US brood stock supplier American Mariculture and the US' largest shrimp farm. It recently returned to the market following damage from Hurricane Ian.
"During Covid, US consumption of shrimp per capita grew tremendously," he said. "Now these people are back to their pre-COVID routines (eating out) and demand has fallen. The supply of shrimp was greatly affected by COVID and simply caused huge market imbalances."
"I believe we are dealing with the final after-effects of COVID, which on the one hand caused unprecedented growth in demand and consumption for shrimp in the US, but on the other caused huge inventory and supply imbalances. I believe that by the end of this year, demand and supply will restabilize."