US shrimp imports, prices continue steep, ragged descent in November: UnderCurrent News
'The supply/demand relationship will right itself over time. We expect to see aperiod of lighter year-over-year imports' — Joe Rosenberg, co-president,CenSea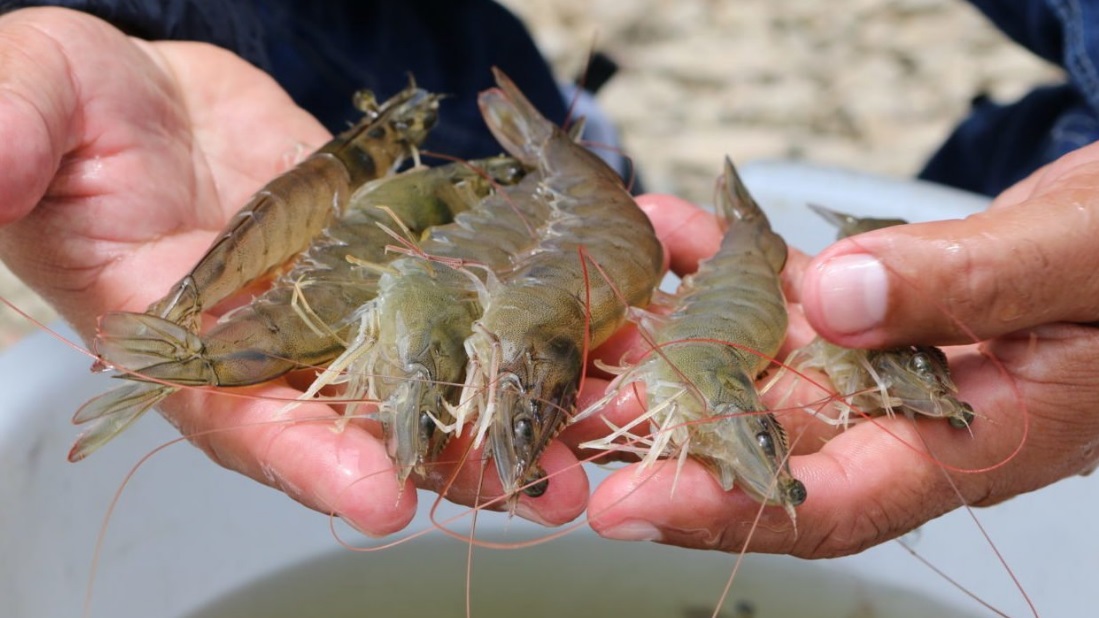 Nick Sambides Jr.: UnderCurrent News
April 2021 was a momentous month in the world's battle against the COVID-19 pandemic. On April 20, India set what was then a world record for daily new cases, 314,835, capping a record week of 5.24 million new cases worldwide. But other parts of the world were opening up, with the UK ending the world's longest period of lockdowns, 175 days, with the restart of pubs and shops.
Another, less familiar, shadow was creeping over world affairs, with Russian president Vladimir Putin amassing 100,000 troops on Ukraine's border and warning Western powers not to cross a "red line".
That's how far back you have to go to find a month where US shrimp imports were lower than those recorded in November 2022.

The US imported 64,014 metric tons of shrimp worth $579.30 million that month, according to the latest data compiled from the US National Oceanic and Atmospheric Administration (NOAA).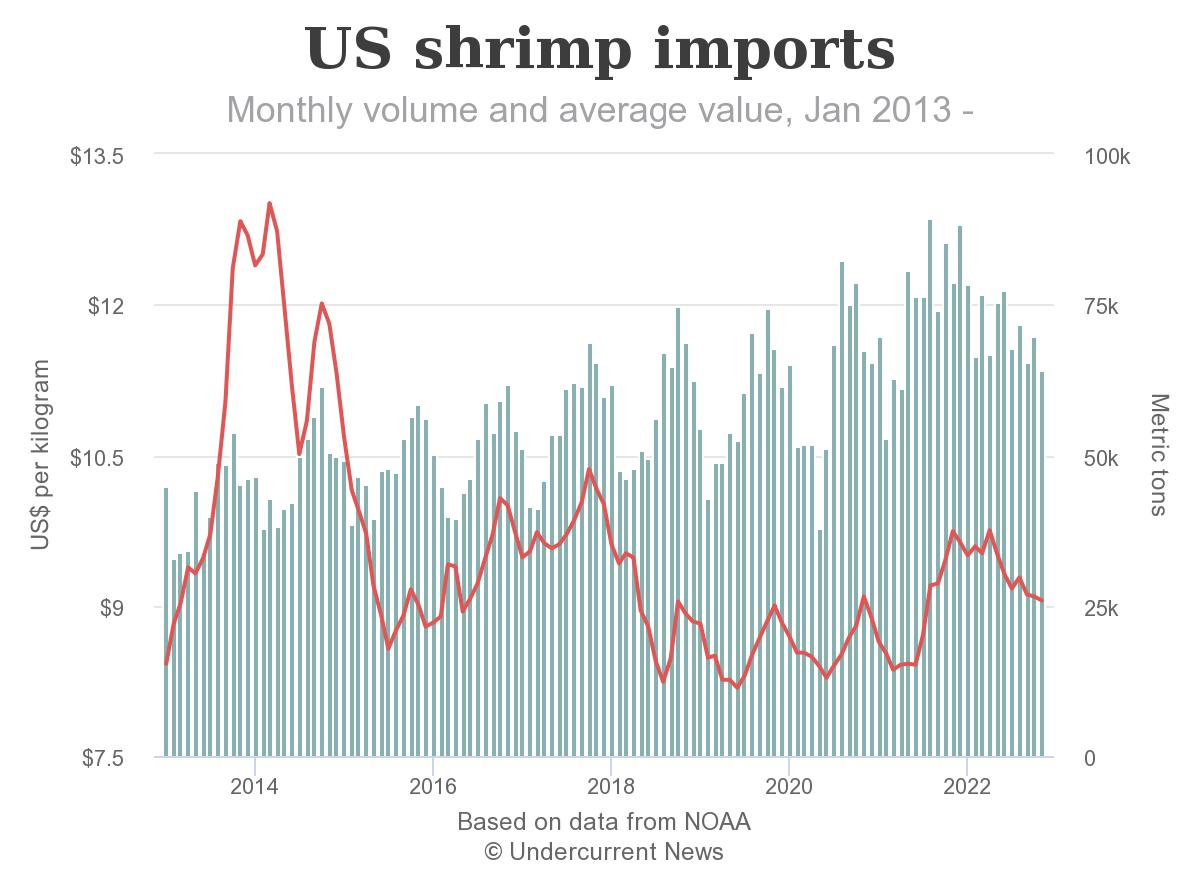 November 2022's totals are 19% in volume and 25% in value below those the US imported in November 2021, 78,768t worth $768.54m, and 9% in volume below the 69,767t recorded in October 2022. The market has been receding from a glut first predicted by Undercurrent News in March 2022 that Angel Rubio, a senior analyst at market insights group Urner Barry, feels that it might be swinging back like a pendulum against the spectacular, pandemic-inspired gains of 2021 and into 2022.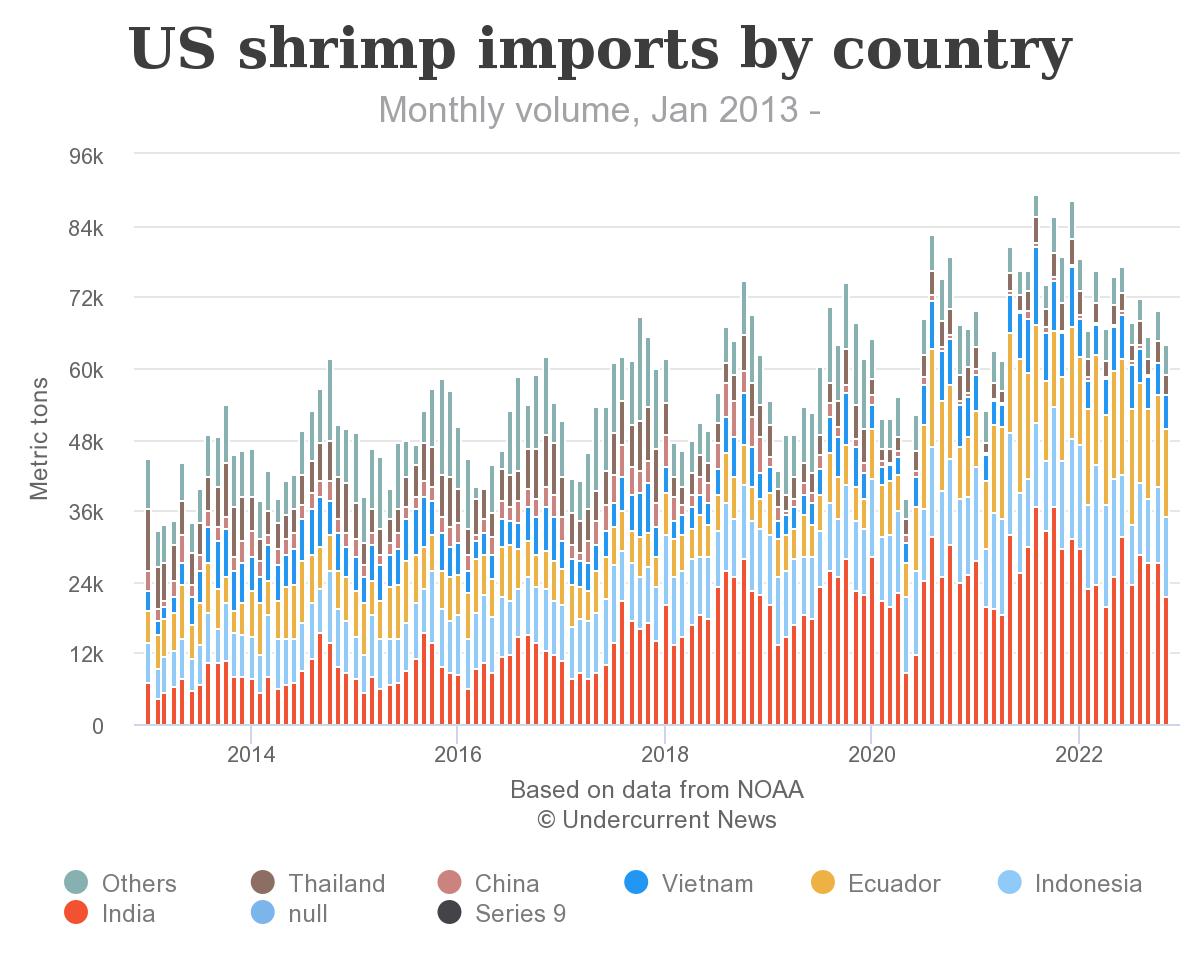 That's when shrimp import volumes and prices went up together in a manner so spectacular that they formed an outlier — a pattern of explosive growth outside all comparisons to the previous dozen years or so, he said.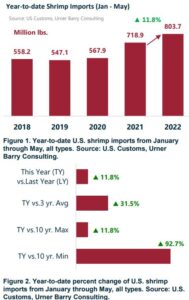 "It's very likely," Rubio told Undercurrent News. "Everything has to be taken in context. When you look at that demand, you know, retail demand, then yeah, that retail demand has contracted significantly."
Average per-kilogram prices continue to contract as well, 7% down in year-over-year comparisons. November 2022's average price is $9.05/kg compared to $9.74/kg in November 2021.
Joe Rosenberg, a co-president of Illinois-based frozen seafood importer CenSea, said he expects to see prices continue to soften. But like James Gulkin, the CEO and founder of Siam Canadian Group, a leading shrimp exporter, Rosenberg expects December's NOAA numbers will show a healthy increase in sales.
"Supply in the US is coming down given the year-over-year declines in imports, which is healthy given the current state of the market. The supply/demand relationship will right itself over time.
We expect to see a period of lighter year-over-year imports," Rosenberg said in an email.
"Demand over the holiday period was good. This was the first winter holiday season in the US since 2019 where travel was arguably back to 'normal' levels," Rosenberg added. "More travel means more gatherings and more dining out, which usually means more seafood consumption."
But that doesn't appear to have helped November's leading shrimp exporters to the US. Eight of the 10 top exporters of shrimp recorded y-o-y declines in volume and, more tellingly, nine of 10 recorded drops in value. Only Indonesia (3%) recorded a gain in value, going from $119.16m in November 2021 to $123.28m in the most recent November.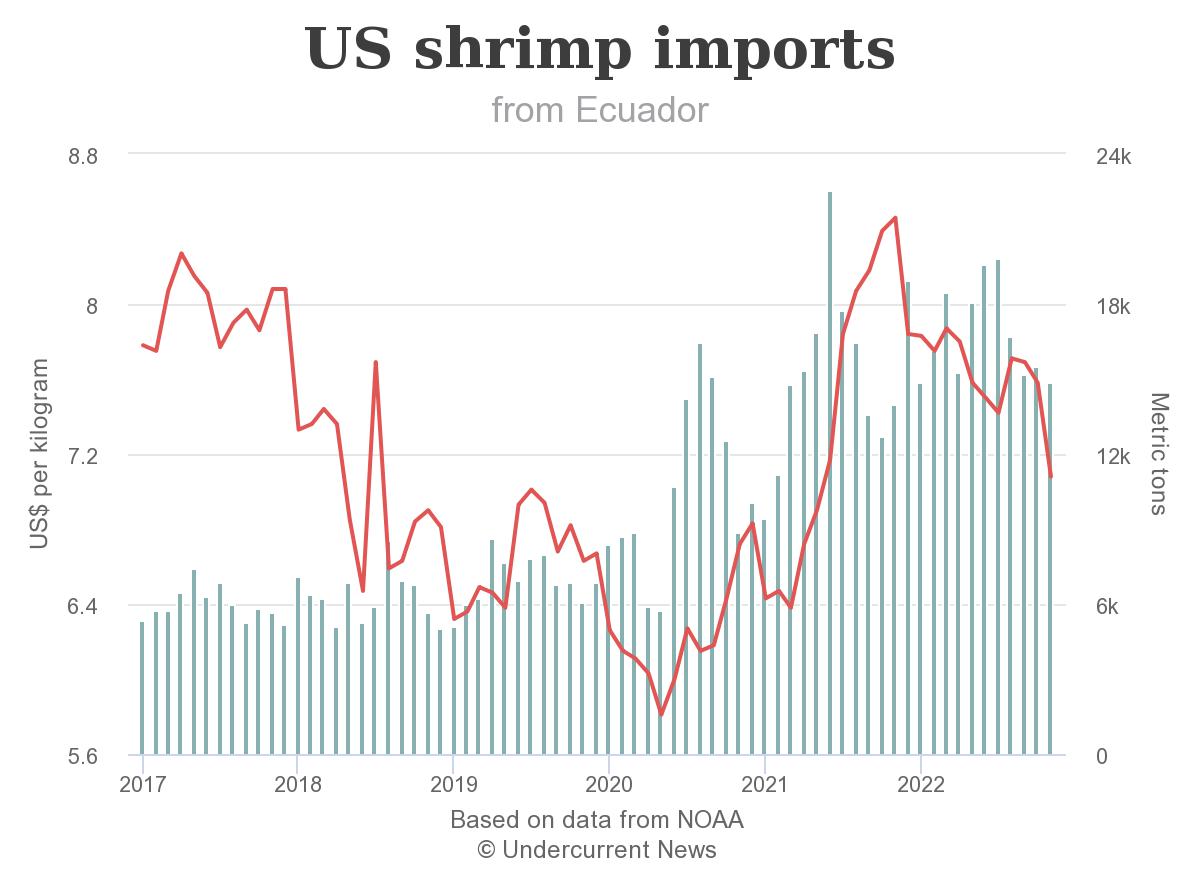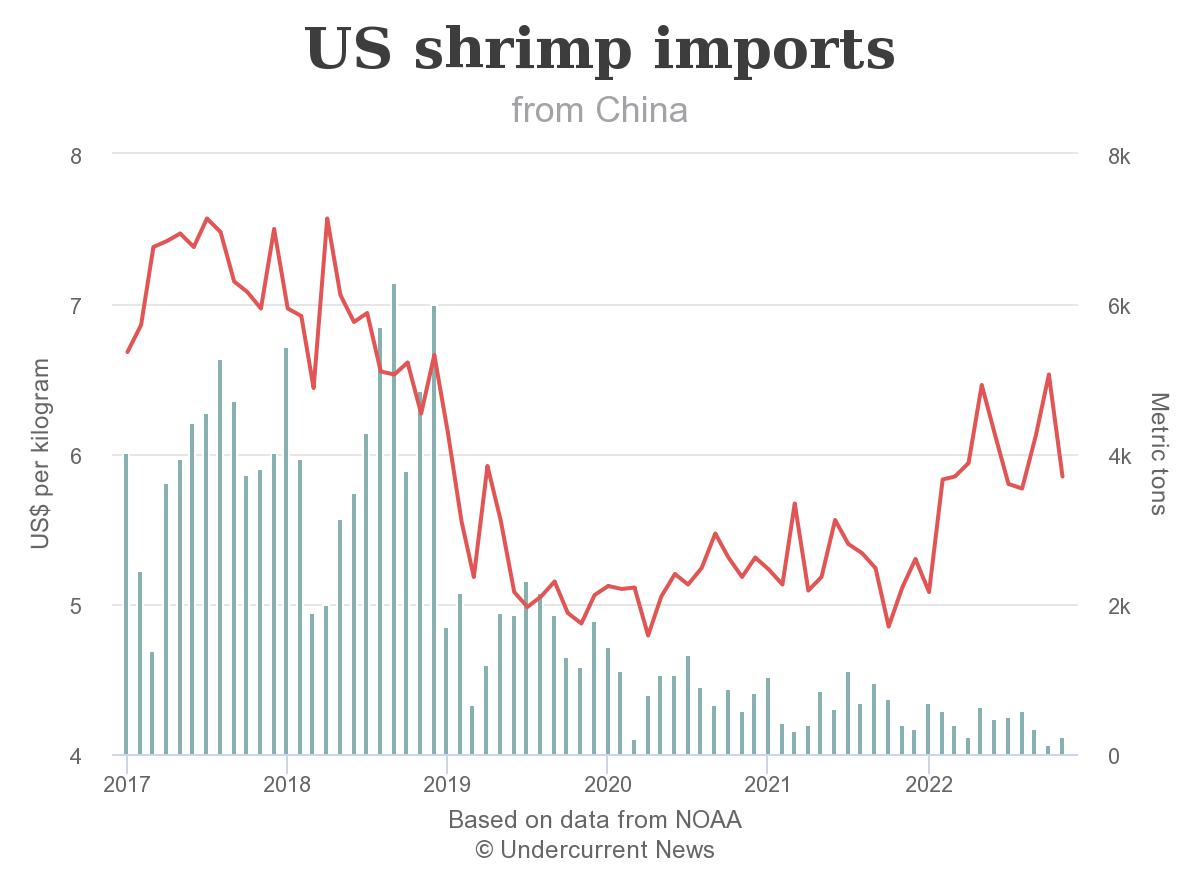 Top US shrimp exporter India (21,413t worth $187.18m) recorded 28% and 31% declines y-o-y, with Vietnam, Thailand, Mexico, Argentina and Peru all recording about as much loss in their volumes and values sent to the US. And origin prices are bottoming out in India, Indonesia and Ecuador, Gulkin said.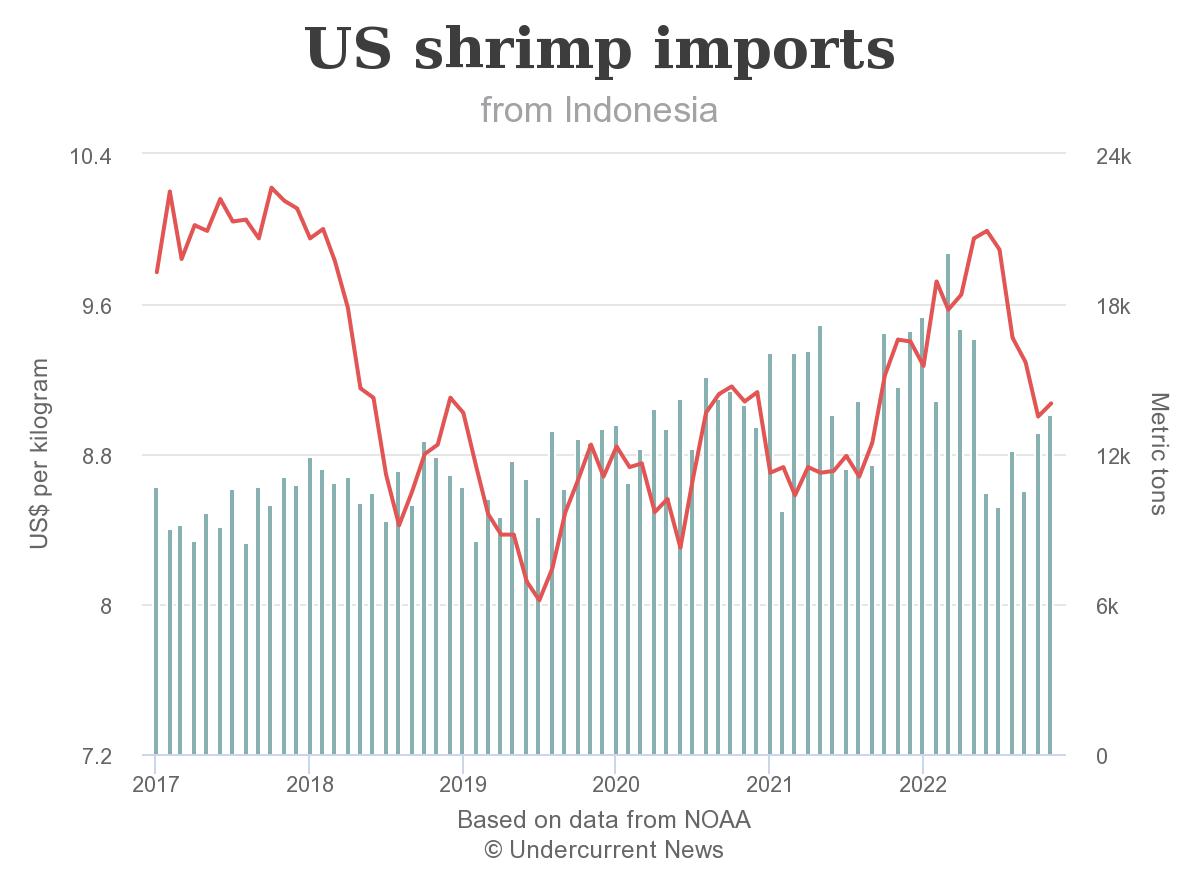 "We keep doing that month after month after month, and you can see that likely we will get to the bottom of this inventory sooner rather than later," Gulkin told Undercurrent. "It looks better for the market in the US with imports dropping, so it seems that the prices have reached bottom. That's my impression."
Among shrimp exporters to the US, only Equador continued to produce more shrimp y-o-y among the typical top 10.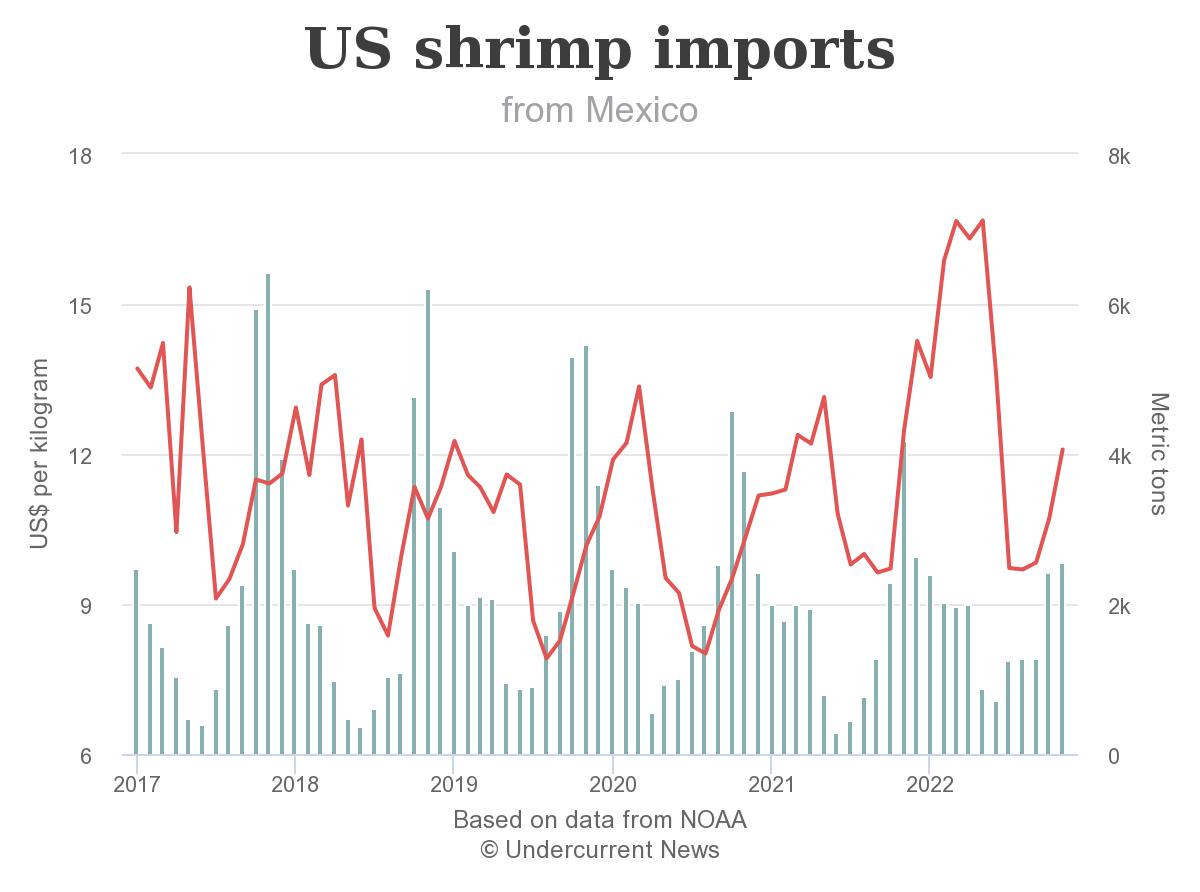 As Undercurrent has written, for the year, Ecuadorian vannamei shrimp exports have already set a new all-time record, with sales reaching 971,000t worth $6.16 billion in the first eleven months of 2022. According to the data published by Ecuador's national aquaculture chamber, or the CNA, that is up by 28% and 36% from the 841,712t worth over $5bn exported in 2021.
As of November 2022, the top two exporters — Industrial Pesquera Santa Priscila and Songa — have already surpassed their 2021 year-total exports with year-on-year increases of 21% and 32%, respectively, to some 159,000t and 84,200t sold.
But that might be a tad misleading or at least, reflective of gains made only in earlier 2022. For the first time in over two years, Ecuador's shrimp exports did not grow compared with the same month the year prior in November, exporting 85,500t of shrimp, flat with exports in the same month last year.
The last time Ecuador's shrimp exports did not grow above the year-ago month was in the summer of 2020. That occurred after China banned imports from several major exporters after packages were found to be contaminated with the coronavirus.
Ecuadorian exports to the came to 16,500t, down 3% y-o-y, the least among Ecuador's export targets, Undercurrent has written.
Market members in the US' largest supplier of shrimp, India, are at odds as to how far the market will drop before righting itself. Industry analyst Willem van der Pijl disagrees that the country's shrimp production will decline as severely as the 30% shortfall suggested by conglomerate Avanti Feeds last month.
C. Ramachandra Rao, the joint managing director of Avanti Feeds, said he expects production to drop by as much as 200,000t due to recession-fueled declines in shrimp purchases in the US and Europe and China's ongoing pandemic lockdown. Van der Pijl predicted a 10% decline.
Looking ahead, Gulkin said he hopes that NOAA data for December, a month at usually the height of US shrimp consumption, will show a healthy rebound from November.
"I'm saying it [December] was pretty good," Gulkin said. "I'm not hearing anything negative or terrible or anything from anybody."
"If there's, you know, 15% less shrimp coming in every month, then the inventory is going to get worked through, you know? As prices in origin bottomed out, then I think, you know, we get to a point where people start buying again and, we get back to some kind of equilibrium, which we've been missing."