US shrimp prices remain mired at bottom: Undercurrent News
It's possible US shrimp import pricing has tapped a particularly muddy bottom,but the market has little leverage to push itself back to the surface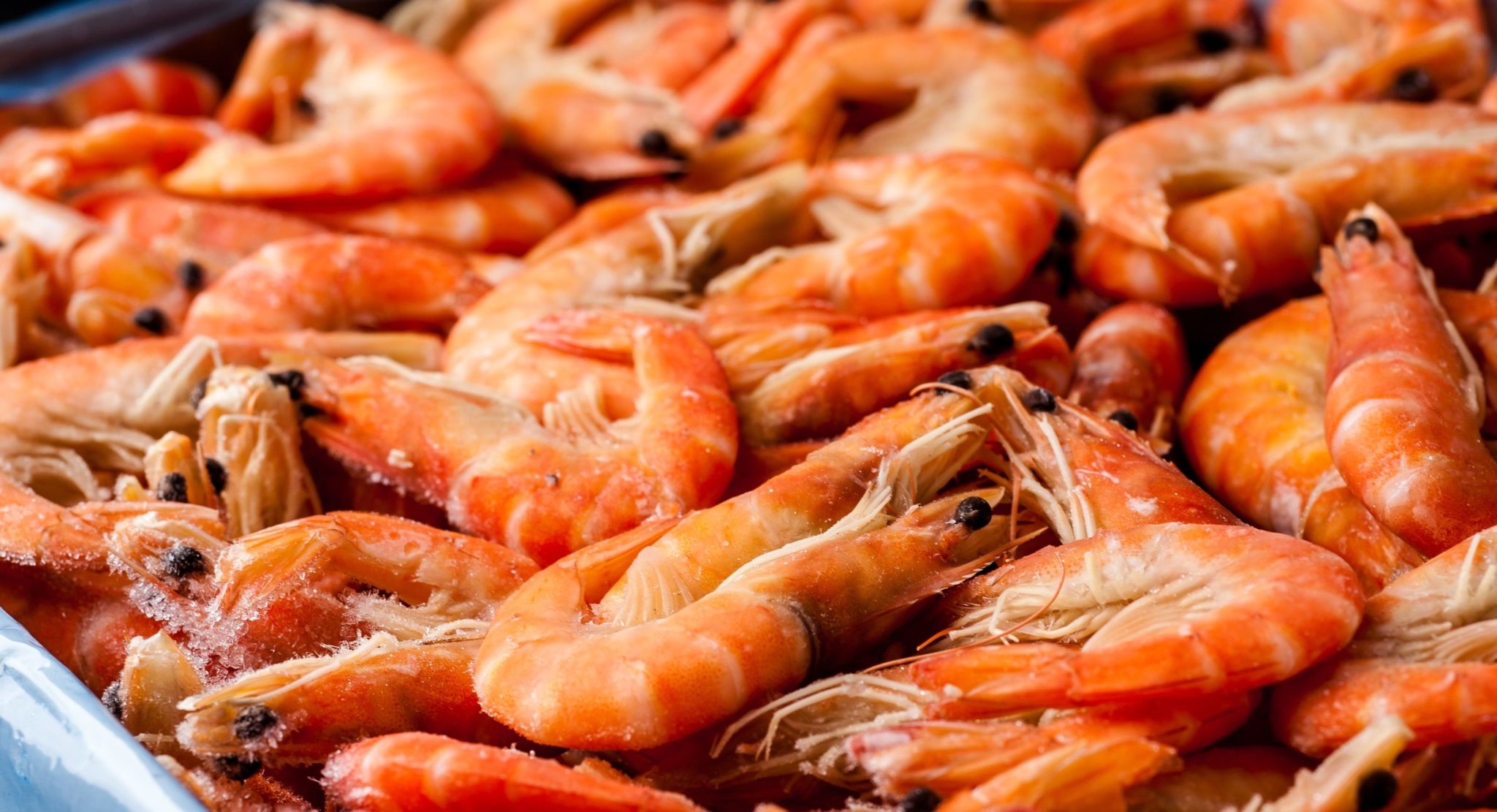 Daniel Hilliard: UnderCurrent News
It's possible US shrimp import pricing has tapped a particularly muddy bottom, but the market haslittle leverage to push itself back to the surface.
US shrimp import volumes and values fell 23% and 33%, respectively, in March from March 2022. Average pricing was also down on-year by 13%, hitting $8.24 per kilogram, the latest seafoodtrade data update by the National Oceanic and Atmospheric Administration (NOAA) reveals.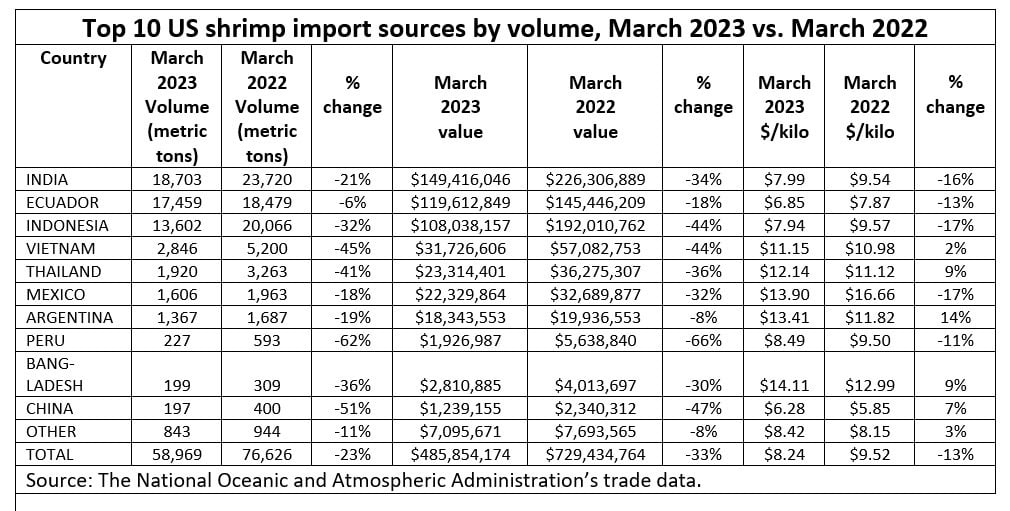 On-month, however, March's pricing rose 1.85% from February — the first monthly increase sinceAugust 2022, as Undercurrent News previously reported.
That may not be a big deal, considering the industry is still in the process of normalizing the 2022haul, Urner Barry analyst Angel Rubio told Undercurrent.
"I can't say for sure if it's bottom," he said. "It's just one data point, but I would not be surprised ifthere's more downward pressure."
He said the big on-year drops in volume and value are hardly surprising, given the "out of control"volumes seen in 2022.
That said, it's likely that pricing will hit bottom sometime this year, he concluded.

"If there is any price surge, it will likely be modest; 2023, and very likely into 2024, will be a tough year for producers with low prices, high input and borrowing costs, and economic uncertainty (or contraction)," he told Undercurrent. "In a similar fashion, sellers (such as distributors and importers) might also face a tough year with low margins."
Rubio said that growing production globally — particularly in Ecuador, which nearly matched India's market share in March — will also tend to hamper pricing.
Only an outside event — a disease, a blockbuster marketing campaign — is likely to drasticallychange pricing at this point, he said.
Inventories seek balance
Group managing director Jim Gulkin at Siam Canadian Limited pointed out that inventories,however, are rapidly disappearing.
"We are hearing cold storages in the USA are no longer full and many cold storages are activelyseeking new accounts," he said. "I think we are coming close to the point where US importers,retailers and wholesalers will have to start to look at replenishing stock."
That will inevitably spur higher pricing as this cycle draws to a close.
"Although we are still seeing some ups and downs in terms of origin pricing, mostly pricing isbased on costs near or below farming costs, so as soon as destination interest starts again, priceswill have to move up to some degree," he said. "In spite of what I see as likely the last remnants ofthis unprecedented weak market, I think, for all intents and purposes, we have reached the bottom."
Sea Lion International vice president Donelson Berger agreed that pricing has bottomed out.
"Prices did tap the bottom, but they are still trading at or near these same lows," he said. "There arestill a number of sellers holding stock from 2022, and, in some instances, they are getting desperate- thus the discounts. We have a ways to go before cost and sell price can come back in line. Heavystocks from 2022 will suck the air out of any market recovery."
BMR Seafood Group USA international shrimp sales director Alfred Nasti predicted August for atrue turnaround. However, that's threatened by the general economic malaise hitting all quarters ofthe economy, from banking to fuel, labor to consumer sentiment.
"I think, as a whole, the general observation was August would be the time that business really starts to find a bit of vibrancy," he previously told Undercurrent.
Monthly farm-gate, raw material prices for 60-count vannamei from Ecuador, India, Indonesia, Thailand and Vietnam on the Undercurrent prices portal show a general downward trend with one bright spot – Indonesia.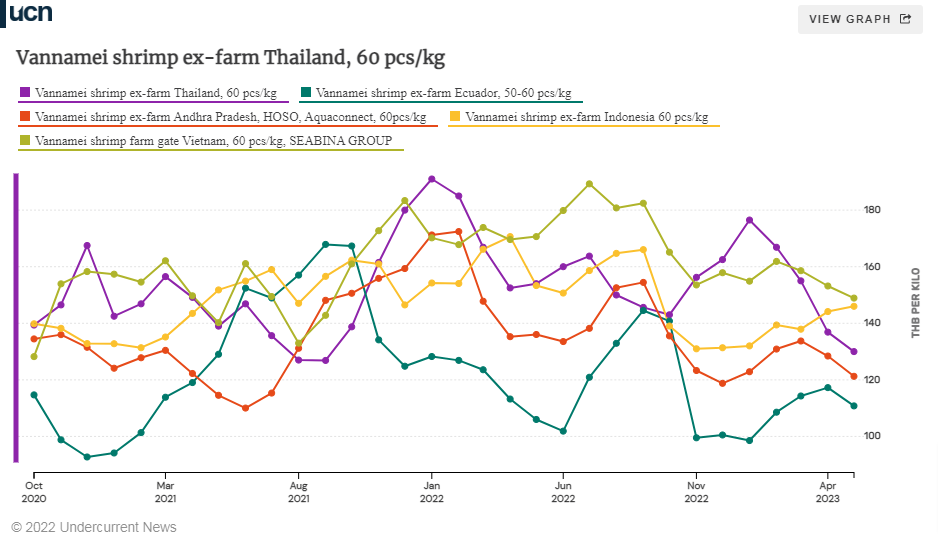 Indonesia posted the lone increase of the four major producers in May. Ecuador's brief rise in April receded below February's pricing in May, while India, Thailand, and Vietnam continued their slide.