Vietnam's seafood sales losing growth momentum amid inflationary challenges: SeafoodSource News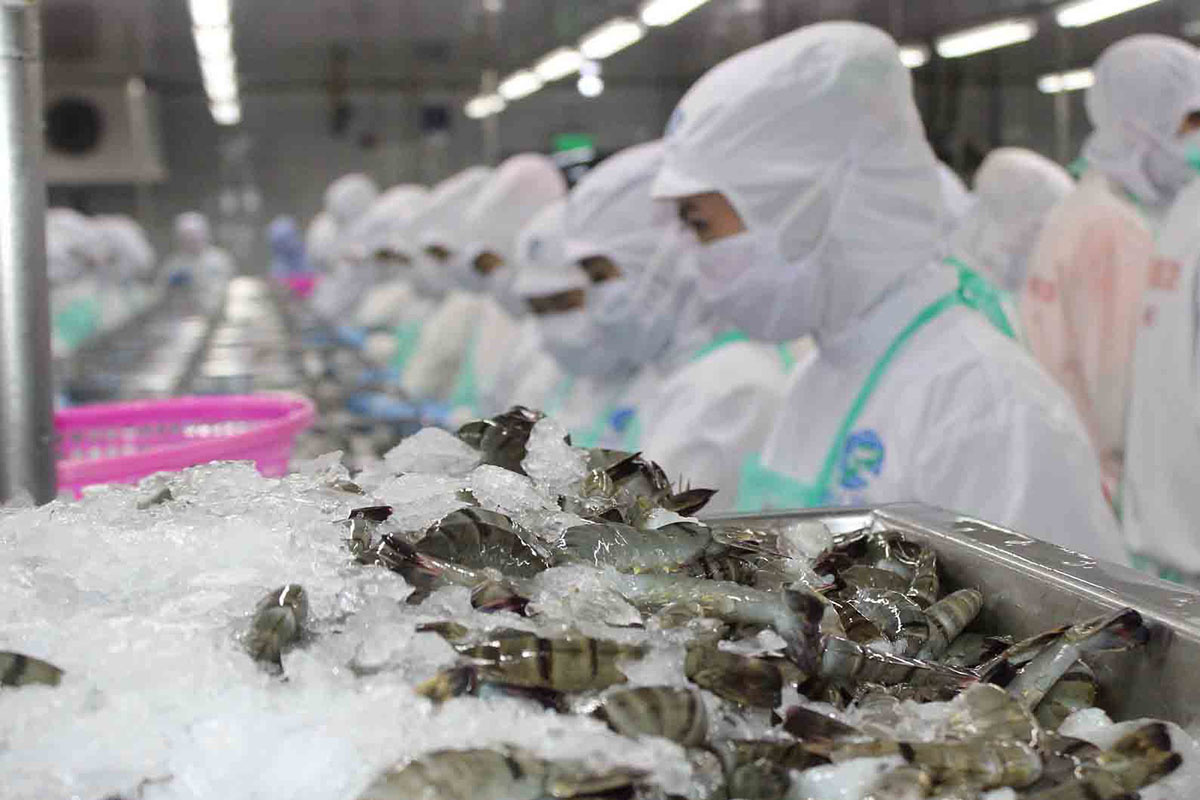 Toan Dao: SeafoodSource News
The growth of Vietnam's seafood export trade is beginning to slow due to the impact of a global inflationary cycle.
The value of Vietnam's seafood exports in June was lower than in the previous three months of 2022, in line with previous warnings made by local industry players, who predicted lower demand for seafood in major global markets due to inflation. Many of those same executives have warned of increased challenges for the local industry in the coming months.
In June, Vietnam exported seafood worth USD 1 billion (EUR 996.5 million), up 18.9 percent year-on-year. However, the country's total sales value for its seafood exports was 5 percent lower than in May, 11 percent lower than April, and 1.3 percent lower than March.
Sales to the U.S., the largest buyer of seafood from Vietnam, declind 7.6 percent year-on-year and 11.7 percent from May to USD 217 million (EUR 216.3 million). The value of Vietnam's seafood exports to China also dropped by 22.1 percent month-on-month to USD 133.4 million (EUR 132.9 million) in the month, despite year-on-year growth of 47.9 percent. Sales to other major markets, including Canada, the Netherlands, the U.K. and Thailand, dropped between 2.4 percent and 10 percent compared to May 2022.
Japan was one of Vietnam's only large markets where sales increased in June for both year-on-year and month-on-month results, as a number of seafood exporters from Vietnam shifted shipments to the country to offset decreases in other markets. Sales to Japan in the month totaled USD 161 million (EUR 160.4 million), up 26.8 percent year-on-year and rising 8.3 percent from May.
Japan became the largest market of Vietnam's top shrimp exporter Minh Phu Seafood in the first half of this year, with sales rising 34 percent year-on-year to USD 79.9 million (EUR 79.6 million). Meanwhile, Minh Phu's export value from the U.S. market tumbled 29 percent year-on-year to USD 54.3 million (EUR 54.1 million).
At Minh Phu's annual stakeholder meeting on 24 June, its CEO,  Le Van Quang, said high inflation, a worsening situation in terms of shrimp diseases, bad weather conditions, and a labor shortage are compounding to present a challenging second-half of 2022 for Vietnam's shrimp sector.
Vietnam Association of Seafood Exporters and Producers (VASEP) also said high inflation levels, China's restrictive policies aimed at containing COVID-19, the Russia-Ukraine conflict, labor shortages, and disruptions in the supply chain in the U.S. are affecting sales and consumption of shrimp in the U.S.
Siam Canadian Sales Director for Vietnam Vo Thi Tuong Oanh told SeafoodSource the decrease in sales is a combination of multiple factors, including poor supplies due to weather issues. She said that a long period of rain affected the most recent shrimp crop in Vietnam, and fishermen are also hesitant to go fishing with the cost of fuel.
"The catch volumes are not enough to cover their cost," Oanh said. "Many fishing boats have been parked in the port for a long time."
Fimex Chairman Ho Quoc Luc said on 12 July his outlook for the shrimp sector in the second half of 2022 is less optimistic than the first half of the year. Many local farmers are hesitant to begin stocking due to the extremely low salt levels in the water caused by recent heavy rains, he said.
Additionally, the spread of shrimp diseases have forced several farmers to harvest early and sell their shrimp at smaller sizes than the same period in previous years, Luc said. He said normally the beginning of the third quarter is the peak of the crop, which provides sufficient material for local processors. But this year, many shrimp companies could only purchase material shrimp to meet two-thirds of the typical demand for processing, with shrimp harvested at smaller sizes.
In regard to markets, Luc said Vietnamese shrimp products are being challenged by lower-priced shrimp from India, Ecuador, and Indonesia in the U.S., which makes the competition in this market fiercer. In this case, Luc said his company and Minh Phu are shifting their shipments to Japan to take advantage of their capacity in supplying deeply-processed products and the shorter distance between Vietnam and Japan.
Oanh said the pricing difference stems from increased production costs in Vietnam – packaging, transportation, labor, and more are all more expensive.
"It leads to [Vietnam] being non-competitive in the worldwide market for the seafood sector," she said.
For pangasius, Vietnam's second-biggest seafood export after shrimp, foreign sales growth is also slowing. While in the first five months of 2022, Vietnam exported pangasius worth USD 1.21 billion (EUR 1.2 billion), a growth of nearly 90 percent year-on-year, the outlook for the remainder of 2022 is not as robust due to changes in the global marketplace, VASEP's pangasius expert, Ta Ha, told local media.
Pangasius farmers in Vietnam began stocking in April and May, and therefore a large volume of pangasius will be flooding the market in August or September. Citing data from Siam Canadian, Ha said given the stockpiles of pangasius in the U.S. are already at high levels, demand for the fish is likely to become flat in August and September.
Vietnam's tuna and other wild-caught seafood sales are also expected to flatten or decline. In the first six months of 2022, the country shipped USD 553 million (EUR 551.2 million) worth of tuna and USD 950 million (EUR 946.8 million) worth of other wild seafood, up 56 percent and 12 percent year-on-year, respectively. But the growth is unlikely to continue in the second half of this year because of the shortage of material for processing, VASEP experts said.
As many as half of Vietnam's fishing boats are stranded ashore due to rising fuel costs, according to the country's ministry of agriculture and rural development. This may lead to the closure of hundreds of processing plants in the country – which completely rely on a steady domestic supply of sea-caught seafood as material – in the next three to six months, VASEP experts said.