Vietnam's shrimp sector waits on holiday-driven buyer return, but longer-term outlook grim: Undercurrent News
The Vietnamese shrimp sector is hopeful that the stocks throughout the supply chain can begin shifting before the end of 2023, but its global competitiveness is the real issue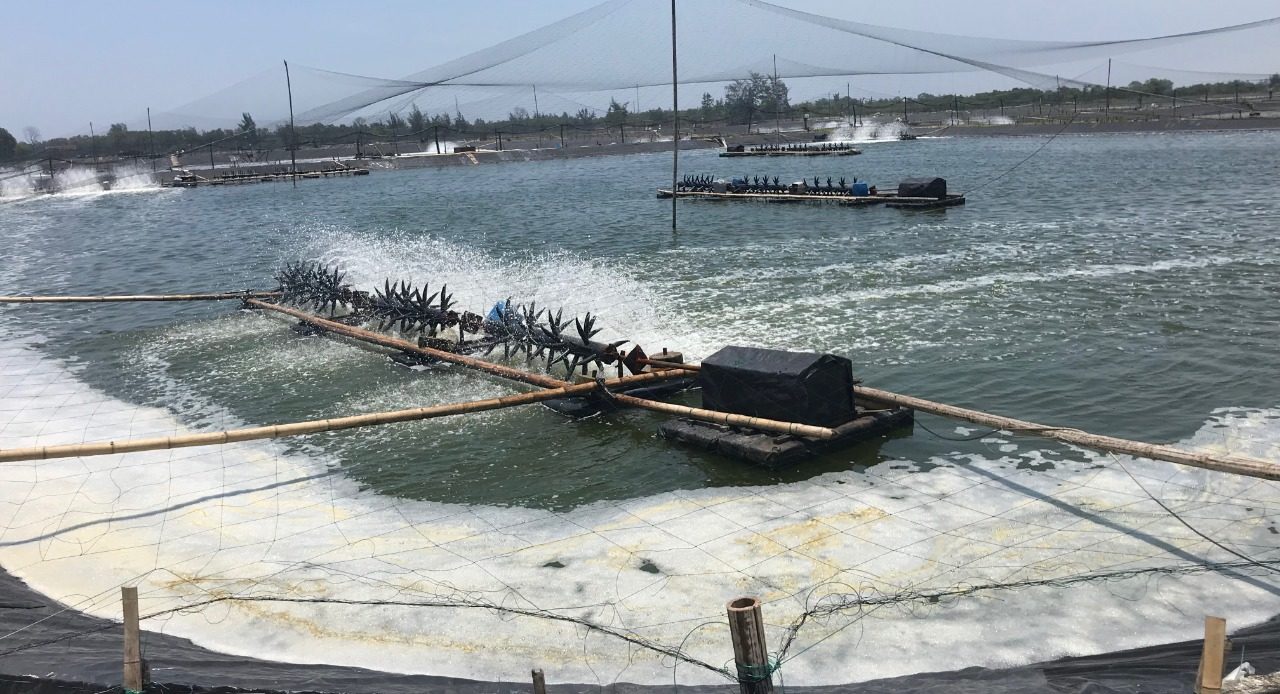 Neil Ramsden: UnderCurrentNews
HO CHI MINH CITY, Vietnam — The Vietnamese shrimp sector is hopeful that the plentiful stocks throughout the supply chain can begin shifting — and international buyers can return to purchasing– before the end of 2023.
However, the deeper, structural worries around global competitiveness make for longer-term concerns, various sources told Undercurrent News.
As has been well documented, Vietnam's seafood sector exports have been laid low this year. In the first six months of the year, shrimp export turnover fell 29%, and that figure was thanks to an improvement in June — they were 34% down for the first five months.
Rising production costs and low farm-gate and export prices mean profits in the Vietnamese shrimp value chain have never been harder to come by, largely a result of global over supply coming just as inflation has hit the most important consumer markets. As a result, shrimp consumption in the US, Europe, and China has dropped, and importers have not been able to shift their inventories.
Ronnie Tan, a regional aquaculture consultant for the US Grains Council, noted at Vietfish 2023'sshrimp outlook event that this situation has been over a year in the making.
"The post-COVID boom market saw Asia lose market share [mainly to Ecuador]. In the second half of 2022, demand stagnated when seafood prices were strongly inflated, by 12.4% at one point," he said.
"The Chinese market was the only real bright spot; in Q1 2023, exports there were rebounding, but in Q2 they were flat, and now it's stagnating, with the forecast for that to go on into Q4."
In June 2023, he said, there were reports that Chinese importers were sat on stocks that could last them for some six months — and that isn't unusual, with the same situation reported in Europe and the US, according to various sources at Vietfish.
"The Chinese importers are largely state-owned enterprises — they can afford to take a loss on selling stocks, and that is what is happening now because they need the income. But the selling off stock at prices lower than they paid is deflating the market," Tan noted.
A glimmer of light
As August draws to a close, there are the slimmest signs of the market beginning to move again, Siam Canadian Group's Vietnam office told Undercurrent News.
"There is some interest picking up for end-of-year sales, buyers asking about prices and availability. It's a good signal," said sales manager Oanh Tuong. "Raw material prices are just starting to come up a bit. In July, there was zero interest. Usually, in August, you do start to hear inquiries, then in September and October the buying starts for deliveries to be made for the holidays."
In 2023, Vietnam's second main shrimp crop will be late, as farmers hesitated to stock ponds with prices so low, she added — though some farmers will have had no choice but to stock, to maintain their financing arrangements.
"There are big stocks already at the plants, backed up all through the chain, and it's being worked through. Buying decisions are being left late — even those that are starting to work again, it's not on a normal level. Buyers are getting maybe one container only. Retailers are slowly reviewing, so it's all slow and stable, really."
Data on Undercurrent News' prices portal, based on analysis of Vietnamese customs data, shows that volumes shipped to the EU in July 2023 were down year-on-year in volume terms, but are improving. For the US, volumes were up y-o-y in June and July, while in China, volumes have been higher y-o-y since April.
However, the key issue is the export prices — for the EU and US, levels are down 36% and 29%, respectively.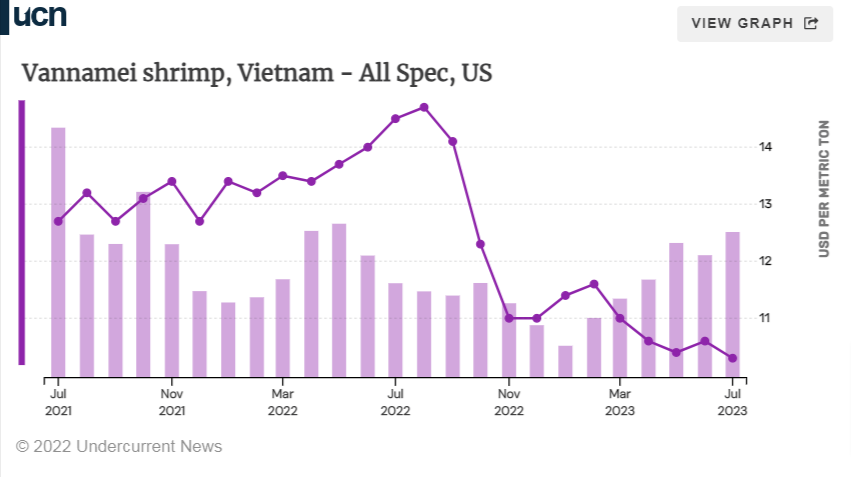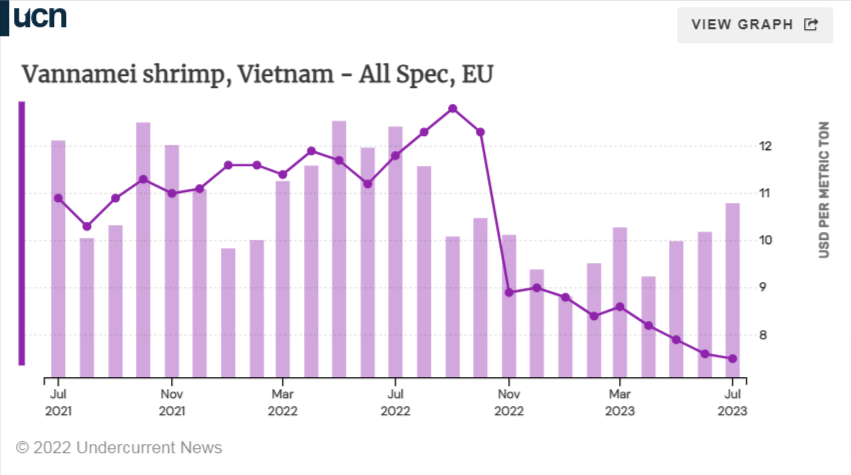 Also speaking at Vietfish, Ho Quoc Luc — chairman of Sao Ta Foods, known as Fimex Vn — said he expected buyers to begin stocking up again in the second half of 2023, taking advantage of the low Vietnamese prices which were now only a little higher than Ecuador's.
All markets are down, he agreed, but "holidays at the year-end should push demand up a bit.
Holidays favor Vietnam's value-added processors, too."
Luc too said he would not be surprised to see a shortage of shrimp raw material beginning in Q3 and moving into 2024, with farmers opting out of restocking ponds.
"We think that export growth is being signaled, but it depends on various factors," he said.
"Macroeconomics are still key, and they're very volatile. There's an El Nino coming, which is likely to cause some reduction in supply [especially in Ecuador], which could contribute to putting prices up."
But Vietnam the loser on competitiveness
Several sources at Vietfish were downbeat about the future; specifically, even if supply chain prices do start coming up, that only makes Vietnam's vannamei less competitive on the global stage.
"Vietnamese shrimp sells at a difference of between $1 and $1.50 per kilogram with other countries — competition is the real problem," said Siam Canadian's country manager for Vietnam, Bowie Leung.
"Shrimp has a quicker production cycle than, for instance, pangasius, so farmers can mitigate their losses a bit better. But at the moment, the supply chain is losing maybe $0.10/kg on production."
Jean-Charles Diener, director of inspection and consulting services company OFCO Group, told Undercurrent he felt Vietnam's shift to vannamei farming from black tiger some decade ago had come too fast.
"Ecuador now has a production cost somewhere between 25% and 30% cheaper than Vietnam.
Even if Vietnam has a cheaper labor cost, it's very hard for Vietnam to compete. We have some customers doing three or four containers per month of vannamei who, this year, have gone to just two containers in six months."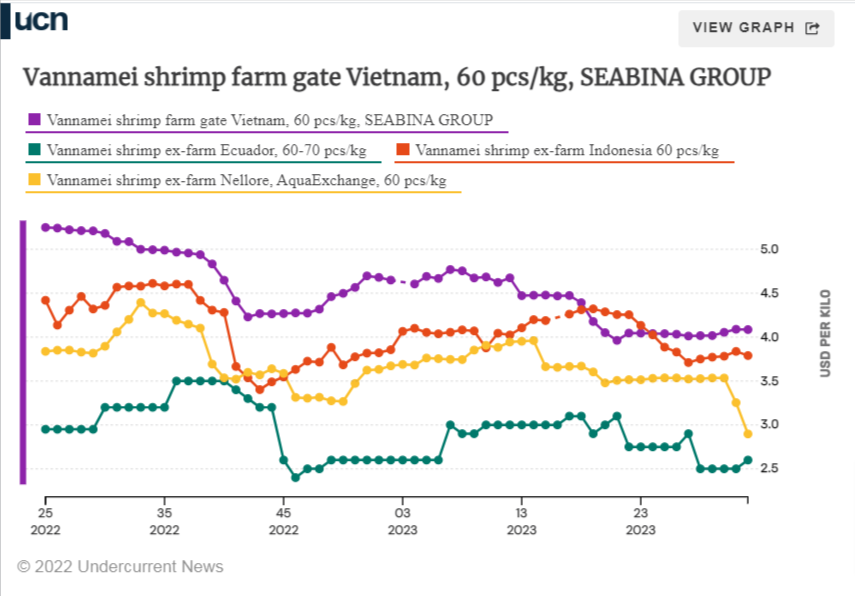 High feed costs and inflated energy prices are weighing on farmers this year, Tan added, with the former set to hang around and the latter still increasing, as energy companies have not yet finished passing on higher costs, he said.
Plus, he said, Asian shrimp survival rates languish at around 55-60%. The cost of producing a 60-count-per-kilogram vannamei has, on average, risen from $3.40 to $3.70/kg this year, and margins are only set to go on being squeezed, he predicted.
"I can see a halt on production cycles being likely," he said. "This is a crisis, with oversupply and demand down, and a new model is needed."
Another source, wishing to remain anonymous, told Undercurrent something similar.
"I think a lot of shrimp suppliers do not understand; they believe the only problem is the worldwide situation. But Vietnam has a structural issue on shrimp, and many are misunderstanding the heart of the problem," he warned.