With wholesalers 'still full of inventory,' US shrimp import volumes continue to tumble: UnderCurrent News
'The inventory has to get worked through before business gets back to normal and the inventory hasn't been worked through yet' — James Gulkin, Siam Canadian Group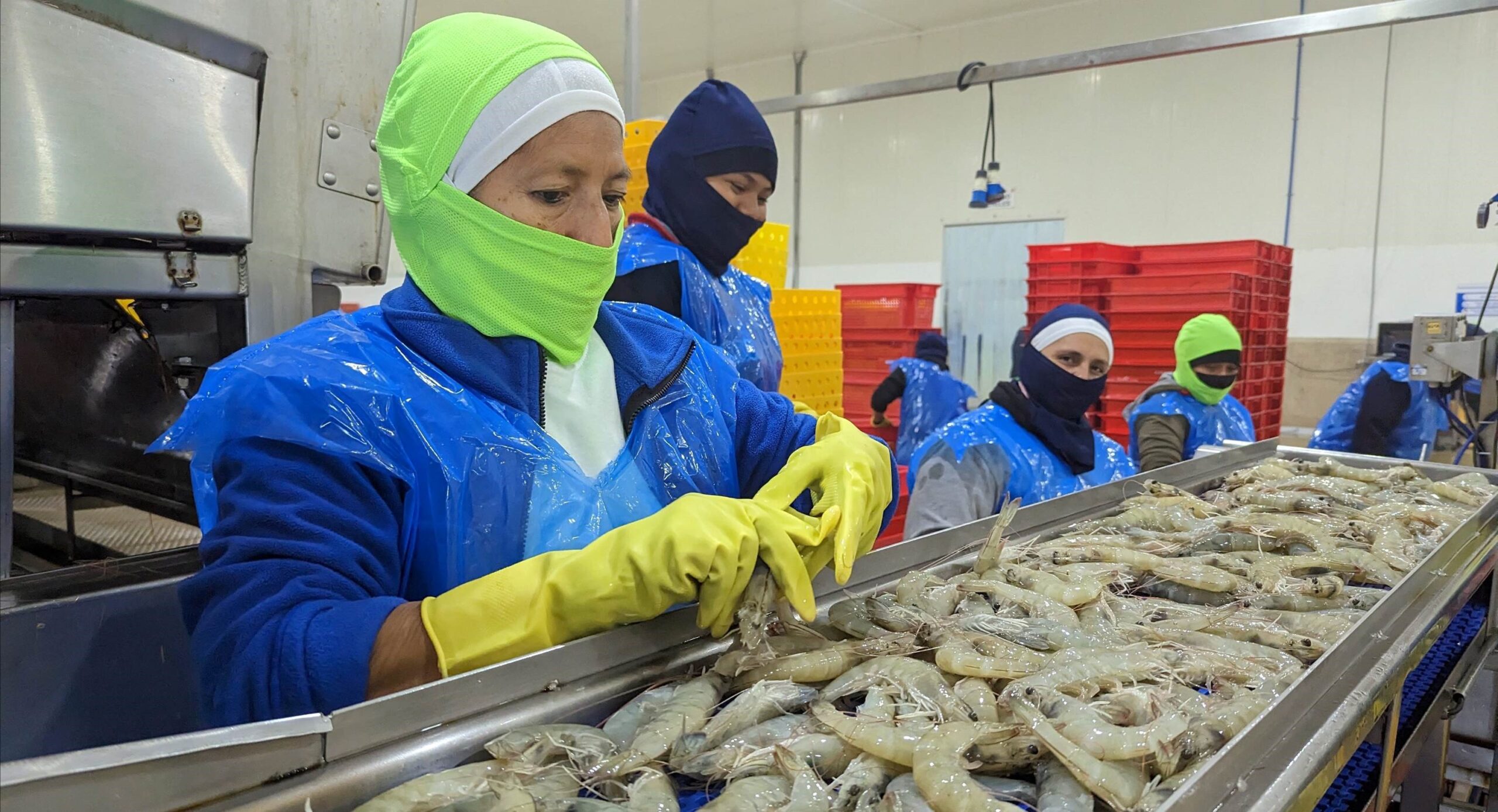 Nick Sambides Jr.: UnderCurrent News
The US shrimp import market steepened its decline in October despite its proximity to a holiday season that the seafood industry hopes will bail it out at least somewhat.
US importers took in 69,767 metric tons of shrimp worth $633.99 million in October 2022, compared to 85,478t worth $808.2m in October 2021 — a whopping 18% decline in volume and 22% drop in value, according to the latest seafood trade data posted by the National Oceanic and Atmospheric Administration (NOAA).
It marked the third straight month of year-on-year reductions.

The US now is on pace to finish the year with 2% less imported shrimp than it did in 2021, though it also looks to end with slightly higher total sales. Based on NOAA data, the US imported 715,711t of shrimp worth $6.7 billion between January and October, compared to the 729,667t worth $6.4bn imported during the first 10 months of 2021.
James Gulkin, the CEO and founder of Siam Canadian Group, a leading shrimp exporter, told Undercurrent News that he sees a couple of variables in the trend.
"The US is still full of inventory. Sales are slow for food service. Sales are slow for retail. Importers have drastically slowed down. Retailers have slowed down. Retailers are asking for delays on shipments to some degree," he told Undercurrent News. "The inventory has to get worked through before business gets back to normal and the inventory hasn't been worked through yet. There's still inventory there, higher-priced inventory."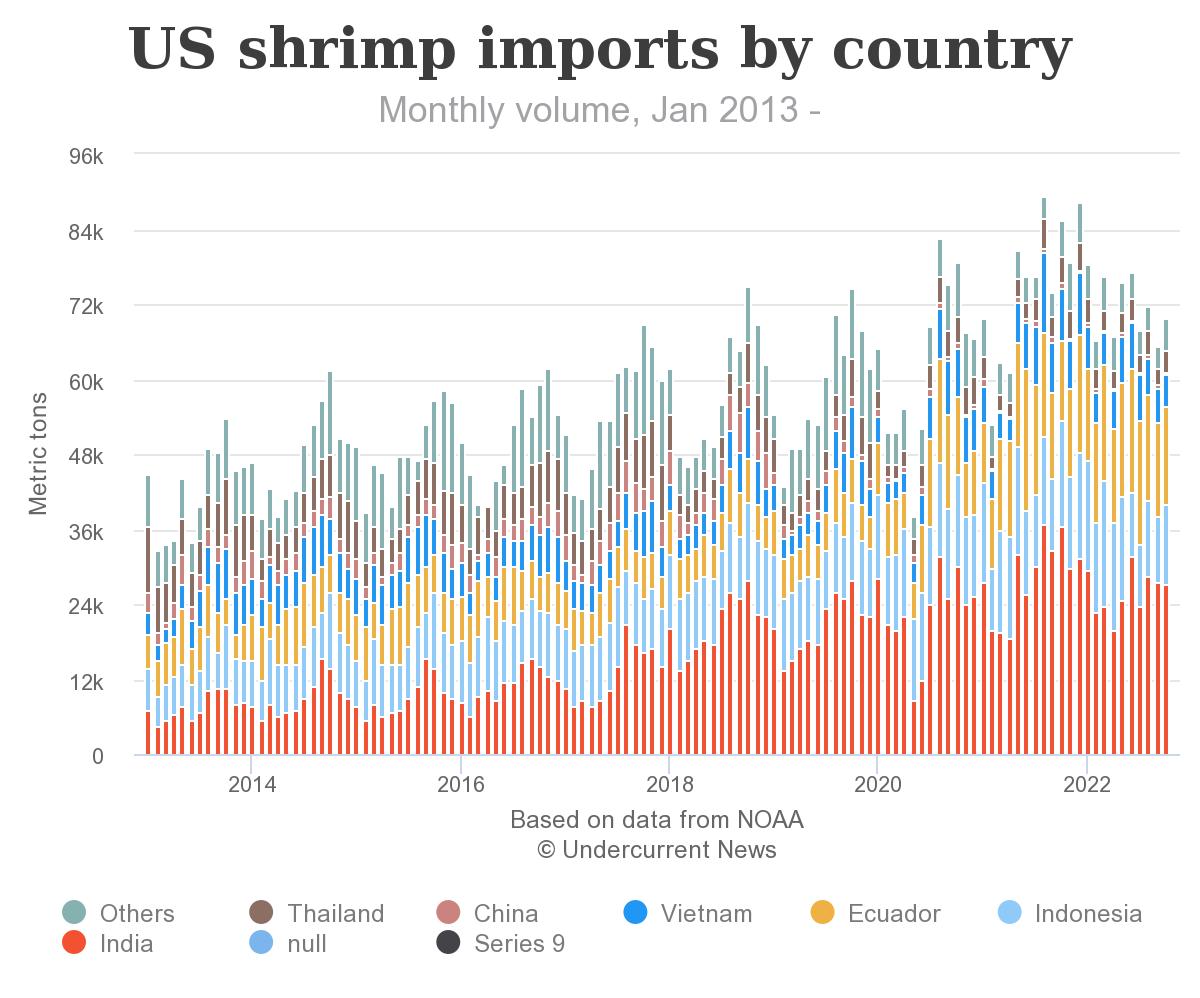 The holiday seasons that stretch into spring might diminish a vast amount of that inventory, but that doesn't look likely, said Henry DelaLlana, a senior director of procurement at Chicken of the Sea Frozen Foods of California.
"We've still got Christmas going on. We've still got the Super Bowl [Feb. 12] going on and Lent for40 days [Feb. 22 to April 6] so we're hoping that the holidays deplete a large portion of this inventory, but that's a hope," he said. "That's not really a fact."
And if the word of Nikhilesh Alluri, executive director of India's Avanti Frozen Foods, is any indicator, next month's numbers will not be an improvement. As Undercurrent has reported, he told callers during a recent investor conference call that demand in the US remains "very weak."
"The customers in the US, the larger retailers [and] foodservice companies, are sitting on lots of inventory. So, we need to see how fast they clear their inventory. And then, when they're able to, we'll be able to send out more products," Alluri said in discussing his company's second-quarter results.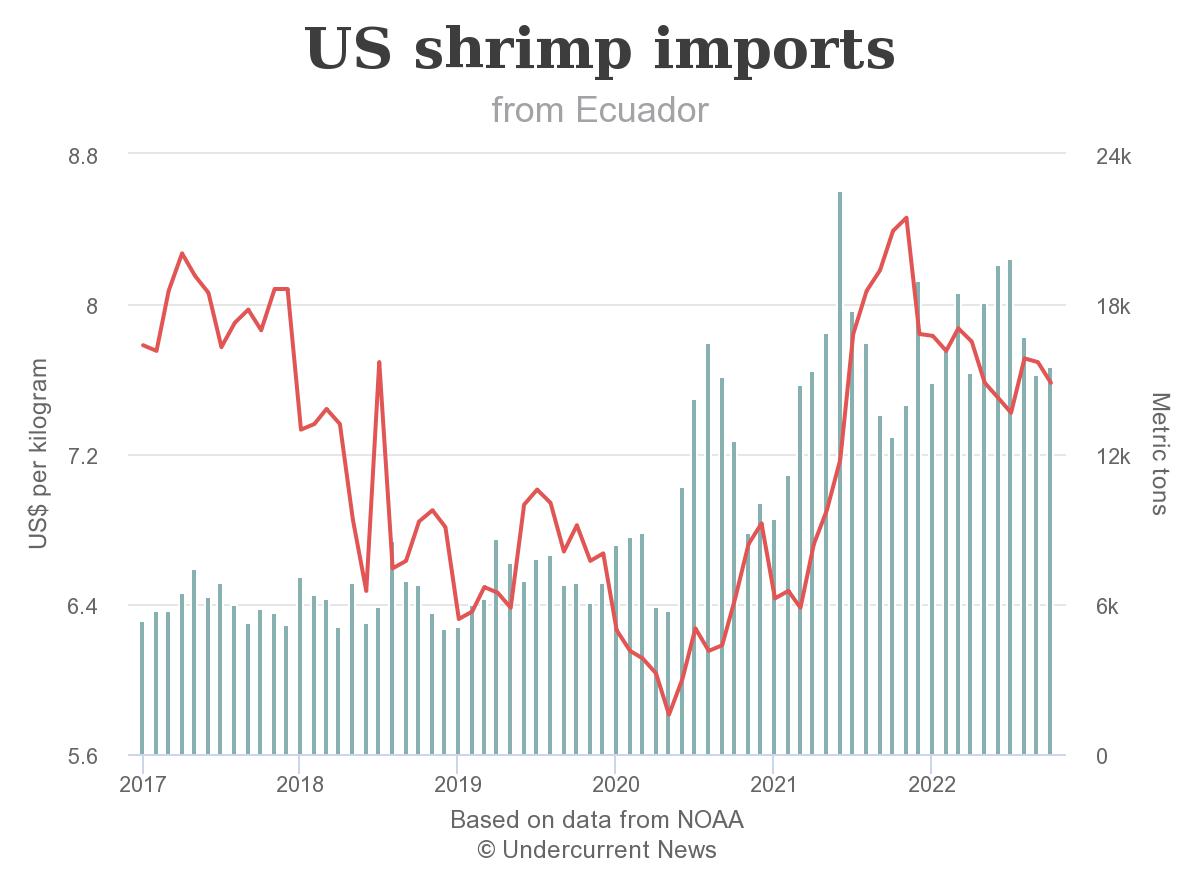 Ecuador still rising
The US' biggest source of shrimp, India, sent it 27,261t worth $236.44m in October 2022 compared to 36,718t worth $331.05m, a 26% decline in volume and a 29% decline in value compared to October 2021.
The value drop is the second-highest behind only Vietnam, which saw a 41% decline from$103.34m to $60.82m.
During the first 10 months of the year, India sent the US 259,273t worth $2.4bn, a 7% drop in volume and a nearly exact match with its performance during the first 10 months of 2021 when it sent the US 279,980t worth $2.4bn.
India's monthly US volume decline dovetails with predictions that the country's shrimp production in 2022 could drop by as much as 200,000t y-o-y, from 850,000t in 2021 to 650,000-700,000t by Dec. 31, due to the recession and inflation in the US. India also has unique problems — an" unprecedented crisis" of farmers threatening a crop holiday as prices dive, as Undercurrent has reported.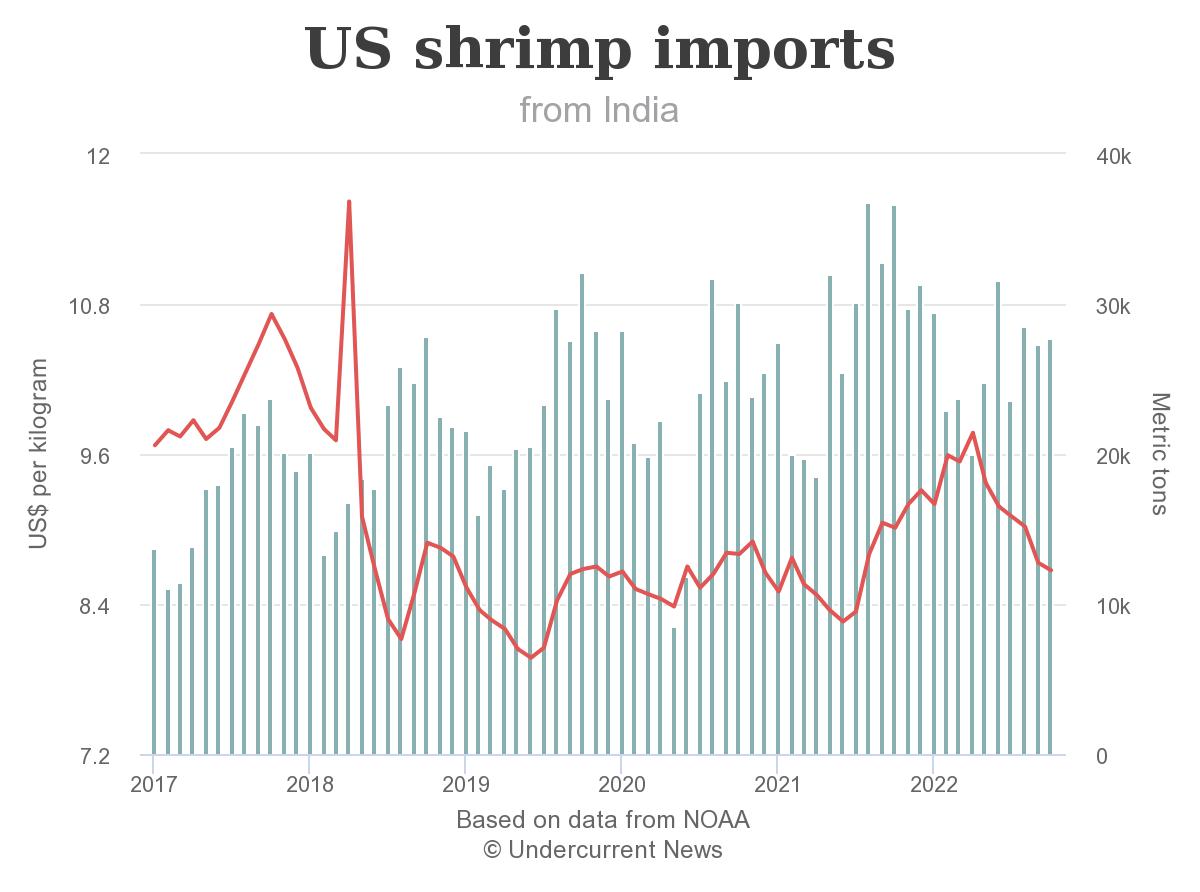 But there is an outlier among the biggest importers: Ecuador.
The country that recently rose to become the second-largest source of shrimp for the US, overtaking Indonesia, continued its streak of y-o-y improvements in October with a 22% increase in volume and 11% gain in value. Its y-o-y increases the month before were 11% in volume and 4% in value.
How is this possible? Despite the market's doldrums, Ecuadorian exporters to the US continue to ramp up production while their prices to wholesalers have actually "dropped considerably," Gulkin said.
Their "pricing of shrimp is much cheaper now than it was three months ago, six months ago," he said. "They're expecting well over a million tons this year. And by 2025 they're talking about 2 million tons. Ecuador is picking up and being very competitive. How sustainable that is, I don't know, but for now they're very sharp in, in price and they've got increasing volume. "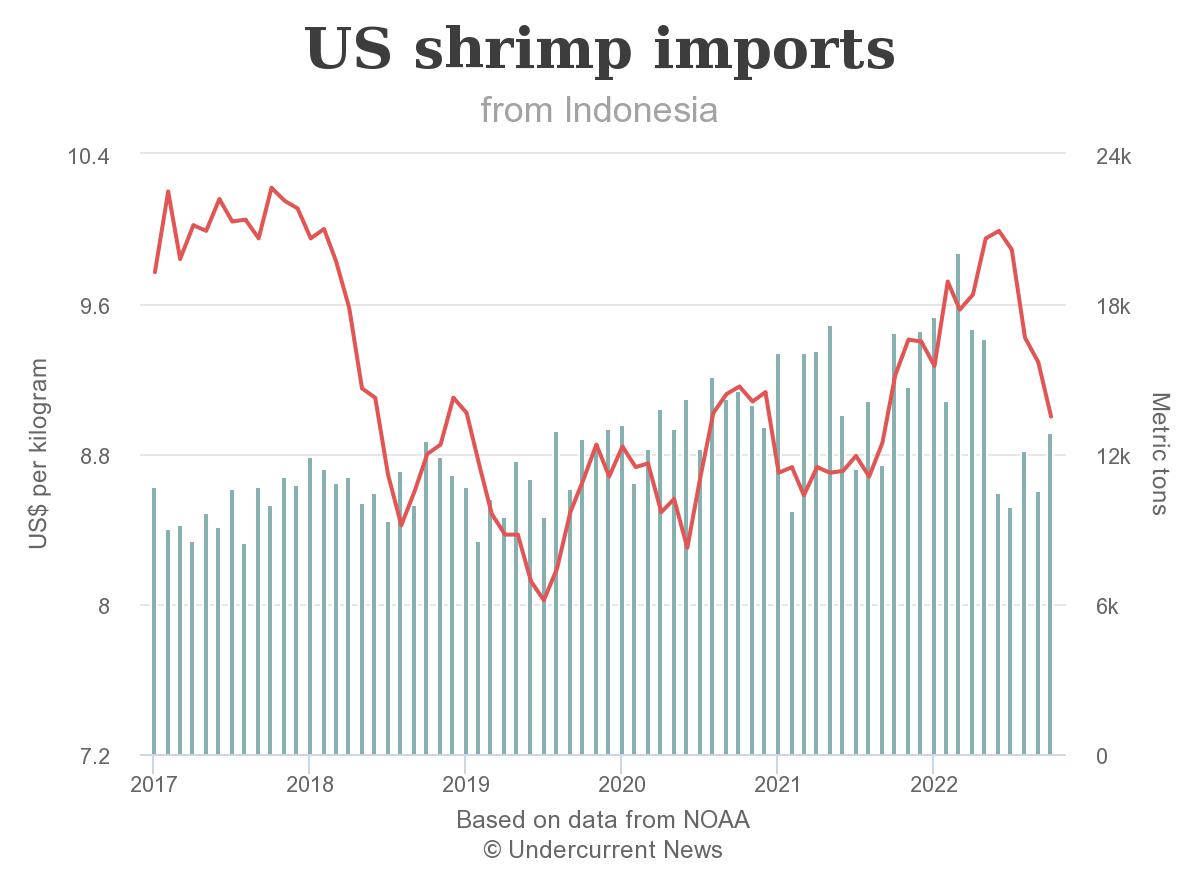 "India's had difficulties — increasing costs on feed, increasing costs on control volume products, oil, et cetera, disease issues. India's been really challenged and Ecuador has become very efficient, so they've been able to increase production and become more efficient on their production," Gulkin said.
Lesser exporters of shrimp getting hit hard
With the exception of Mexico (6%) and Peru (11%), the rest of the top producers of US-imported shrimp have endured declines in volume and value. Vietnam's aforementioned 41% drop comes despite more general success in seafood.
As Undercurrent has reported, Vietnam's seafood exports for 2022 had exceeded $10bn in sales as of November, an all-time high since it joined the global market more than 20 years ago.
The steepest year-on-year declines in October came from the 22 countries below the top 10 list. Combined they sent 54% less shrimp into the US than they did a year ago and received 40% less in value, too: 861t worth $8.87m.
>"A smaller producer who doesn't have those scale of economies [of the largest shrimp exporting countries] will be hard-pressed to be competitive," Gulkin said.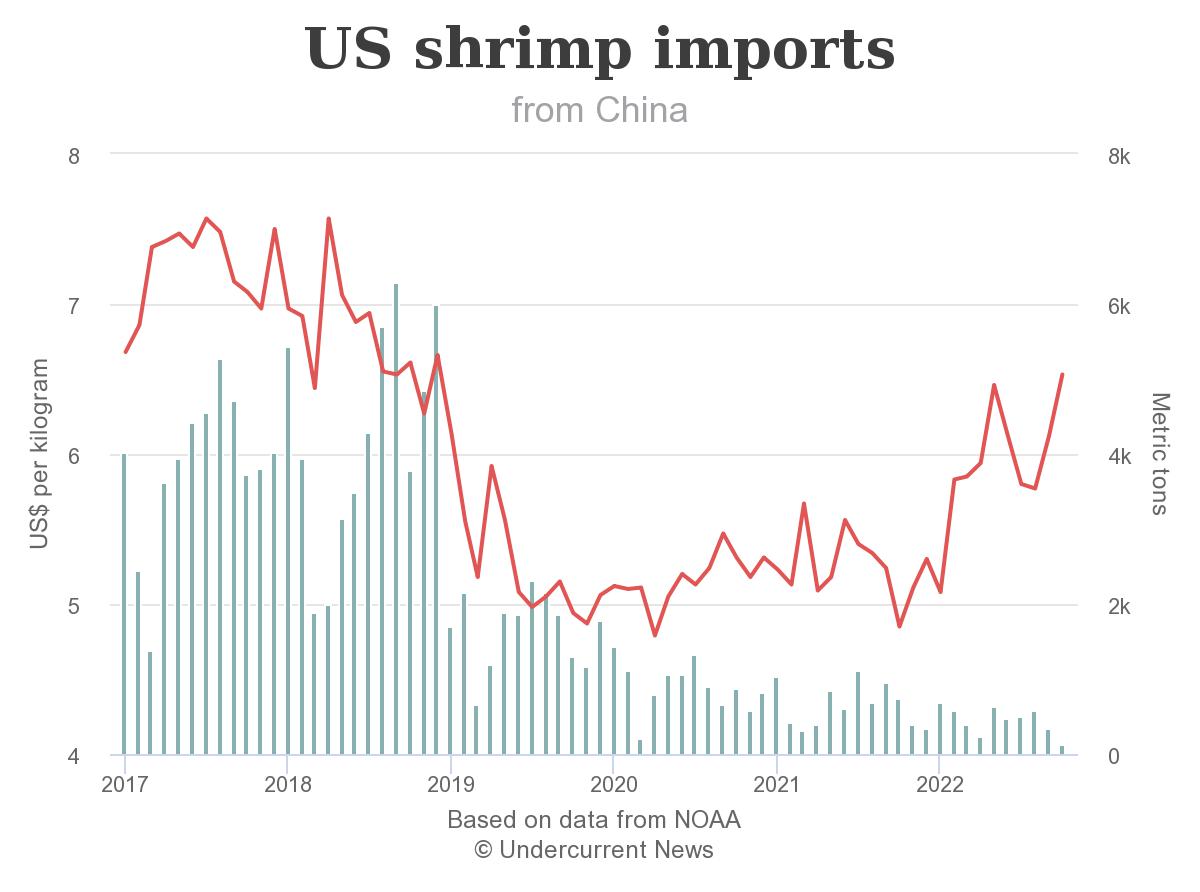 Consumer prices might not decline soon
Given the dramatic slowdown of imports, consumers might expect to see what for them will be big declines in retail sale prices, particularly with Christmas and New Year's closing in, but that's actually more difficult to predict than one might think, Gulkin said.
The great majority of shrimp imports are frozen and secure in cold storage, so there isn't necessarily a great urgency to get the product to move at disadvantageous prices, especially since most wholesalers bought shrimp this year based on 2021 estimates, DelaLlana said.
And, as Undercurrent has written, 2021 was a year so spectacularly good for shrimp consumption that it qualifies as the market's greatest-ever year, with 896,109t worth $8.0bn imported, boosts of20% in volume and 24% in value over what was imported in 2020.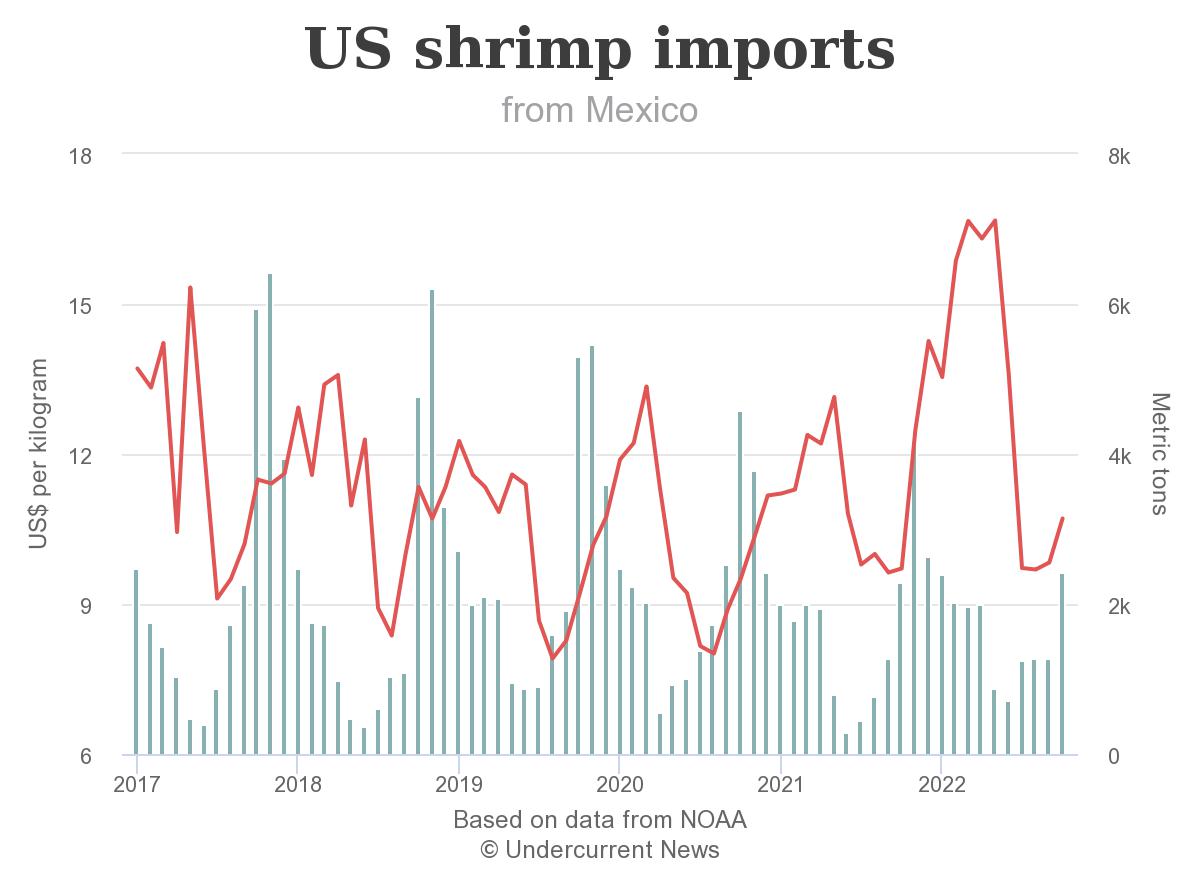 "These are previous bookings. This is not booking on low-cost inventory. They [harvesters and wholesalers] still will have that markup that they paid and they want to put it out there [recoup it from consumers], so Joe Shopper will still see a price that's pretty inflated compared to what we're seeing right now," DelaLlana said. "Unless the retailers start promoting heavily so that they can move the inventory out, Joe Shopper is still going to see prices that are conducive with what was bought for this season."
"As we get to lower-cost replacements, then that's when the prices will start dropping," he added.
Will product forms change due to the market glut?
Product forms won't likely change much this holiday season, Gulkin said. DelaLlana disagreed.
"I think you'll tend to see more larger shrimp in the market, more larger shrimp coming into restaurants," Gulkin said. "When prices drop, restaurant sales usually increase because they like to have larger shrimp, especially white tablecloth restaurants or let's say your upper end of the family, casual type restaurants where they like to promote larger shrimp."
DelaLlana, meanwhile, sees more value-added products likely to hit the shrimp market, especially ready-to-eat and ready-to-cook meals. A survey by Chicken of the Sea of seafood executives and buyers showed that 40% of them were surprised by consumer interest in those products, he said.
Wholesalers will diversify their shrimp into value-adds "so that we're not at the mercy of just the commodity shrimp" market, DelaLlana said. "Whether the shrimp component of it goes up and down in volatility, we still have other components of that value-added product that are pretty stable."
Gulkin still has hopes for a strong holiday rebound for the market, but said it is more likely that any rebound will be fairly weak.
"This consumer [has a] lack of consumer confidence, worries about inflation, worries about the recession, but inflation is not hitting shrimp. Shrimp are cheap, you know, are going the opposite of other food products in terms of inflation," he said. "The problem really is too much inventory in the states, and also there's still serious logistic problems in the US. Cold storages are full, it is very difficult to get transport, truckers, et cetera. These problems have not loosened up in the States."